Greece is one of my favorite countries in Europe! I asked my friend Cherene of Wandering Redhead to share her favorite spots on the Greek Islands with us! Here's what she had to say!
---
Greece has over 6000 islands scattered throughout the Ionian and Aegean seas. Only 227 of these are inhabited and only a handful are popular enough for the average person to have heard of. Most people are familiar with the Cyclades chain, the whitewashed buildings, striking volcanic cliffs and blue domed churches. These popular views are indeed spectacular, but there are many less known and equally amazing views. Here are ten of my personal best views of the Greek Islands.
 Shipwreck Beach  Zakynthos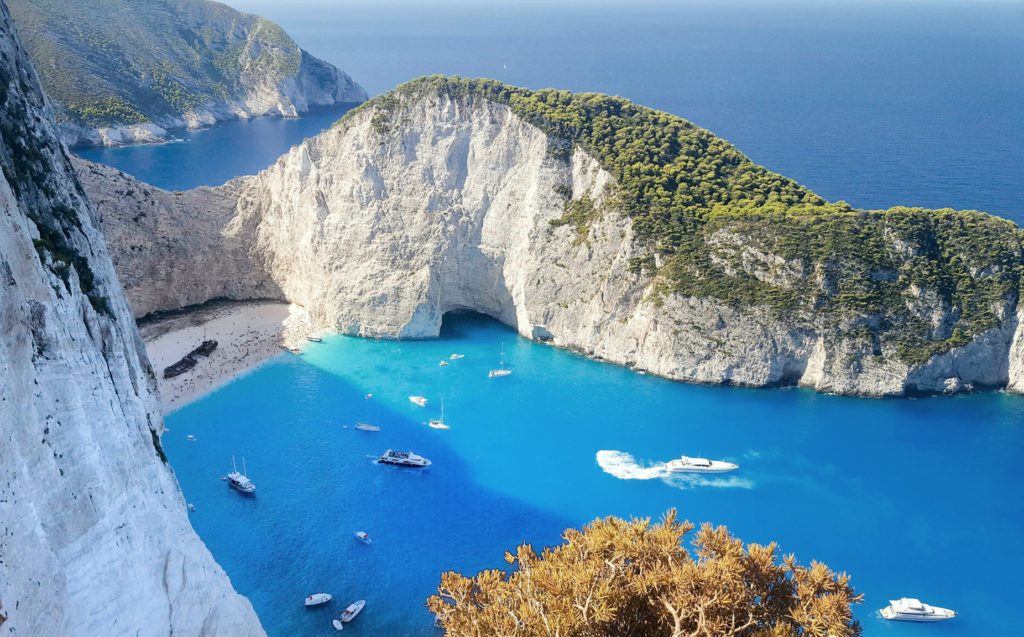 Zakynthos, an island in the Ionian Sea, is known for many astonishing beaches with unique topography. One of the most popular beaches is on the northwest coast and has a shipwreck on it.  Rumor has it that this freighter crashed during stormy weather and was carrying smuggled contraband such as cigarettes, wine and women! Called Navagio Beach or Smugglers Cove, you can only access this beach by boat. Instead of visiting the actual beach, I prefer the viewpoint on the hill above. This is easy to find by typing in "Shipwreck Beach Viewpoint" into google maps. This is also a popular base jumping spot.
 Sarakiniko Beach in Milos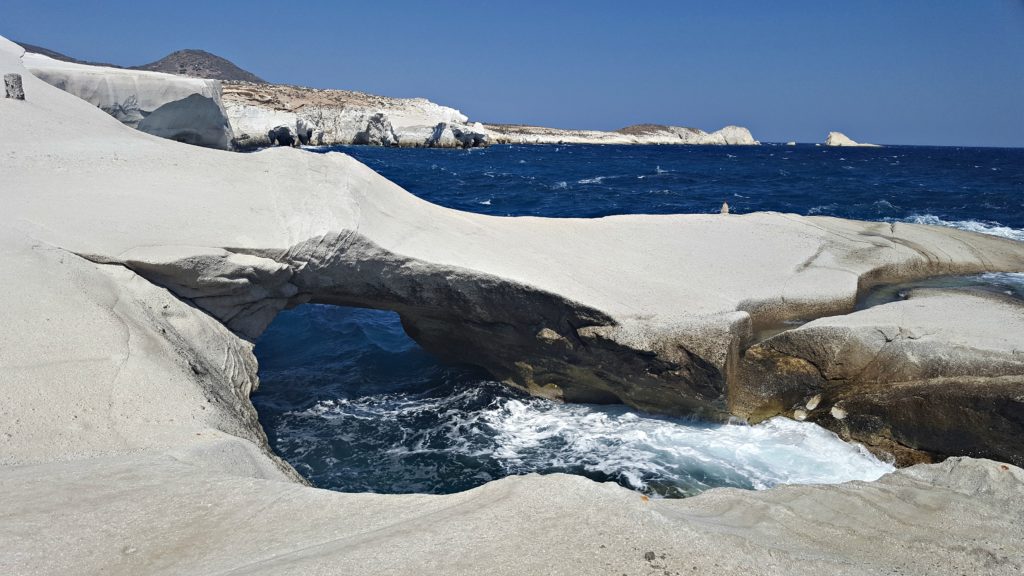 If the moon and the ocean had a baby, I imagine it would look like this. Other-wordly stark white rock and tempestuous teal waters. This is the kind of place you roam around open-mouthed in awe that nature created such a place. Once you've trekked along the craggy rocky landscape taking zillion photos you can relax in the natural pool that forms a little beach. Anywhere you point your camera there will be one of the best views of the Greek Islands!
 Oia in Santorini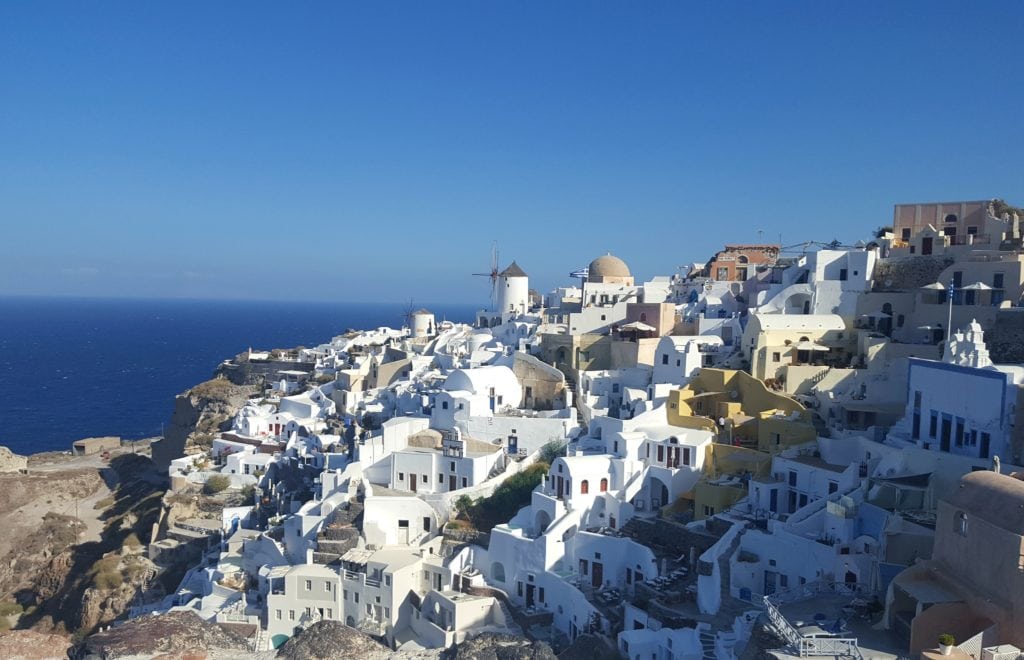 This is one of the most well-known places (and most Instagrammed) in all of the Greek Islands. Oia, a picturesque village on the northernmost tip of Santorini is famous for its dreamy sunsets and volcanic caldera views. One of the best spots to see an iconic view is from the Venetian castle ruins. It is beautiful during the day and looks completely different with sunset lighting. Beware, you will be one of the thousands trying to watch the sunset here!
 Little Venice in Mykonos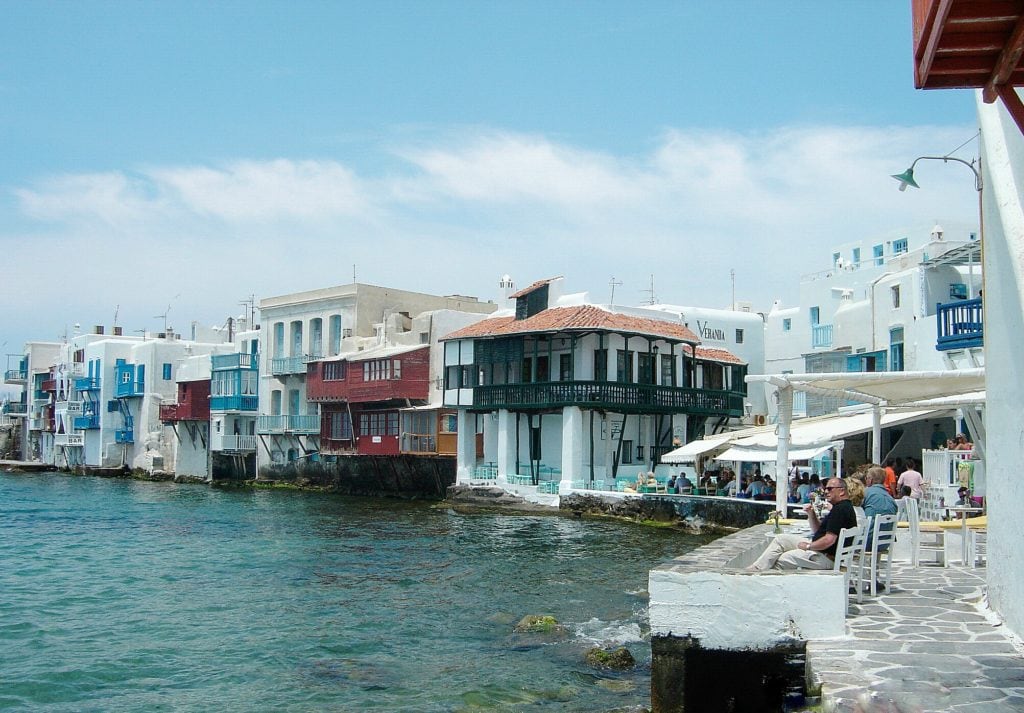 The original name of this fisherman's quarter was Alefkandra and changed to Little Venice to please tourists. Doesn't it seem like every city with water has a little Venice?? Anyway, this is a great place to sit in a cafe and enjoy the view. Sunsets are beautiful here as well and you're very close to the next iconic Mykonos spot.
 The Windmills of Mykonos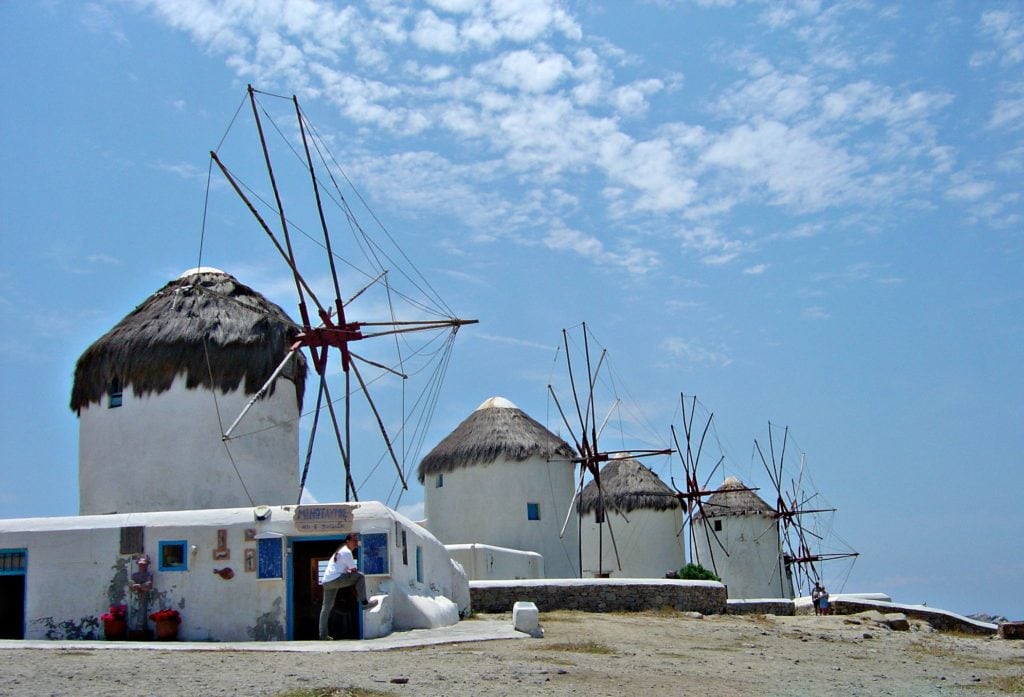 The Greek Islands are peppered with graceful windmills and one of the prettiest groupings of them can be found in Mykonos, close to Little Venice.
 Sunset in Plaka, Milos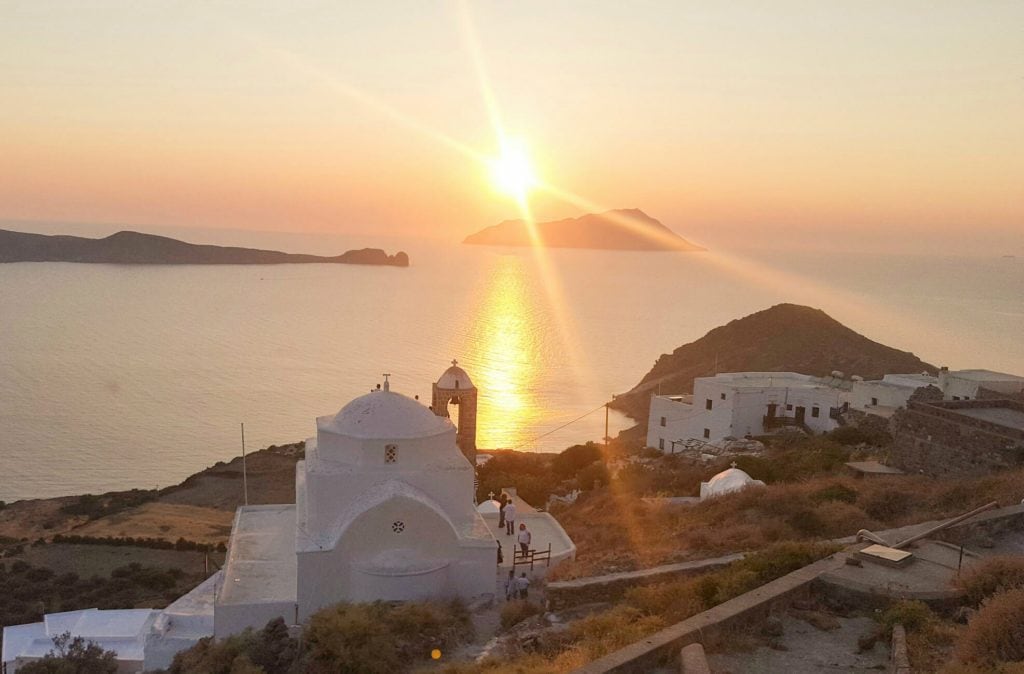 The town of Plaka has a castle on the hill overlooking a church. No biggie. Doesn't every city have this? Many people walk on the top of the church (I question the appropriateness of this) to watch the sunset or go all the way up to the castle. I found the best view was somewhere in between with the church in the foreground with the warm pink glow on the sea behind it.
 Ruins in Ios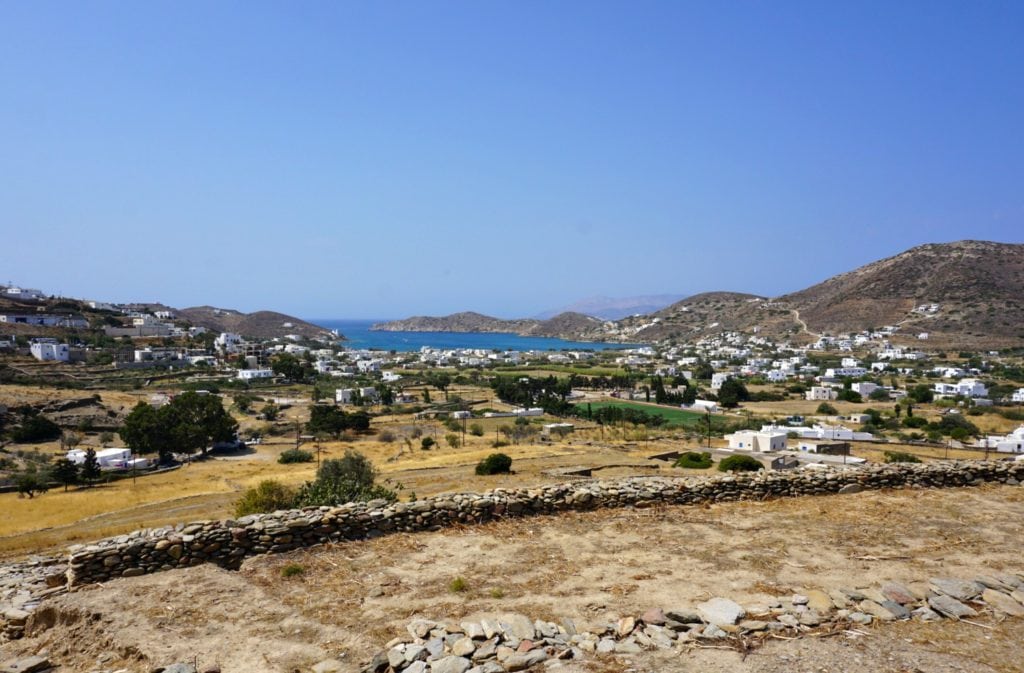 Ios, the party island, full of Aussies running wild has more to offer than the multitude of clubs in the town. Just ten minutes outside of the town is the early Bronze Age settlement of Skarkos, one of the most well-preserved prehistoric sites in the Aegean. There's a great view of the sea here.
 Pathos Lounge in Ios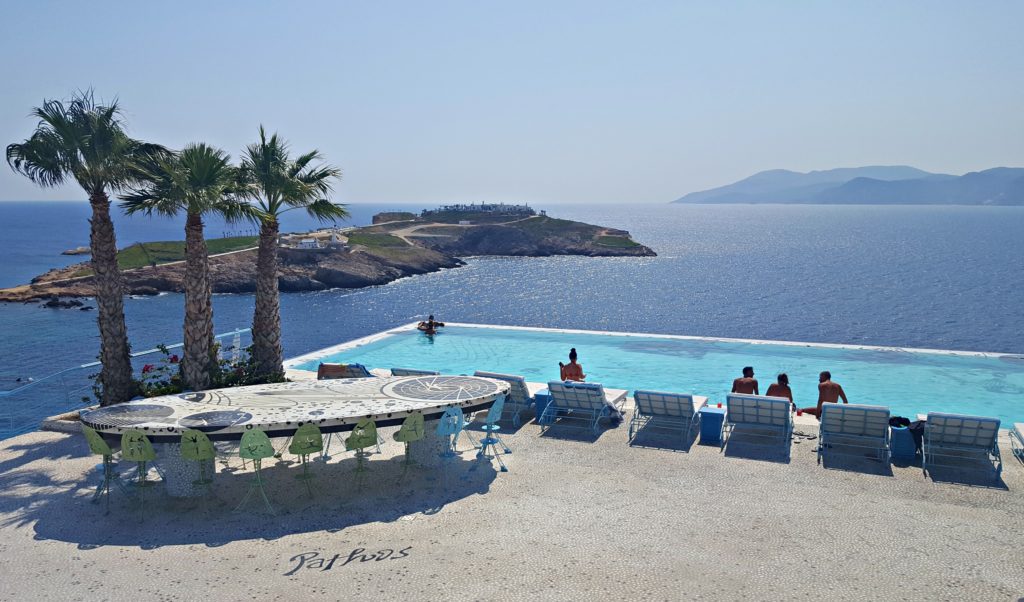 This fabulous lounge has an infinity pool with extraordinary views that will make you cry. Grab a lounge chair and a cocktail and stay until the sun says goodnight. This is not only one of the best views in the Greek Islands but perhaps one of the greatest infinity pools in the world.
  Santo Winery Santorini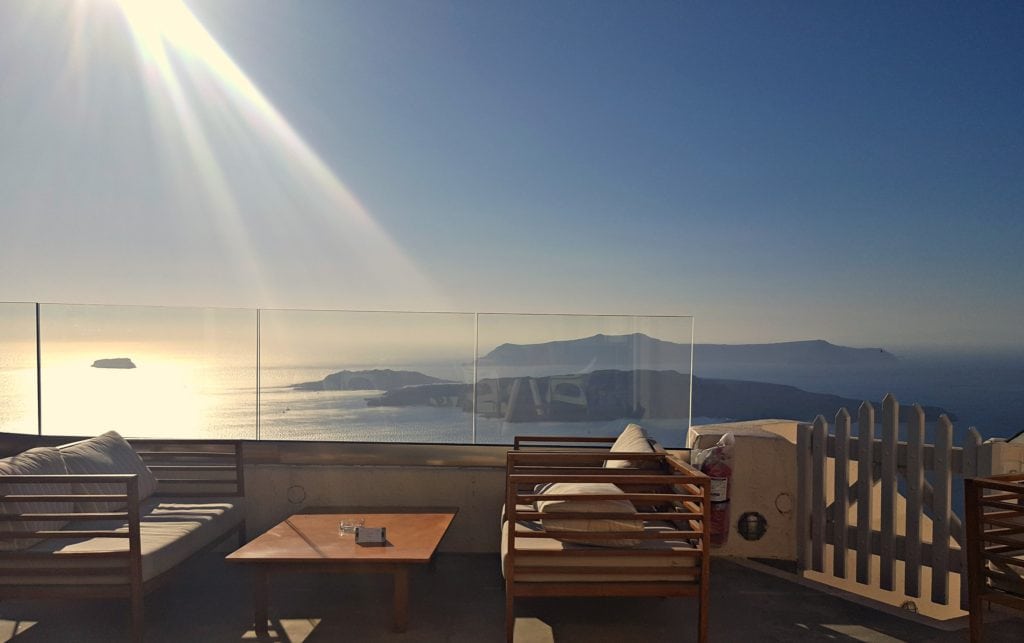 If you want to escape the crowds viewing the sunset in Oia, you can enjoy a gorgeous sunset with an endless supply of vino. Don't worry, they have food to go with that 12 glass wine flight you just ordered. Yes, you heard me correctly!
 Cliffs of Keri, Zakynthos
The village of Keri, on the southwest coast of Zakynthos, is known for its sensational cliffs. This is a wonderful place to watch the sunset. There is a cafe here in case you like your sunsets with a side of beer or wine. If you walk to the left of the cliff view you will find another dramatic viewpoint. Be careful here…not going to lie this was a bit precarious.
I could probably spend the next year of my life writing about amazing views in Greece but this is enough for now! I hope you make it to some of these spots on your next Greek Island vacation!  What's your best view in the Greek Islands? If you're heading to Paros, check out this list of top things to do in Paros!
You may also like:
Get your monthly (and funny) dose of adventures! Subscribe now! #YesPlease
Are you enjoying this website?  Feel free to use my affiliate links to book your accommodation for your next adventure: Booking.com, Agoda and Hostelworld!
Get Your Travel Gear!

Disclaimer: This post may include affiliate links at no cost to you. Happy travels!