If you ask me what's my favorite hostel chain, I might shout "St-Christopher's Inn" out loud – what can I say, I just love St-Christopher's Inn.
I've been to London before. To be honest, it's hard to find a great hostel. Especially if you're not getting any younger.
So, this time I decided to try a few of their properties. As always, I wasn't disappointed and I had a great time!
Here's why you should consider staying at St-Christopher's Inn while in London!
Best Backpacker Hostels London:
St-Christopher's at The Village / St-Christopher's at The Oasis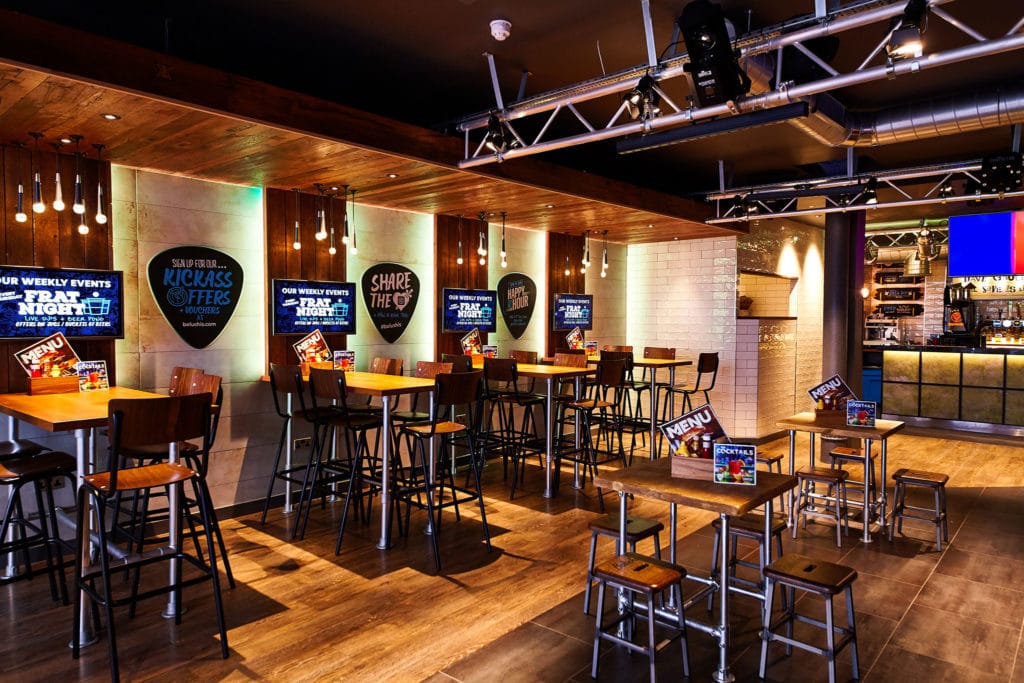 Photo credit: St-Christopher's Inn
My first stop was Village Hostel – in my case, the Oasis – an entire floor for girls only. Did I mention I wasn't getting any younger?
I love female dorms. We aren't perfect ladies, but we are generally more respectful, less noisy (and less likely to snore).
I spent a few nights in my female dorm and it was great. I'm never super excited about dorms… but when I see that the bed doesn't move, that I have a power socket (bonus if there are multiple power sockets), a light and a curtain for privacy… I'm like "Oh yeah, this is going to be awesome".
It makes my dorm life a lot easier.
The Village Hostel also has an amazing bar/restaurant. I say "amazing" as it's a huge one and they've been working on expanding it.
If you're not keen on partying/hanging out at the bar, you can always use the common area located on the third floor. There's a basic kitchenette/living room as well as a rooftop terrace.
Location: 165 Borough High St, London SE1 1HR
Why is this location so great?
It's pretty close to London Bridge, Tower Bridge, Borough Market and Tate Modern. If you enjoy a good walk it's also at a walkable distance from Big Ben and London Eye. Personally, I think the location is great as these are some of my favorite things to do in London.
St-Christopher's Camden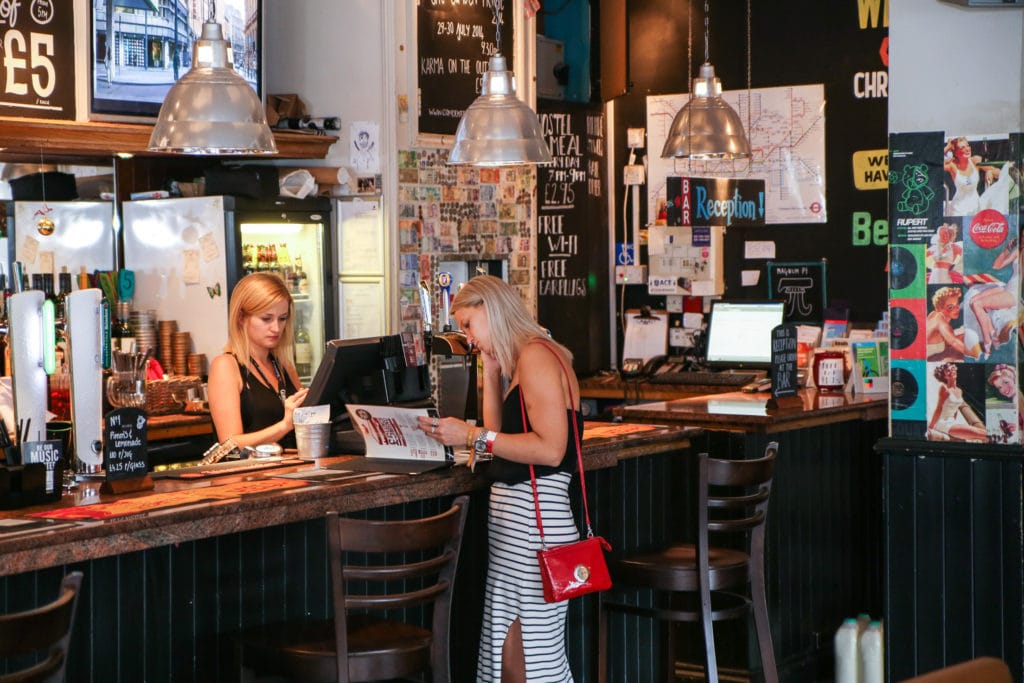 Photo credit: St-Christopher's Inn
My second stop was in Camden. When I stepped outside Camden Town tube station I was very surprised by the sudden change. Camden is such a cool alternative place. You feel quite far from the snob-ish vibes and you enter a new world.
Bonus: Camden is a lot cheaper than being in the city centre.
In this hostel, I had a mixed dorm. This hostel was a lot smaller than the previous one but its strong point is surely its cool location which is also not very far from Kings Cross Station.
Location: 48-50 Camden High St, London NW1 0LT
Why is this location so great?
It's quite close to Camden Market – and I strongly recommend you to head there while in London. Camden is completely different from the rest of London. You can find galleries, clubs, live bands and parks.
St-Christopher's Liverpool Street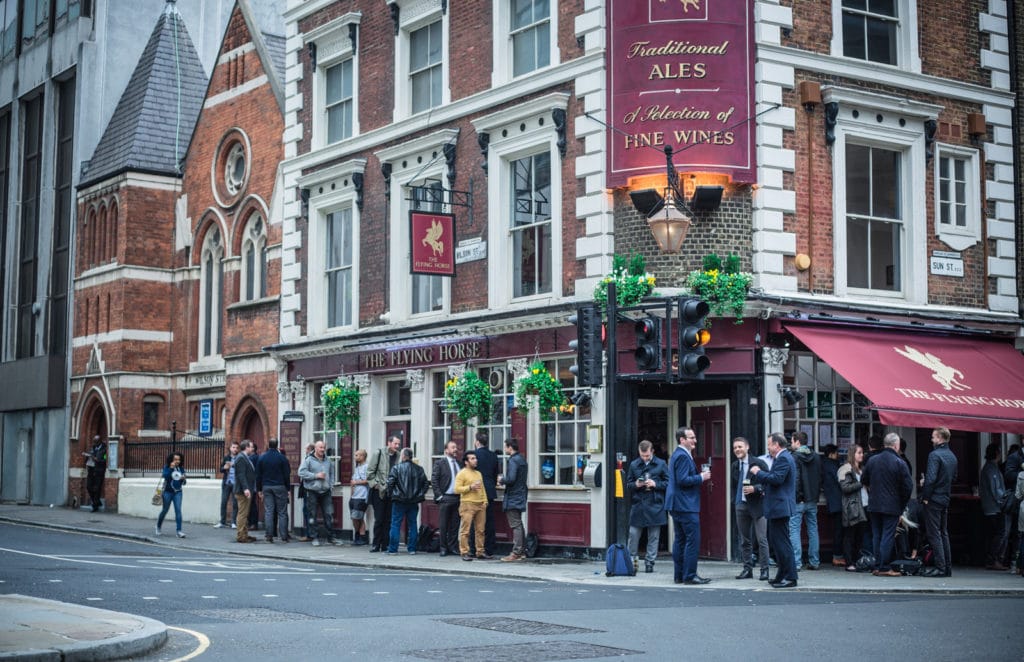 Photo credit: St-Christopher's Inn
I've been to Liverpool Street before. In fact, I've written a whole blog post about this new hostel here. I love it. It's small, very clean, super new and its location is brilliant!
I was in a mixed dorm this time and it was a great experience. You have a curtain around your bed for optimal privacy and as this hostel is quite new, the room was never full, which is a big bonus according to me!
Location: 52 Wilson St, London EC2A 2ER
Why is this location so great?
It's close to Shoreditch, which is an amazing spot if you're into street art and it's close enough to markets such a Borough Market and Old Spitalfields Market. Also, it's a brilliant location to get to Tower Bridge or Sky Garden!
Other backpacker hostels in London you should consider:
They also have other cool hostels such as Greenwich, Hammersmith, The Inn and Shepherd's Bush. Depending on what you're planning on doing while in London, you could pick the perfect spot – and the perfect hostel!
Two Pubs You Should Try in London
St-Christopher's Inn is also known for its great partnership with pubs/restaurants such as Belushi's Bar and The Flying Horse Pub. Of course, I tried both and I'd recommend you to head to either for an amazing meal or simply to meet new faces while having a drink.
One BIG Benefit to Stay At St-Christopher's Inn
With their new booking system, you can make the most of their unique policy – No deposit, free cancellation and free breakfast. Being flexible on the road has never been so easy! Read more about this policy here.
Which of these top hostels in London would you pick?
You may also like:
Get your monthly (and funny) dose of adventures! Subscribe now! #YesPlease
Are you enjoying this website?  Feel free to use my affiliate links to book your accommodation for your next adventure: Booking.com, Agoda and Hostelworld!
Get Your Travel Gear!

Disclaimer: I received complimentary nights in exchange for my time to write this article. As always, all opinions are my own. This post may include affiliate links at no cost to you. Happy travels!