Portugal is known as a surfing destination. Its pretty long West coast makes it a hotspot for surfers and a good place if you want to learn to surf in Portugal.
Although we may think Portugal is hot, the weather might seem to be promising but it's all a lie. As soon as your feet touch the cold water you can nearly hear your heart stopping. The icy water might surprise you but this shouldn't stop you from surfing. (That's why many surfers will opt for the wetsuit.)
I had no intention to surf when I decided to go to Portugal.
Don't get me wrong, I did try surfing before. I was also pretty bad at it. My bad I guess. I skipped the surfing lessons and pretended I would be okay on my own. I was looking at the experienced surfers in Hawaii and I thought I should be able to figure it all out. Obviously, I was wrong. I was 25 years old back then. I wasn't scared of anything. I was willing to try many new things and surfing was one of them!
The next day I heard that someone had died the previous day. An experienced surfer had hit their head on a rock. Suddenly, surfing became scary and dangerous.
Then, as you all know, I moved to Australia, which is quite popular for surfing too. My friend had a surfing board and I thought I should give it a go again. I don't know how this happened but the leash snapped, I lost the board and I got quite scared. My friend wasn't super happy as the fin was broken.
Was life trying to tell me something?
A few days later I went for a swim. You should probably know that I'm not the best swimmer out there and I can be quite nervous in the water, but for some reason, the waves weren't too scary that day… until I got hit by the waves. I thought I was drowning and as I'm not good at holding my breath in I became very scared of waves that day.
When I heard from Rapturecamps, a surf school, I got quite nervous. Waves and water are a pretty uncomfortable zone for me since the incident in Australia.
I asked them about the size of the waves in Portugal and I wasn't convinced with this crazy surfing idea. They told me their teachers would be there to keep me safe and I finally decided to say yes.
Then the anxiety started. I couldn't sleep that night thinking about the fact I could end up drowning in Portugal.
To keep me sane, I had to switch off my brain for a while. I wanted to forget about it and pretend that everything would be just fine.
A few days before the surf camp I hurt my foot. I thought life was trying to tell me something, but hey, I'm also quite stubborn!
I was starting to feel even more anxious. I thought that my foot could become a great excuse to skip the surf lessons while I was there.
And then there I was waiting for my pickup at Lisbon airport.
The driver was quite young and funny. Let's say that it was the perfect distraction. We arrived at the camp and there I was without an exit plan. I signed up for a lesson for the next day and decided that yes, I had to give it a try!
The Surfcamp Life & How it Works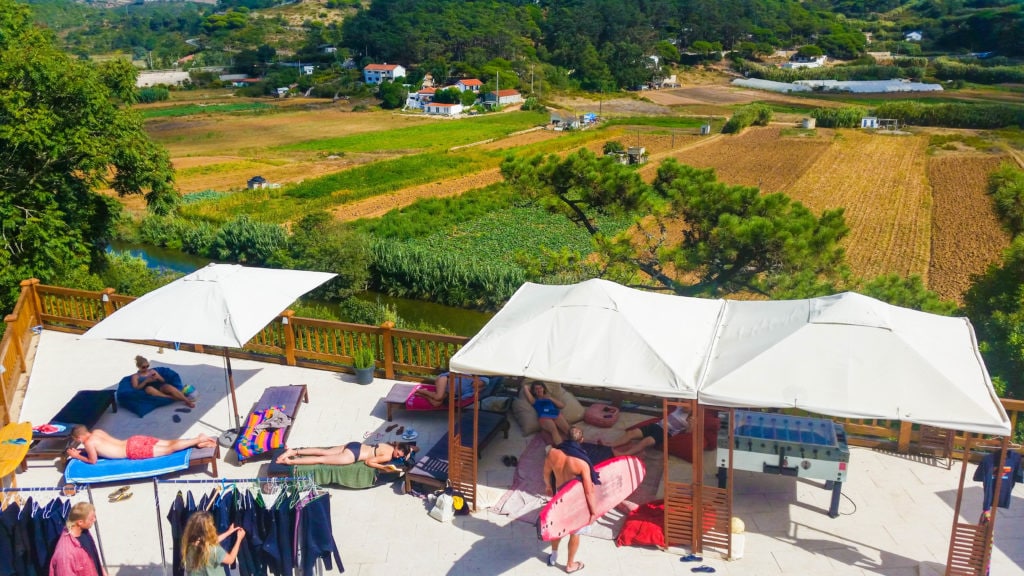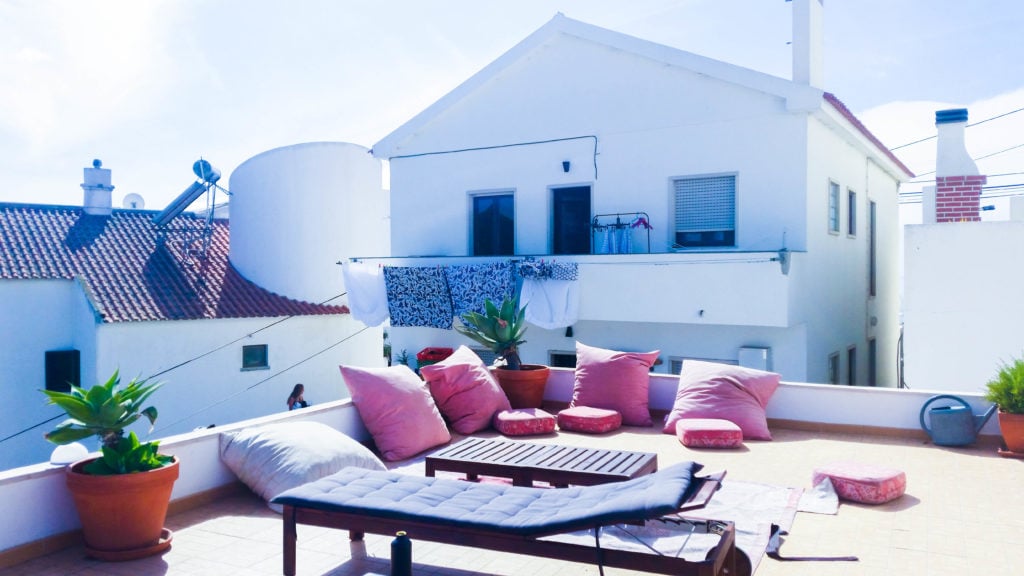 The surfcamp in Ericeira, Portugal, is located next to the beach. It's divided into a few buildings where they offer private rooms and dorms. There are some common areas including a living room, kitchen, dining area and relaxing areas (terraces).
Breakfast is included and most dinners are too. On Saturday night the staff normally organize a barbecue night which you have to pay for and there are no dinners organized on Sunday. You can still find restaurants on the beach or in the town accessible by foot or by bike.
While you're at the surfcamp you might want to surf, don't you? There are surf lessons available from Monday to Saturday. The lessons are based on two levels. You have to start on Level 1 before beginning Level 2.  Every day teachers will pick a different time for the lesson so the waves are the perfect size for your lesson. They are there to keep you safe and if I managed to survive this I'd like to think you could stay alive too! Sometimes, if the conditions are safe, you can also go surfing on your own. Then you can pick up your surfboard and your wetsuit and hit the water!
The camp doesn't limit itself to surfing though. You can participate in yoga sessions, skateboarding trips (or perhaps, longboards, sorry guys but I have no clue what I'm talking about here), get a massage or hop on a bike and go to the town.  Most activities have to be paid for unless you go for the free bike option!
Basically, you enjoy yourself during the day, you try becoming an expert in surfing and you eat amazing meals!
What's Included and How Much Does it Cost?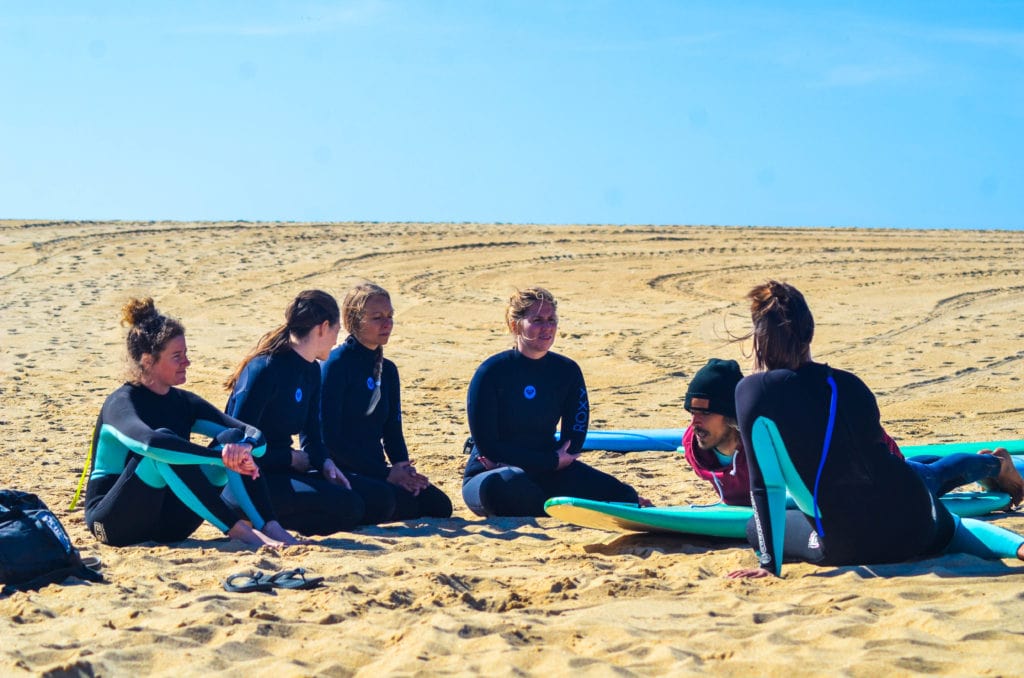 When you book your accommodation it includes all breakfasts and dinners from Monday to Friday. Dorms start at EUR 29 and private rooms start at EUR 90. Prices can differ during high season. You can check out the full list of prices here.
The lessons and other activities are not included.
Surf lessons are EUR 30 for a 2-hour lesson including the surf gear (board and wetsuit).
There is also a flat fee that is added to the total no matter how long you're staying for: EUR 40 for the surf gear insurance.
Method of Payment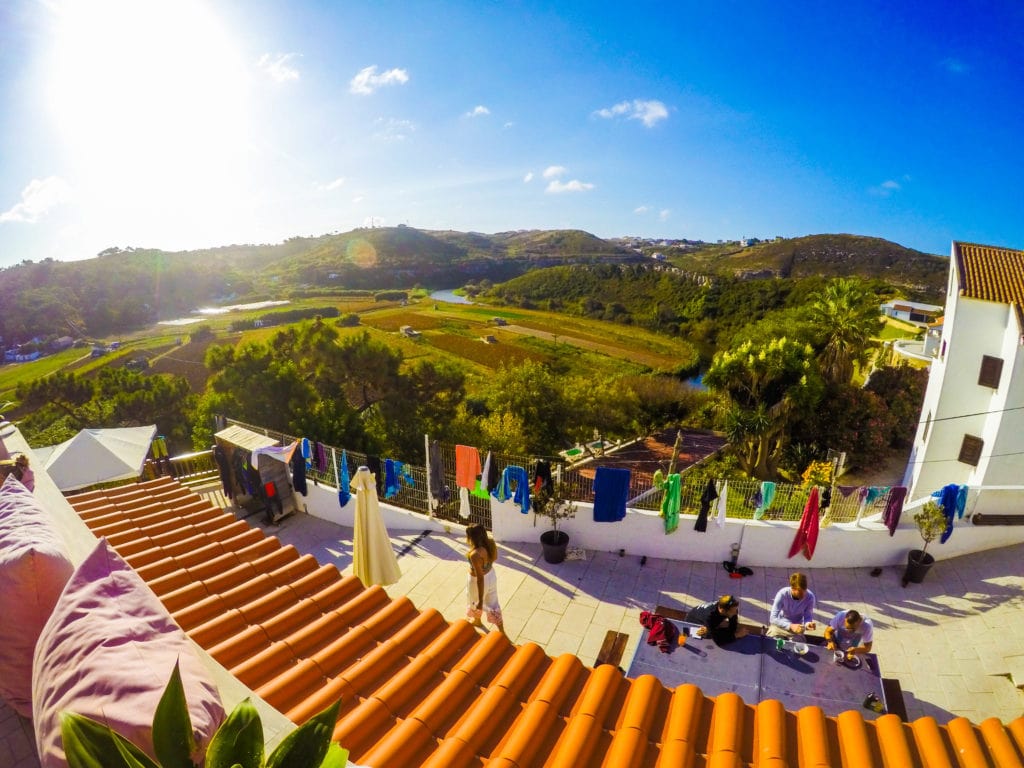 You have to pay with cash at the end of your stay. The total will be calculated including your lessons, drinks, etc. There is an ATM right at the beach so you should be able to get money out to pay for this amazing experience!
What to Bring to the Surfcamp – Beach & Surfing Essentials
(Some of these links may be affiliate links.)
Sunscreen

Dry bag (optional, but useful)

Warm clothes for night time including a hoodie and a beanie (Portugal is very cold at night)
Sneak Peak at My Surfcamp Experience in Ericeira, Portugal:
The first lesson: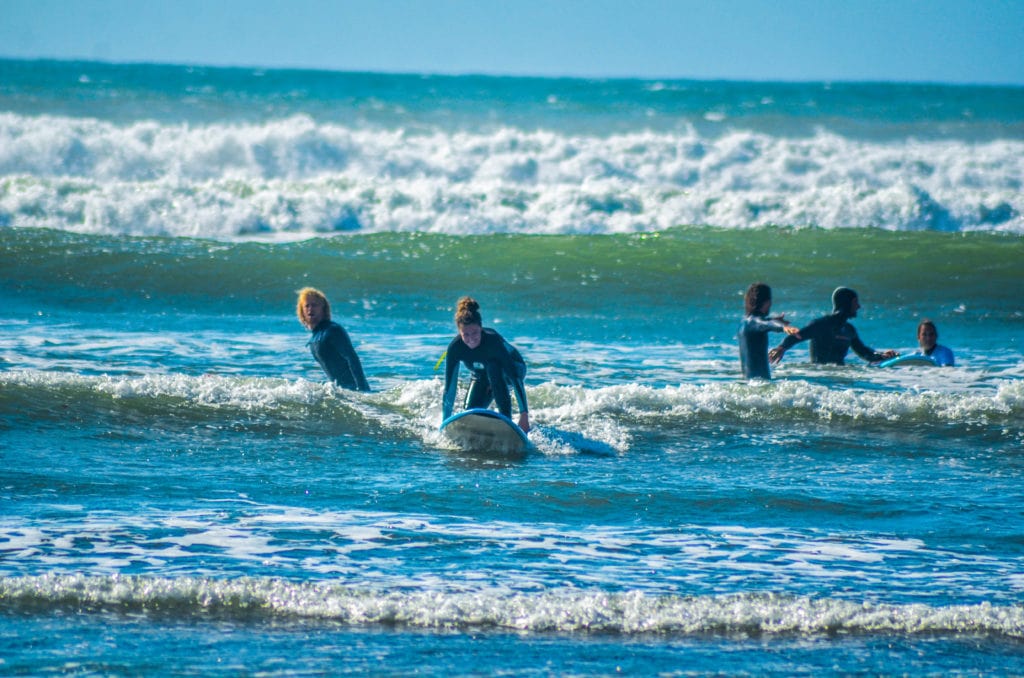 There I was trying to get into that tight wetsuit. I was nervous. I made a few jokes about the possibility this could be the last day of my life, but honestly, I was wondering if this could be it.
After a few attempts at understanding the basics on the beach the teacher told us we were ready to get into the water.
I didn't feel quite ready but I guess the anxiety was speaking for me. We went in the cold water and quickly I became quite good at knee surfing. (Not that this is useful at all… and it's definitely not as sexy as real surfing!)
I could not manage to stand up at all. My knee wanted to protect me I guess but I did enjoy very much the knee surfing session.
There was surely a good thing though, I was able to keep my balance.
The second lesson: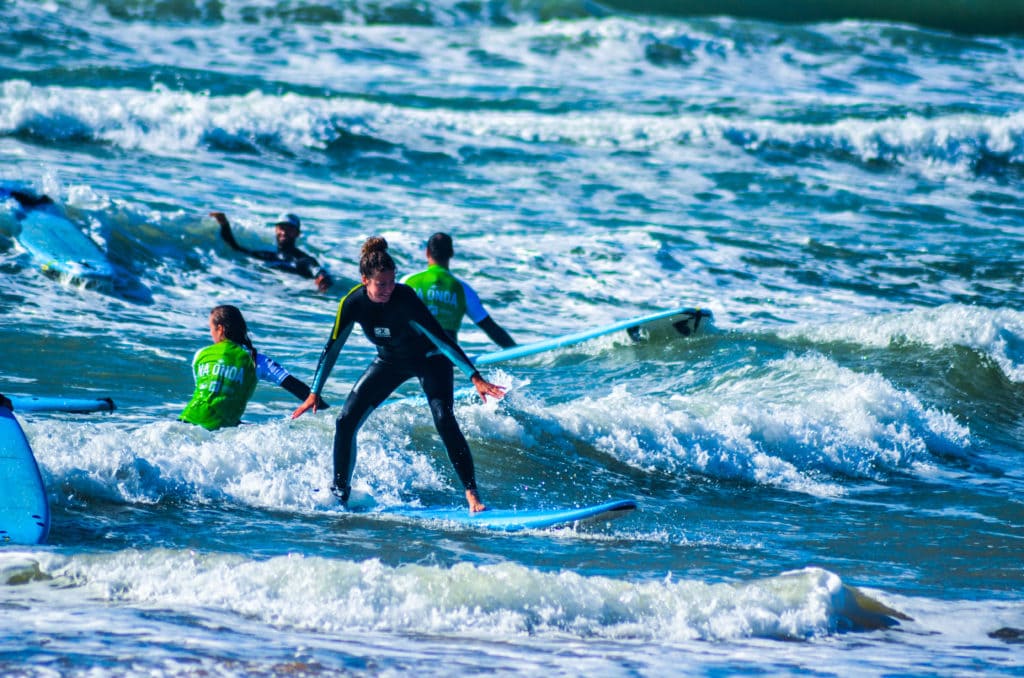 As I was only here for a few days, I didn't want to waste another lesson giving all the control to my not very smart knee. I was so ready for this. I wanted to stand up…so I did!
Overall, these two lessons gave me a pretty good experience in the water. Having finally a positive experience in the water helped me overcome my fears.
And obviously, I'm looking forward to surfing again. (I'll still need lessons though!)
Where to Surf in Portugal: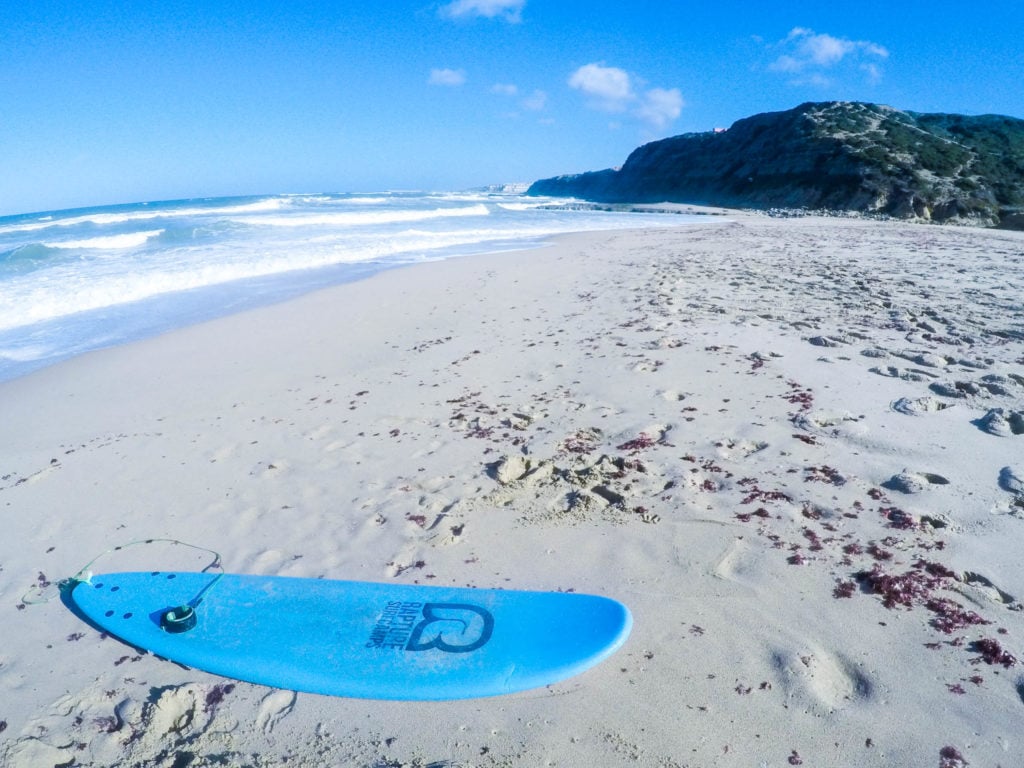 Portugal is an amazing destination for a surfing trip. Ericeira is the most popular one as the waves are constantly there and are great for beginners and experts.
If you're planning a surfing trip in Portugal you might want to check out these places too:
Peniche

Estoril and Cascais

Sagres
If you're looking for a surf school in Portugal, I'd strongly recommend Rapturecamps in Ericeira. There are many surf schools to pick from, I know. So, make sure you have a great experience! I swear I was pretty sad to leave!
Have you been surfing in Portugal? Where was your favorite surfing spot?
Would you like to try a surfcamp in Portugal?
You may also like:
Get your monthly (and funny) dose of adventures! Subscribe now! #YesPlease
Are you enjoying this website?  Feel free to use my affiliate links to book your accommodation for your next adventure: Booking.com, Agoda and Hostelworld!

Disclaimer: I had a complimentary stay at Rapturecamps, but as always, all opinions are my own and I'm happy to recommend them! This post may include affiliate links at no cost to you. Happy surfing!