If you're heading to the

UK

, you must add Scotland to your itinerary. I haven't been to Northern Ireland yet, but so far, Scotland is my favorite place in the UK. Why? Simple; it's less crowded, friendlier and absolutely stunning! If you only have one week to drive around Scotland, you will likely come back at some point (or wish to!). That happened to me. Our one week in Scotland wasn't long enough.
This guide will help you plan your Scotland road-trip itinerary, find the right accommodation and will inspire you to book that trip you should not wait any longer for.
Planning A Trip To Scotland – Scotland Self Drive Tour Itinerary:
Let's pretend you'll be starting in Edinburgh. Kind note, you could easily start from Glasgow too.
Day 1: Edinburgh
Depending on how long you're planning on staying in Edinburgh, you'll have many options.  We spent only one night in Edinburgh, so we had to make the most of our day before hitting the road again.  As you probably just arrived by plane, by car or by train, you might just want to relax.  If you're there for sunset, you might want to check out Calton Hill!  Also, I heard that the National Museum has an amazing viewing platform (and it's free!).
Day 2: Edinburgh
There was one main thing on our "to do list" in Edinburgh.  We really wanted to get to Arthur's Seat.  We were unprepared, as always, and we started the steep hike without bringing any water. (Which obviously I would not recommend!)  There are many different paths – with different levels so I'd suggest you check out this map to pick the one that suits you the most.
Climbing Arthur's Seat was such a beautiful experience.  Surrounded by gorgeous views, it was impossible not to like it. The higher you go, the better the views!
Then, we hit the road in direction of Loch Lomond & The Trossachs National Park and find accommodation in Perth.
Here you have other options; you could easily sleep in Stirling, Dundee or Perth. The idea is to be close enough from Cairngorms National Park for the next day.
If you're planning on staying longer in Edinburgh, you may want to check out these two articles for more ideas:
Day 3: Cairngorms National Park & Inverness
We drove through Cairngorms National Park to make our way up to Inverness and the Loch Ness where we spent the night. The scenery starts to be a bit more dramatic – and you will simply enjoy being surrounded by nature.
Inverness is a charming city – it's also quite a great spot for accommodation. If the weather is on your side, you might want to check out the coast and the famous Loch Ness.  With a bit of luck, you might even manage to spot Nessie.
Day 4: Fort Williams & Mallaig
We drove from the Loch Ness to Fort Williams first.  Driving through the Scottish Highlands was pretty amazing. On your way there, you should stop at Commando Memorial for a great view!
Then, we stopped in Fort Williams to see the impressive Ben Nevis (which is the tallest mountain in the UK). We decided to drive all the way to Mallaig with a few stops on the way; Glenfinnan, the Silver Sands and Mallaig.  
In Glenfinnan, you should walk to the viewpoint to try and spot the famous "Hogwarts Express". The train passes twice a day but even if you don't make it on time – the view is fascinating.
Silver Sands is a quiet beach – surrounded by mountains and cute little houses. The sand here is bright and the water almost turquoise.
The road to get to Mallaig is pretty scenic too if you take the Alternative coastal route. Mallaig is also the main point to get to Amardale (Isle of Skye).
If you have time, I'd recommend you to go to the Isle of Skye – it's one of the famous places to visit in Scotland. Read more about the best things to do in Skye Island here.
Day 5: Glencoe & Oban
Enjoy your last hours in the Highlands in Glencoe and Oban. Then, you will slowly make your way to Glasgow.  On your way there, you should drive through Loch Lomond & The Trossachs National Park. If you already been there at the beginning of your trip, you can always take a different route.
Day 6 & 7: Glasgow
Depending on your final destination, you might need to drive back to your original point or simply enjoy Glasgow which is quite appealing in terms of Street Art.  Glasgow isn't surrounded by nature the same way Edinburgh is. But, there's something great about it; they own a Canadian Tim Horton over there!
Of course, if you decided to spend more time in Scotland or if you want to check out the famous isle, you might want to discover these places:
Isle of Skye;

Isle of Harris;

Isle of Arran.
Touring Scotland By Car
If you're planning on driving in Scotland, you might want to consider renting a car.  I'd say road-tripping is the easiest way to visit Scotland as you can find beauty in every corner (you'll be surrounded by nature most of the time) and you'll get more freedom that way.
What's the weather like in Scotland?
The best time to visit Scotland would be the summer, but it's also the busiest period of the year.  If you want to avoid the school holidays, then you might want to be there during June.
I'm pretty sure the scenery must be quite compelling during winter and autumn, but it will also be quite cold.
The weather can change quite fast in Scotland and you might be there during the rain too. So, you need to keep your itinerary flexible in case you hit a few days of rain. Seeing the Highlands in the sun would be a lot better obviously!
Where to stay in Scotland?
Since I was in the UK for quite a while, I found that the best value for money was Travelodge. Travelodge have many properties across the UK and Ireland.  Of course, it was also our first choice in Scotland.
What are the benefits of staying in a Travelodge:
It's affordable: You can easily find rooms anywhere in the UK starting as low as GBP 29 a night.

They provide Wi-Fi: You get a complimentary 30 minutes of free Wi-Fi and you can get unlimited access in you're willing to pay a little extra.

They often provide parking and when not possible, they give you a good discount on the parking rate.

They now offer a breakfast buffet option – from cereals to eggs and bacon, you will start your day like a champion.

It's family friendly; kids stay and eat for free!
Every time I enter a Travelodge, I know what to expect; it will be clean, comfortable and spacious. Then, I know I can make myself a cup of tea and relax while watching TV for a bit. Did I forget to mention the king size bed?
I'm not going to lie – my partner and I are dreaming of those beds most of the time and I could happily live in a Travelodge on my travels!
Some of their locations are right in the city center, some others are road-tripper friendly which means they are located on the main highways. Those ones normally offer some extra discounts for the shops and restaurants next to the building!
Because photos speak louder than words, let's get comfy together.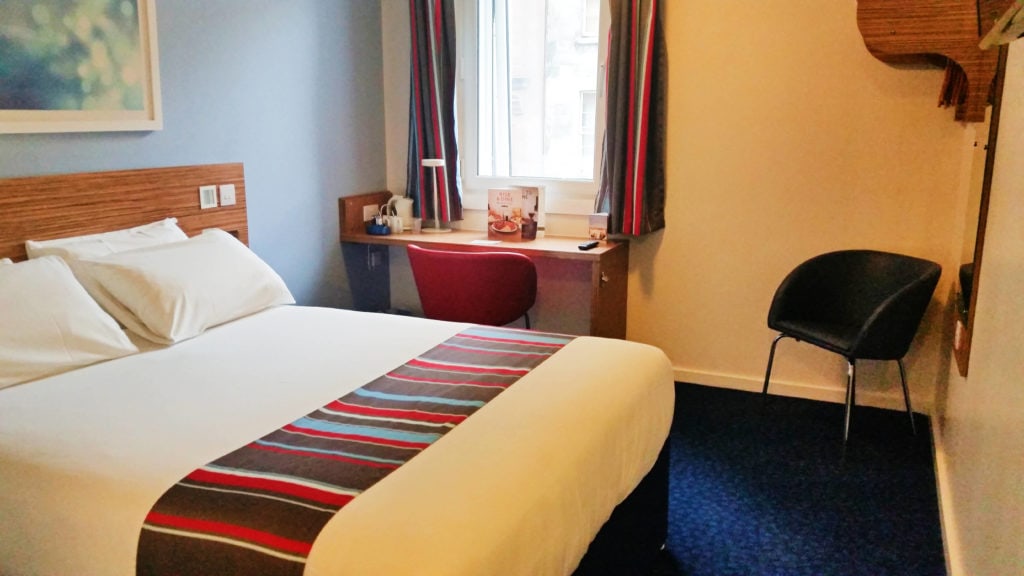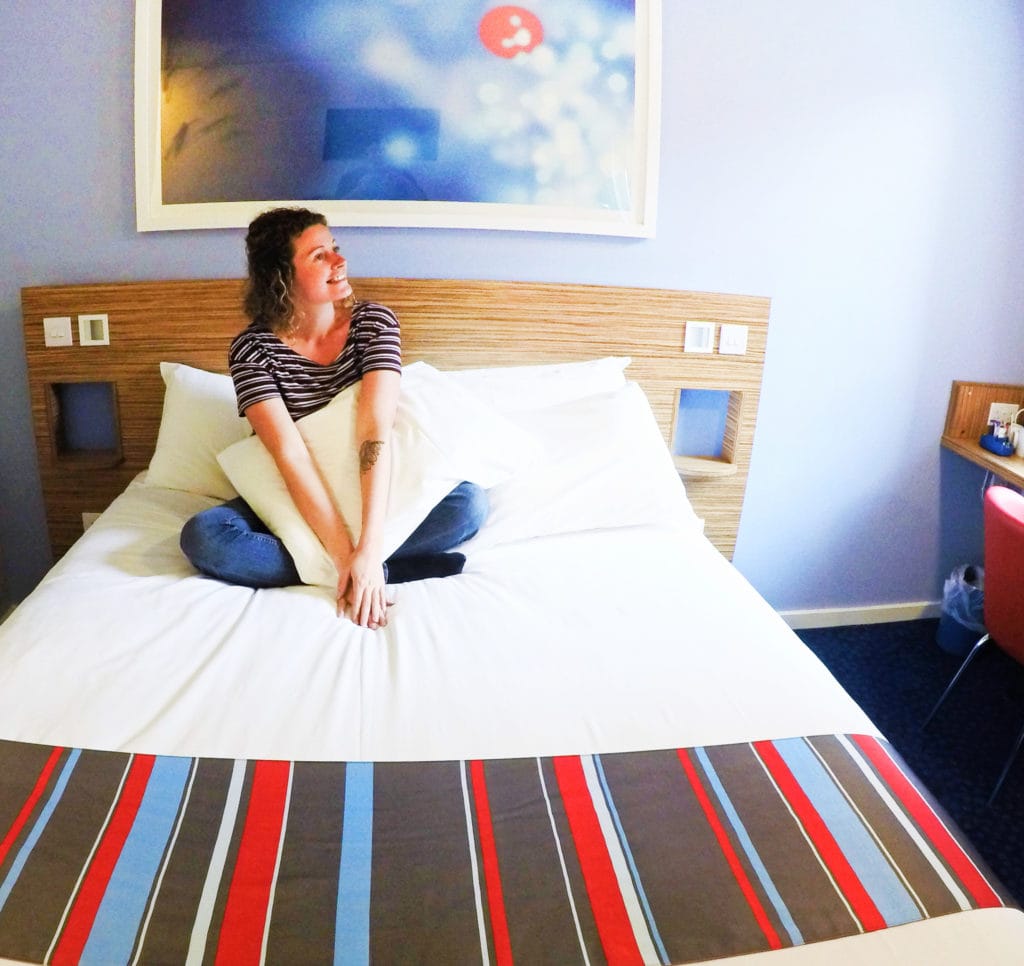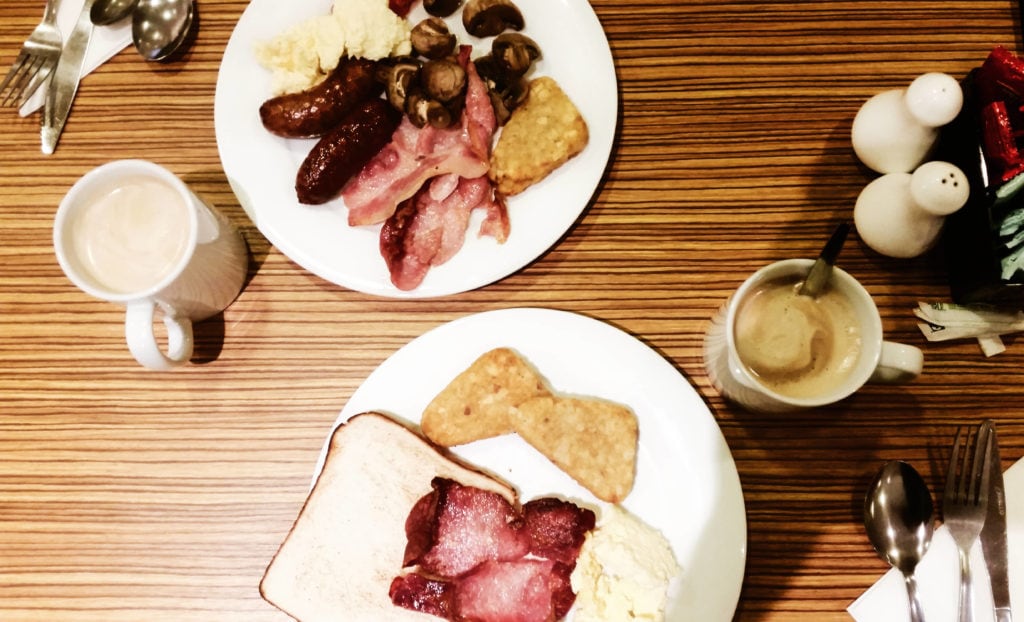 Have you ever been to Scotland? What was your favorite place? Why?
Have you ever stayed in a Travelodge? Did you enjoy it as much as we did?
You may also like:
Are you enjoying this website?  Feel free to use my affiliate links to book your accommodation for your next adventure: Booking.com, Agoda and Hostelworld!

Disclaimer: I received complimentary nights at Travelodge but as always all opinions are my own. I always stay at Travelodge when I travel in the UK. This post may also include affiliate links. Happy road-tripping!