You've seen it on Instagram…  Aruba has taken a higher spot on that bucket list of yours.  You may have heard of the flamingos, or, perhaps, you are only looking for what I would simply call; paradise.  If you decided to book those cheap flights to Aruba (because

KLM

is surprisingly convincing with its affordable flights from

Amsterdam

and London), here's what you need to know to make the most of your trip.
Where's Aruba?
Aruba is located in the Caribbean but belongs to the Kingdom of the Netherlands. This tiny island is not too far from Venezuela and is one of the members of the Dutch ABC islands (Aruba, Bonaire, and Curaçao).
Best Time To Go To Aruba
The best time to go to Aruba is now.  And I'm super serious here. There is no best time to visit as the weather in Aruba is simply magical –  it's always sunny and warm!
If you want to avoid the crowds, you might want to know that the high season is from mid-December to mid-April.
Fun (and handy) Facts About Aruba
There are two official languages in Aruba; Dutch and Papiamento. If you pick up different words from different languages; don't worry, you're not crazy!  Papiamento has influences from many languages including English, Dutch, Spanish, Portuguese and French.

The capital of Aruba is Oranjestad.  This is where you'll find most restaurants, cafes, clubs, casinos, and shops.

The currency is the Aruban Florin, but you can also pay in US Dollars in most places. Speaking of money, you shouldn't have any trouble finding an ATM.

Aruba is pretty safe. The crime rate is "bloody" low – less than 1%!

Aruba's water is drinkable!  You don't need to worry – you can drink directly from the tap.

The island is Internet friendly – there are a few hot spots available on the islands!

You have to tip in Aruba (unless the service charges are already on your bill) – you should tip around 15% – which is exactly the same as North America.
Best Places To Visit In Aruba
I just have to quickly look at my Aruba pictures to want to teleport myself back there.  Every beach looks absolutely beautiful – every sunset is outstanding – even the Outback looks amazing!
California Lighthouse
Built in 1914, the California lighthouse is more than 90 feet high.  Surrounded by the best coastal views of Aruba, you can grab a coconut and talk with a parrot!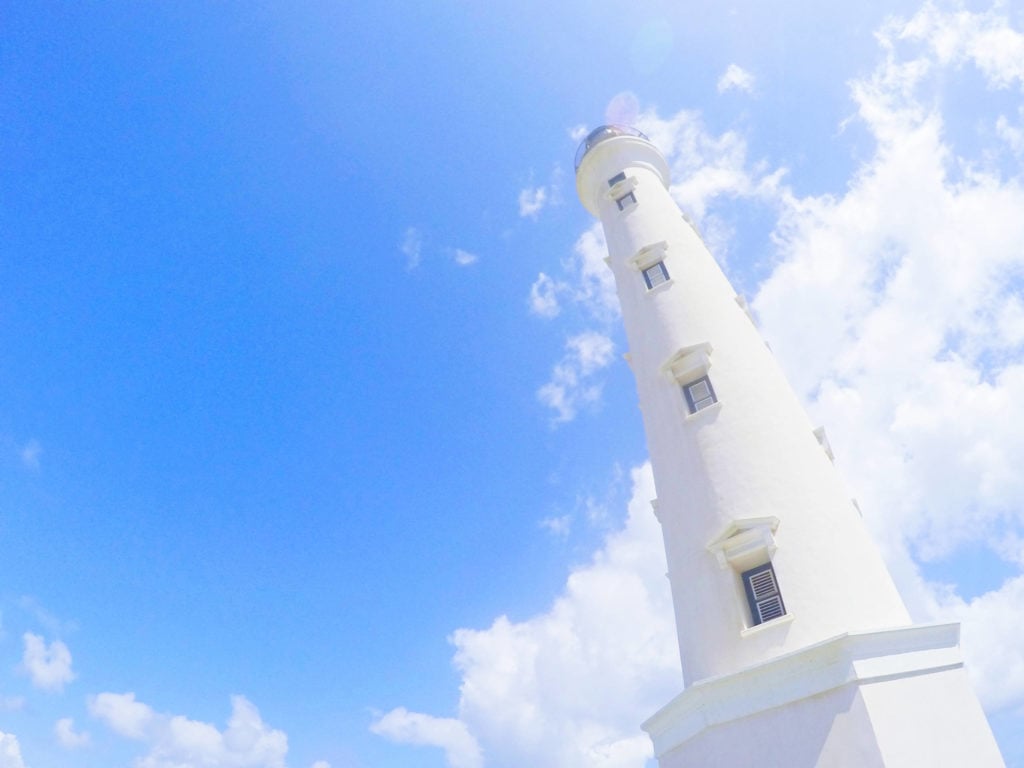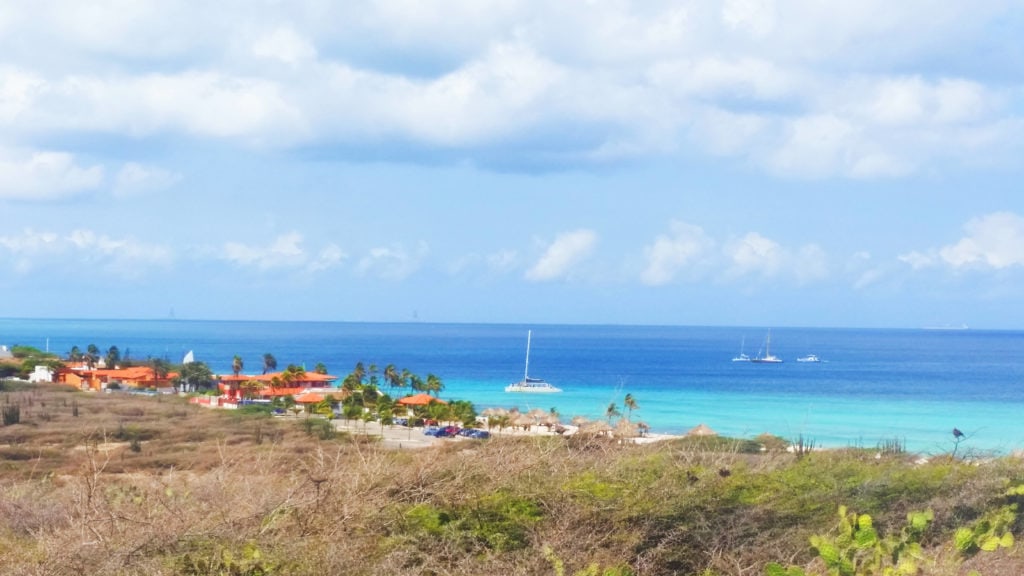 Arikok National Park
Picture the Aruba Outback; cactus, impressive formations of rocks and wildlife.  Arikok National Park is amazing for hiking, off-road adventures, and biking.  There are three places you must-see: the Natural Pool, the Natural Bridge and the caves.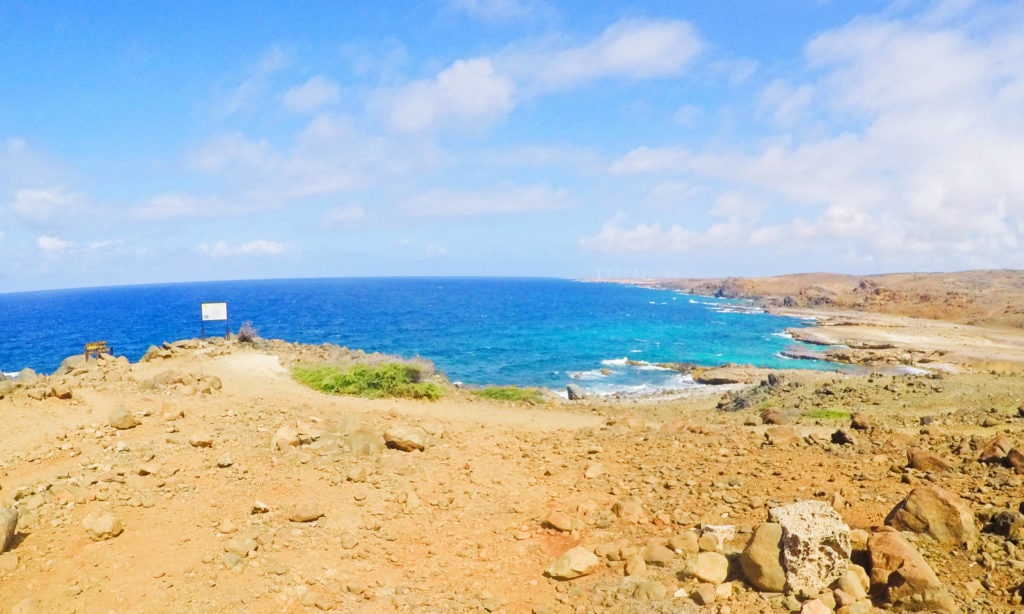 Natural Pool (Conchi)
 
Natural Bridge
 
Fontein & Gaudirikiri Caves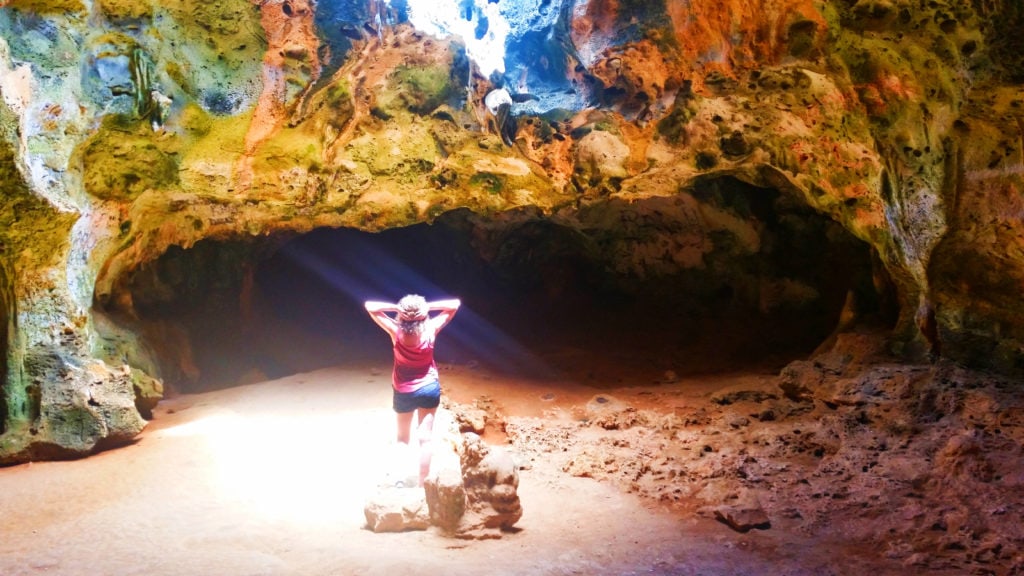 San Nicolas
San Nicolas is located around some of the best beaches in Aruba.  Street art lovers; you must discover the hidden colors of Aruba.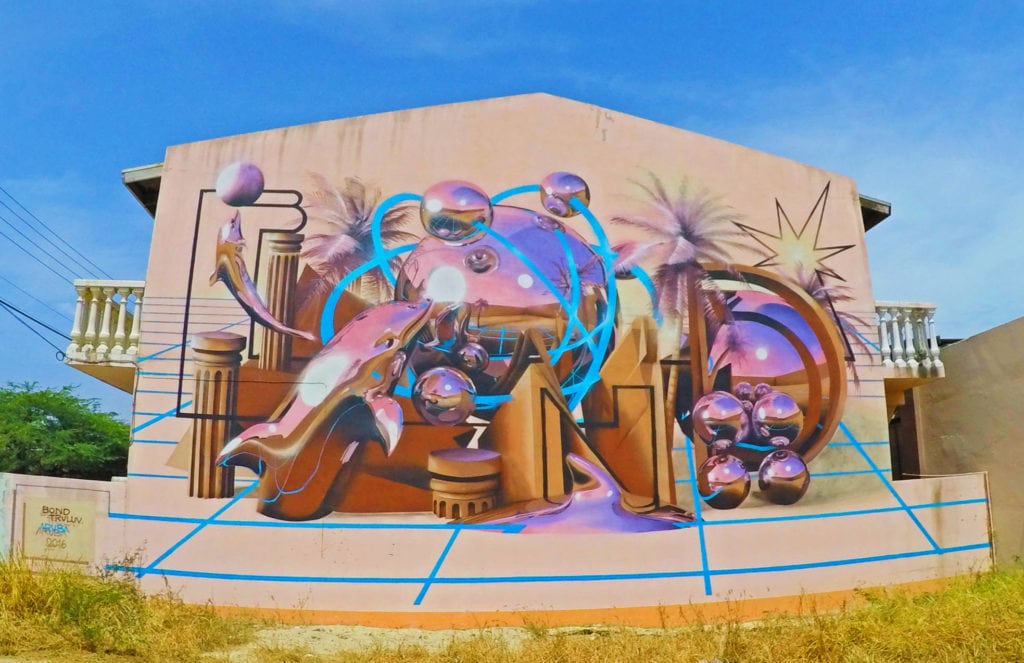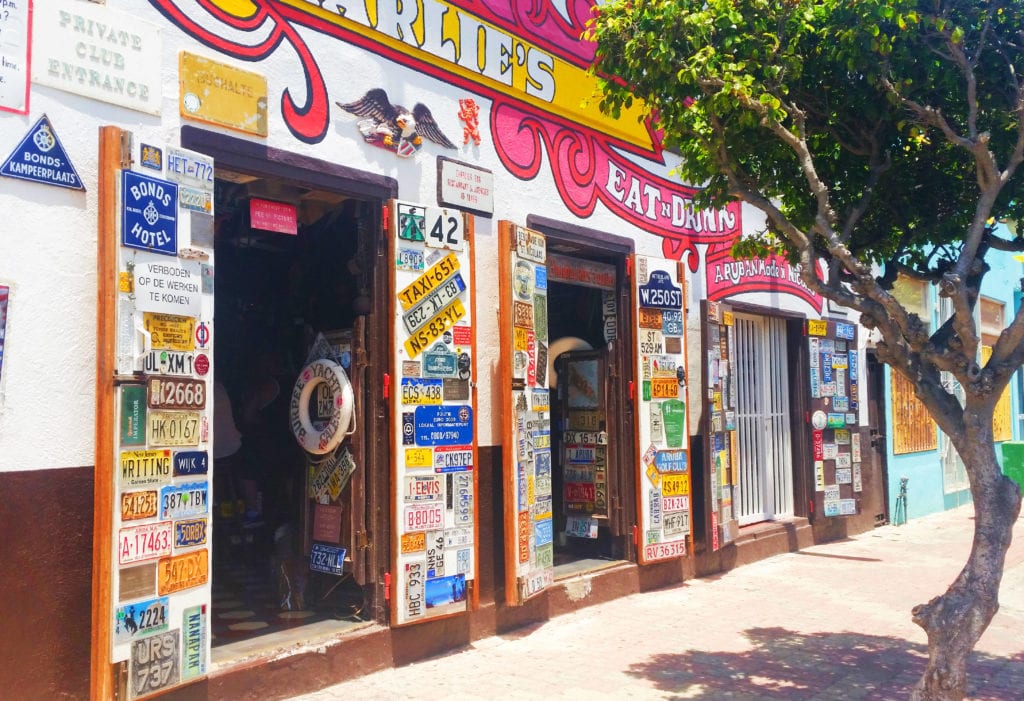 Oranjestad
The Aruban capital is also the mini-Vegas of the Caribbean! Yes; the strip is the place to hang out (especially for party birds), eat out and shop!
Aruba Beaches
Turquoise water – EVERYWHERE! Beach bumming never has been so fun!  There are many beaches to pick from – Palm Beach, Eagle Beach, Rodgers Beach, Baby Beach, name it!  You simply won't be disappointed!
If you want to be active surrounded by turquoise water, I'd suggest you say yes to every possible adventure; snorkeling, kayaking, kite-surfing!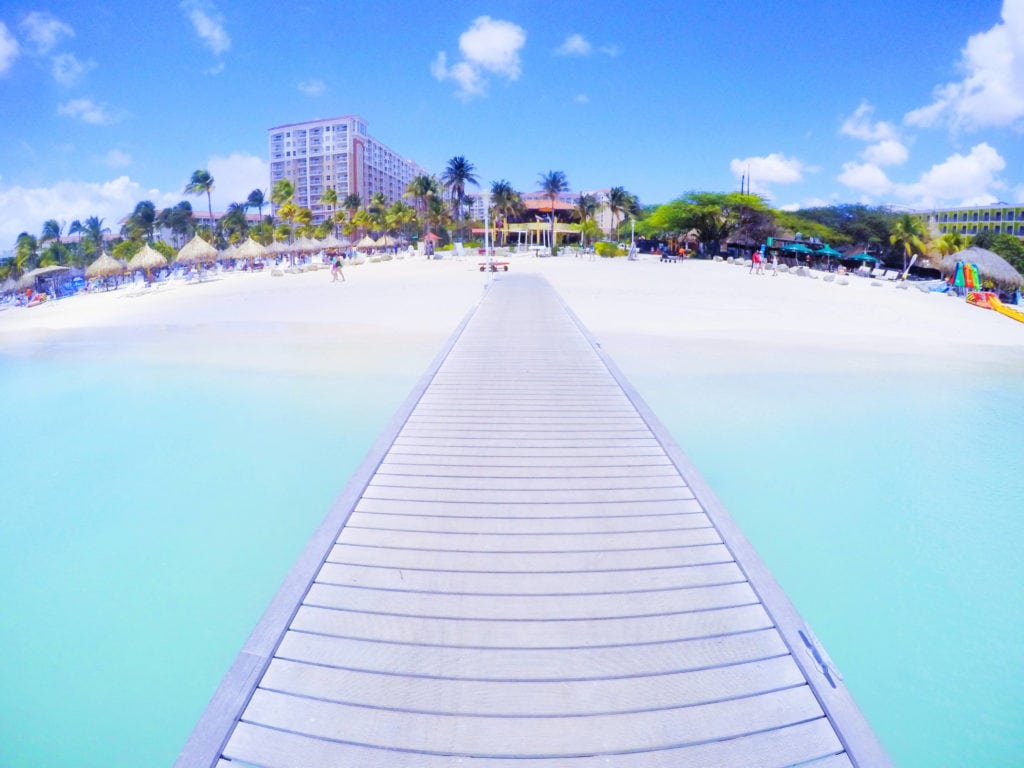 Top Aruba Restaurants
If you're looking for the best places to eat in Aruba, you just found them. Here are my recommendations for top restaurants in Aruba.
Top Aruba Restaurant – Ideal for Breakfast
Salt and Pepper – International cuisine and Spanish Tapas (they serve breakfasts, lunches, and dinners)
Top Aruba Restaurants – Ideal for Lunch
Moomba Beach Bar & Restaurant – Exciting outdoor dining experience at the beach.
Charlie's Bar – Unique bar with cool vibes.
The Old Fisherman – Local restaurant ideal for seafood and fish.
Sea Salt – One of the top seafood restaurants.
Top Aruba Restaurants – Ideal for Dinner
Papillon Restaurant – Romantic French and Caribbean Fusion Restaurant.
Papiamento Restaurant – Tropical outside dining experience.
Barefoot Restaurant – Elegant dining in flip flops.
West Deck Restaurant – Beach bar & Island grill.
How To Get Around Aruba – Car And Jeep Rental In Aruba
The best way to get around Aruba is by car/jeep (especially if you're planning on staying away from the resorts).  Bonus: having the freedom to go anywhere will allow you to make the most of Aruba.
If you're planning on hitting the Outback, I'd recommend you to get a 4 wheel drive!  
You can get more information on car and jeep rental in Aruba on Amigo Rent A Car's Website.
Where To Stay In Aruba
If you'd rather be far from the all-inclusive resorts and have your cozy apartment in Aruba, I can recommend the best option for you; Aruba Sunset Beach Studios.
Aruba Sunset Beach Studios has everything you need – a fully-equipped studio and Wi-Fi!  Bonus; there are a pool and a jacuzzi.  The name suits the place perfectly – you can walk on the beach at sunset and you might even have the best sunset all to yourself!
Oops. Did I forget about these famous flamingos? It's because I didn't go! Here's everything you need to know about Flamingo Island Aruba!
Would you like to do something epic in Aruba? I'm thinking of kayak adventures, windsurfing, and snorkeling here! If your answer is yes, you must check out this list of top adventurous activities in Aruba.
You may also like:
Let's look at the flights… just for fun!
Get your monthly (and funny) dose of adventures! Subscribe now! #YesPlease
Are you enjoying this website?  Feel free to use my affiliate links to book your accommodation for your next adventure: Booking.com, Agoda and Hostelworld!
Get Your Travel Gear!

Disclaimer: This article was written in collaboration with Tourism Aruba UK but as always all opinions are my own!  Happy travels!