When I think about Turkey I think of Istanbul, hot air balloons in Cappadocia, Turkish coffee and tea.  I imagine a big terrace where I can play Backgammon at night while drinking tea or even smoking shisha.  When they invited me to join the World Tourism Forum in Istanbul, I was glad I could give Turkey another chance after what happened last time.  Then, I got another invitation; they asked me to visit Thrace.  I had no idea what to expect.  To be honest, I even had to google it.  I had no clue where Thrace was.  Guilty here, I hadn't heard of this region before.  Google Images told me (because, Sir Google gives me all the information I need) that I could see enormous mosques, a mountain-ish background and that I could probably walk across wineries. There was not a lot of information about Thrace.  The truth is that they are trying to improve tourism in this part of Turkey.  This means that anti-crowd people will be pleased in Thrace!
If you're like me and you tend to love hidden gems, then, I'd recommend you go on an adventure in Thrace!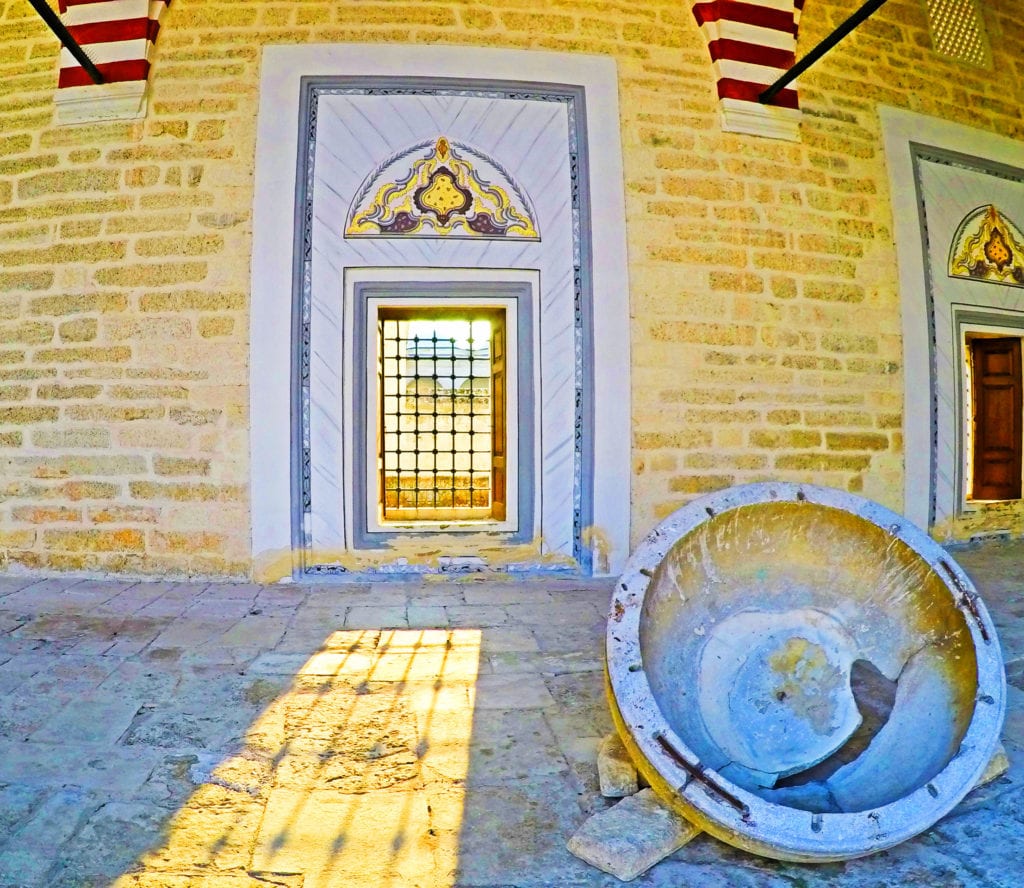 ---
Where is Thrace?
Thrace is located in the North and the very West of Turkey, just next to the Bulgarian and Greek border. It's in the European part of Turkey.  If you are travelling in Europe by land, this could be an easy stop on your way to Istanbul if you come from Greece or Bulgaria (or the other way around).
How to get there?
There are many ways to get to Thrace.  There are buses/minibus which seem to be the easiest options.  Other than that, you could hire a car or even hitch-hike your way around the area.  Read my tips about hitch-hiking here.
What to do in Thrace?
Our trip was quite short (less than 48 hours), but here's our rough itinerary. I hope this will convince you to visit this part of Turkey.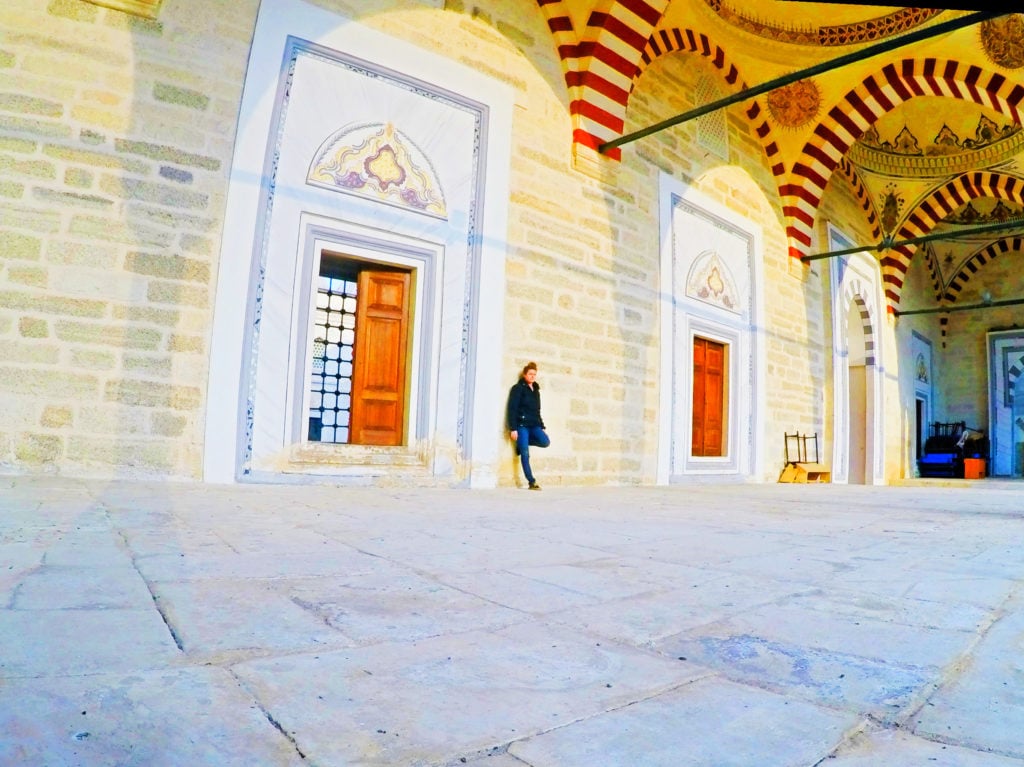 Visit Thrace – Day 1:
On our first day, we drove from Istanbul to Edirne (around 2-3 hours drive).  While we were there, we had the chance to visit Selimiye Mosque, the Great Synagogue and the Health Museum.
Selimiye Mosque was gorgeous and was my favorite stop of the day.  We had the privilege to visit some "secret places" while we were there allowing us to admire colorful patterns like these ones.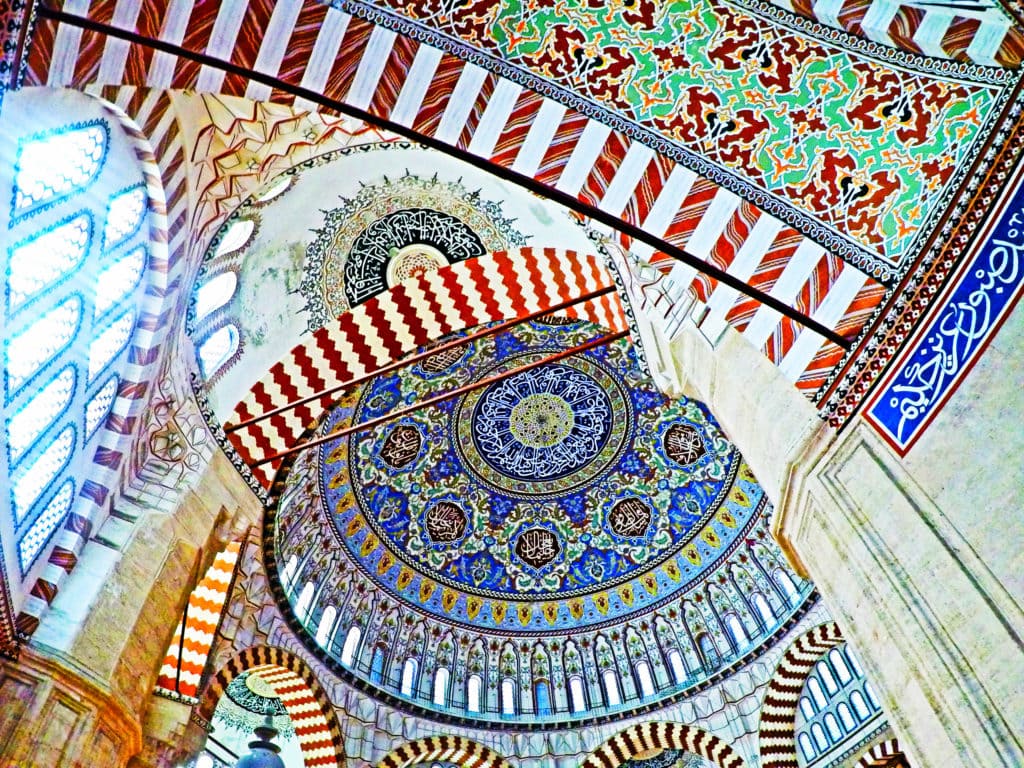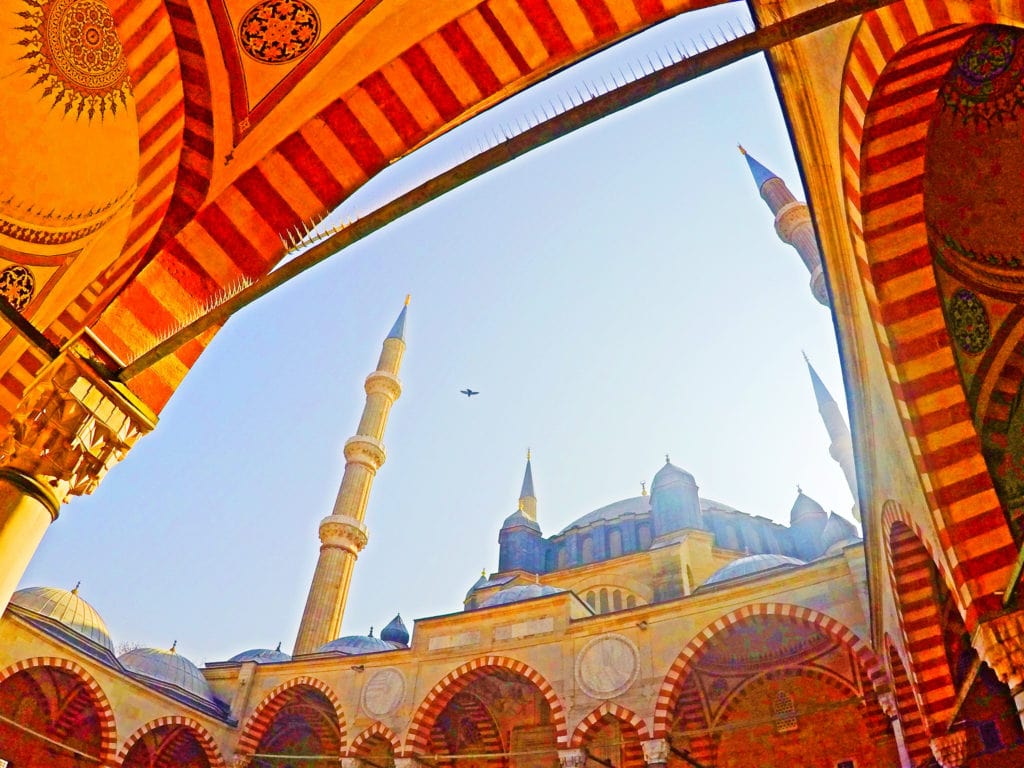 We could also access one of the minaret so we can appreciate one of the best views in Edirne.  The view was well worth it after climbing too many narrow steps to get there.  Again, my fear of heights tried to trick me.
At the end of the day, we reached our hotel; Bakucha Vineyard Hotel & Spa where we had an excellent meal before a good nights sleep.  Picture this; a hotel located in the middle of vineyards.  This remote location is perfect for a romantic getaway or for a digital detox.  You can appreciate the best views relaxing next to a fireplace with a glass of wine in your hand. (Disclaimer: they told me the wine was very good – as I'm sober I can't tell you if this information is true!)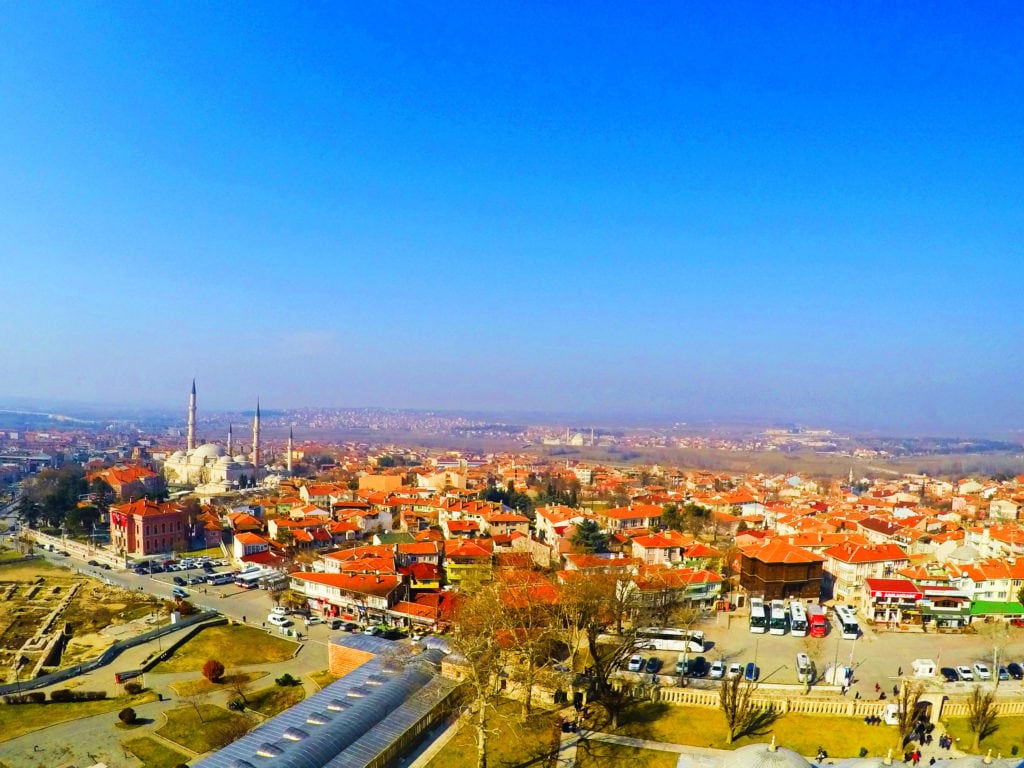 Visit Thrace – Day 2:
The next day, we went to walk around the vineyards with the hotel owner to learn more about the winemaking process.  Unfortunately, in February it's not the best time of the year to visit a winery. The best time to see the harvest season would be in September. (#JustAnotherExcuseToComeBackIGuess)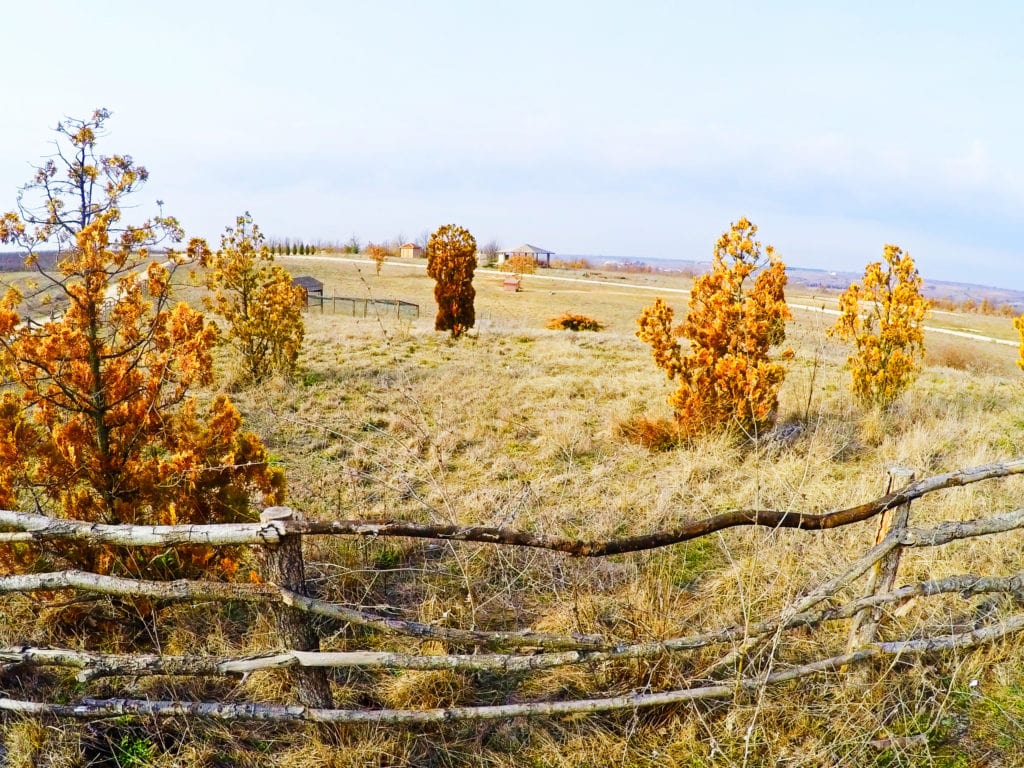 Then, the group went for a wine tasting session which I skipped to catch up on work.
Thrace has a great reputation in terms of wine.  Let's go back in time for a minute! The French used to occupy this territory and it was also their "Perfect-Wine-Making-Spot".  This means that this soil is perfect to grow grapes and make the best wine in Turkey.
Here's what some of the other bloggers had to say about the wine tasting.
Wine tasting at #Bakucha with @AFtravels 👌🏼🇹🇷👌🏼 #Thrace #WineRoute pic.twitter.com/sdeFLmVhZ2

— Vaughan (@VaughanMac) February 19, 2017
Wine tasting at #Bakucha hotel after the #wineroute tour. Not too shabby activity in Thrace areas of #Turkey @Turkey_Home #travelbloggers pic.twitter.com/xD9LwXi8IE

— AdventureFaktory 🐪 (@AFtravels) February 19, 2017
Then, we went for a walk through a big bazaar in Edirne.  I walked around some other mosques and simply enjoyed the views.  My recommendation would be to sit somewhere outside to observe the local life while drinking tea or coffee.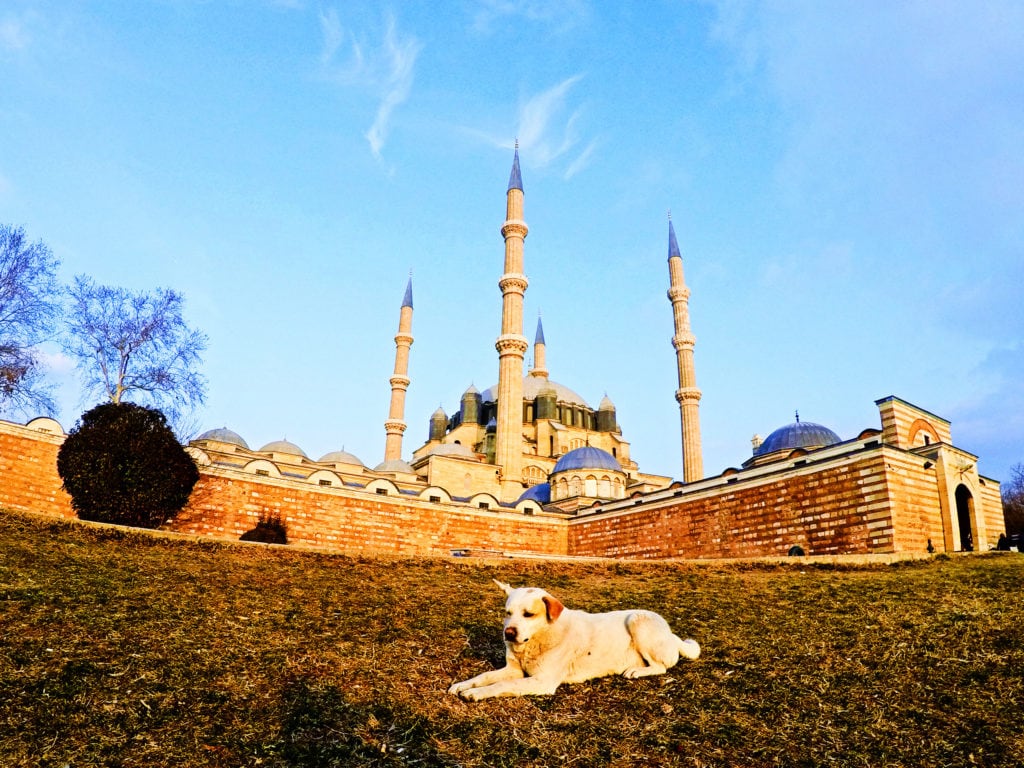 And here we were, already on our way back to Istanbul.
What is there to eat in Thrace?
The region is well known for its wine, meat balls and fried liver.  Yes, I was a bit out of my comfort zone, but I did try everything that was served on my plate.
Although, I was pleased with many cups of Turkish coffee and Turkish tea.
Did someone say #coffee? ☕#welcometothrace #coffeeaddicts @Turkey_Home #turkey pic.twitter.com/4RjZ08IDxa

— A Broken Backpack (@Abrokenbackpack) February 19, 2017
Why should you visit Thrace?
Thrace is the perfect destination for off-the-beaten-path type of travellers or for wine lovers.  Awesome for budget travellers and fantastic for color seekers, you should definitely add Thrace to your Turkey itinerary.
I know that there are many places to visit in Turkey and I believe Thrace should be one of them.
Have you ever been to Thrace?  If so, tell me about it!
What are your favorite places to visit in Turkey?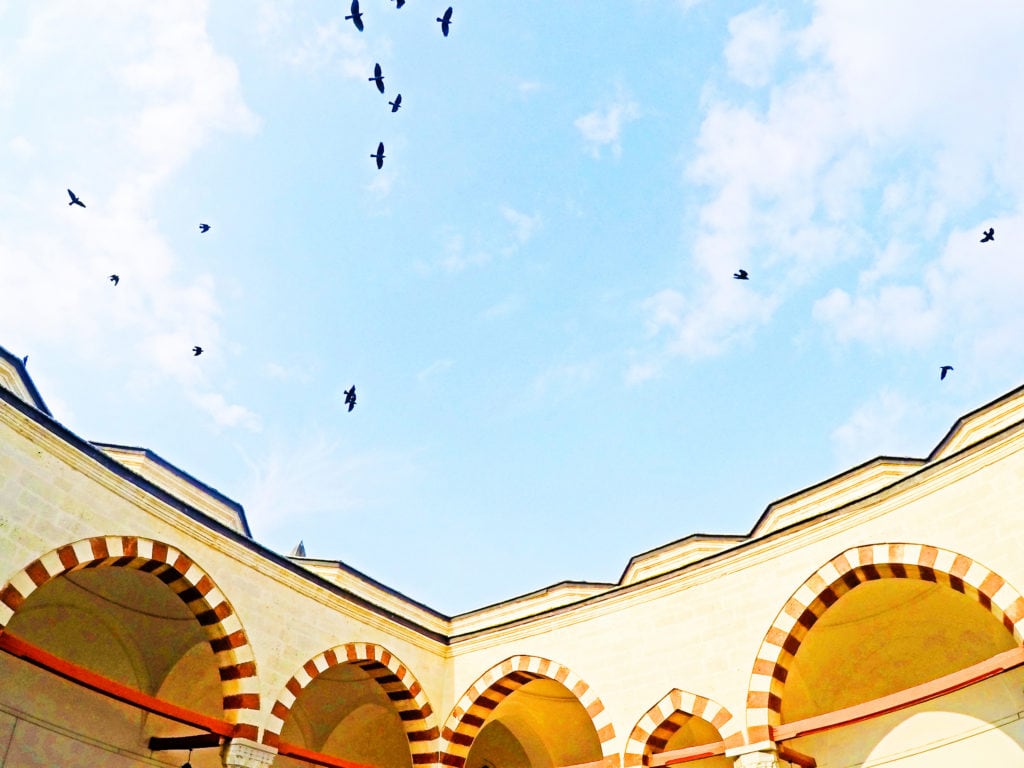 Thanks to BloggerCasting and Trakya Development Agency for inviting me to Thrace.  
Happy travels!
Are you enjoying this website?  Feel free to use my affiliate links to book your accommodation for your next adventure: Booking.com, Agoda and Hostelworld!