Belgium.  Why not?  It seemed to be a smart stop between Paris and

Amsterdam

.  I surprised myself thinking "What am I going to do in Brussels?".  Guilty here.  I had no idea.  I certainly knew what I would eat but, I wasn't sure about the doing part.  
Brussels shouldn't rhyme with sprouts here.  I know, you think you're very funny here, but believe me; Brussels was such a great discovery.  I would happily go back any time – I loved it!
Does it have something to do with chocolate, waffles and Belgian fries? Of course.  Life as I knew it before simply changed. You can't beat this my friend.  This is the Belgian Heaven (because, yeah; it deserves capital letters).
Is Brussels fun? Yeah!  As long as you think that fun has something to do with food – it was so much fun!
---
Here's my DIY list of fun things to do in Brussels in one day (or two)…. (or more).
Eat waffles.
Please, notice here that waffle has an "S" which means you should at least eat two of them.  Who knows?  You might never come back to Brussels, so you better create decent memories.  
Where to eat the cheapest (and the best) waffles in Brussels: In this street (have a look at the map below), all waffles are only 1 euro. For this price, it doesn't include any toppings, but you should know that you don't even need one. Toppings are for tourists. Locals eat their waffles plain. It's going to be sweet. Don't worry.
Here's the thing.  You should have a street plain waffle at least once.  And you should try another one with toppings in a restaurant (this time with a Belgian hot chocolate). #JustSaying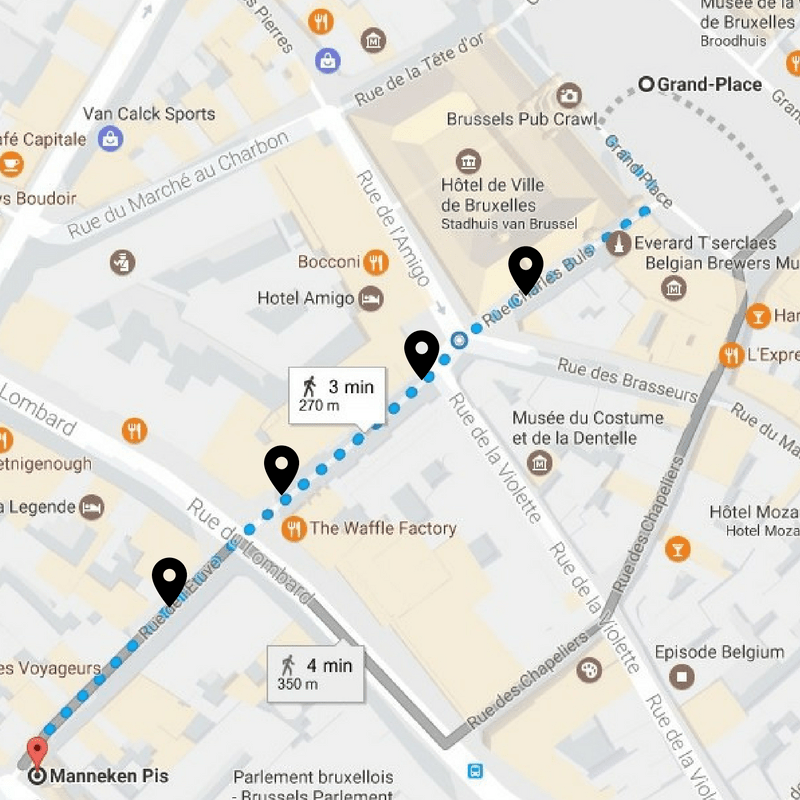 Eat Belgian fries.
I hear you; "is there anything else to do other than eating in Brussels?"  Of course there is, keep reading my friend.  I'm just making sure you won't miss the best part about Brussels, especially if you're only here for a day.
Where to eat the best Belgian fries in Brussels: Fritland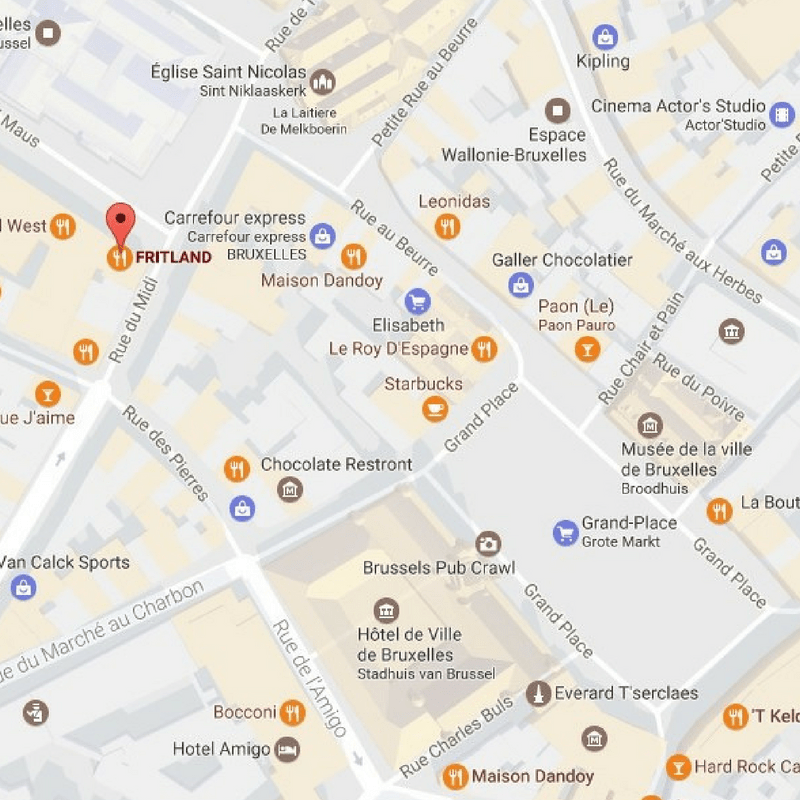 Eat chocolate.
Oh Hello. You can't miss this either.  You should grab your chocolate stash in one of those shops where you can also try the chocolate previously: La Belgique Gourmande.  Take plenty. Eat plenty.  This is pure happiness.
Walk around the Grand-Place.
This big square is quite impressive as it's surrounded by massive buildings.  There are many Cafés, restaurants and temptations everywhere.  It's also the meeting point for free walking tours around Brussels.
Have a look at La Bourse
La Bourse is a pretty big building.  It's one of the meeting points around Brussels and it's also where people showed their love, respect and solidarity after the bombing attacks of March 2016.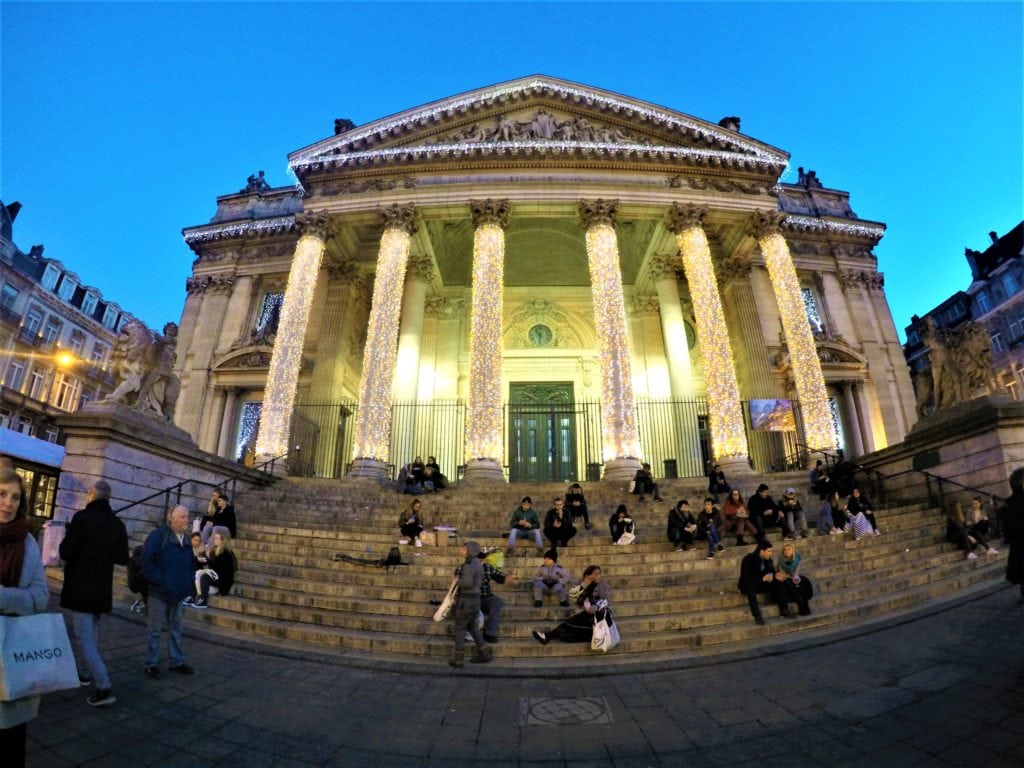 Check out Manneken Pis outfit.
This is probably the biggest Brussels landmark.  The little man peeing statue has a trending wardrobe which means that you could see him in different outfits every day of the week if you wanted too.  This statue has been stolen many times and also has a female equivalent; Jeanneke Pis which is located in the Party area.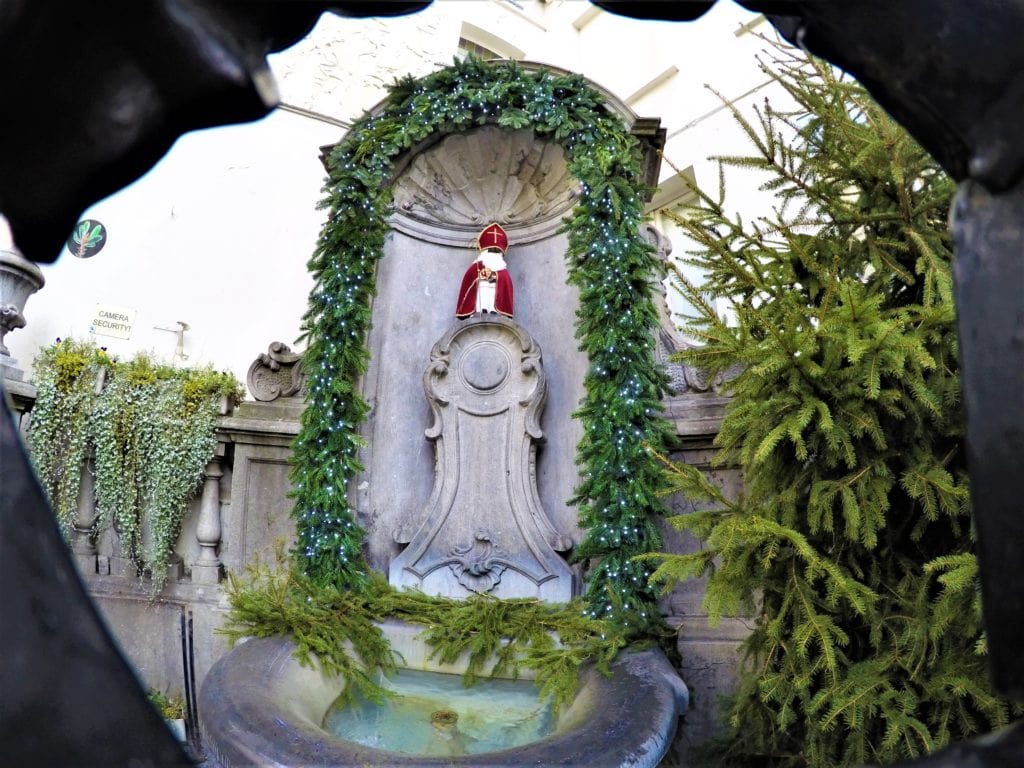 Have some Belgian Fun.
Did I just say "Party area"?  There are a few bars you should check out if you're a party animal. (I'm an angel now, so I can't say a lot about it, but I'm guessing you're also planning to taste the Belgian goodies that rhyme with beers?!) I heard about two awesome places to go out; Delirium Café and Floris Bar. Both are located on Impasse de la Fidélité street (which is quite funny if you speak French). Floris Bar is also known for its exclusive Absynthe.
The best of Brussels during the winter – Christmas season:
I went to my first Christmas market when I was in Brussels.  It's located around La Bourse and the place Sainte-Catherine.  There's also a big Christmas tree right in the middle of the Grand-Place.
You should also check out the light show at the Grand-Place and I'd strongly recommend you watch the one at Sainte-Catherine.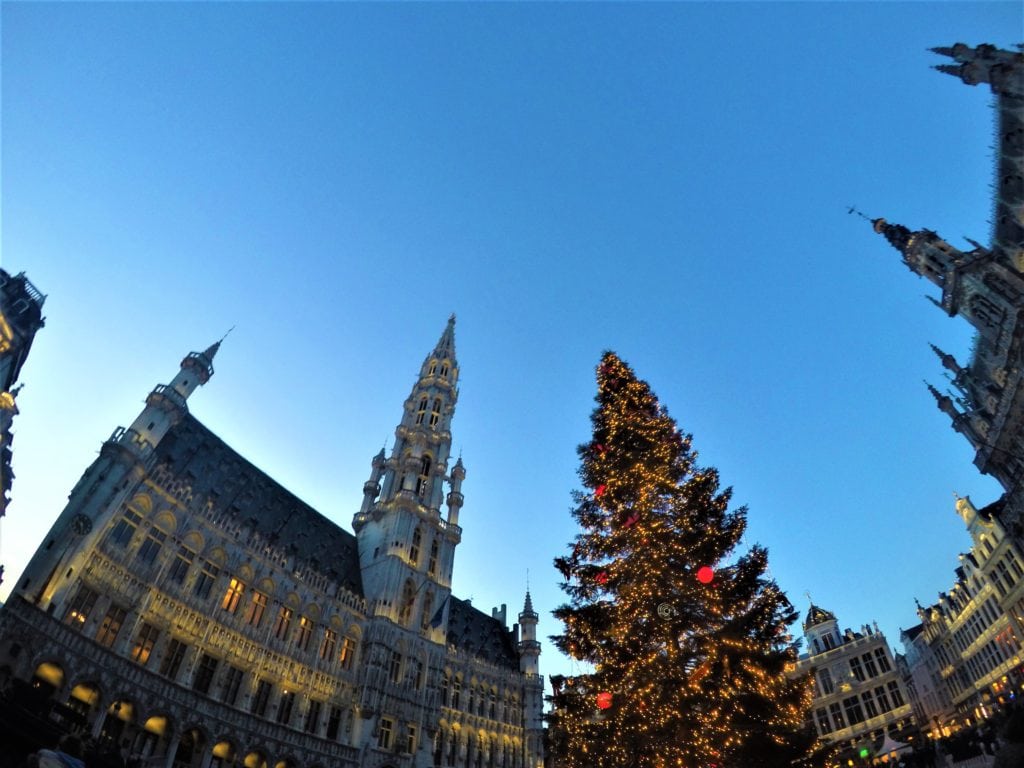 Note that Brussels is also known for its museums.  But as I'm not a big fan of museums, I'd suggest you check out another blog (#Sorry).
Where to stay in Brussels:
I stayed at Jacques Brel Youth Hostel while I was in Brussels.  It's not exactly in the city centre, but it isn't too far either.  I could walk to the Grand-Place easily while exploring the less touristy parts of Brussels around the hostel.  The place was pretty clean, modern and well equipped.  There's a kitchen available on site and you also have a free breakfast (which is amazing by the way).  The closest metro is Botanique.
Travelling in Europe with Busbud:
There are many different ways to travel across Europe.  Here's why you should consider doing it by bus.
It's quick.

 You don't need to show up too far in advance.  It's efficient!

It's budget friendly.

 Most of the time, travelling by bus is the most affordable option.

You can stay connected.

Wi-Fi is free and you can even use power sockets!

You can travel with luggage.

No need to worry about liquids, gels, or the weight of your luggage.  Pack that bag and go!

It's eco-friendly.  

The environmental impact is minimal compared to the other transport options.
Budbud is the best way to book bus tickets as it's all in one place.  You can search, compare and book your bus tickets from hundreds of bus companies in 10,000 cities across 63 countries. They propose 500,000 routes and that makes them the biggest bus travel booking website.  Their goal is to make travel accessible for everyone by giving travellers clear and accurate bus travel information such as schedules and fares. Find and book your perfect bus trip now!
Let's look at the flights… just for fun!
Where to next?
Get your monthly (and funny) dose of adventures! Subscribe now! #YesPlease
Are you enjoying this website?  Feel free to use my affiliate links to book your accommodation for your next adventure: Booking.com, Agoda and Hostelworld!
Get Your Travel Gear!

Disclaimer: I traveled in Brussels with Busbud and Jacque Brel Youth Hostel.  As always, all opinions are my own.  I'd happily recommend them to you!  Happy travels!