Myanmar was one of my biggest highlights in Southeast Asia.  This country simply stands out in comparison with its neighbors.  I had a huge crush on the people too.  Burmese are very friendly. They are more than happy to have a quick chat with foreigners so they can practice their English. Here's a useful budget guide proposing an itinerary and my favorite spots! This simple budget guide was made to show you the best of Myanmar.  I'll be suggesting some itineraries for one, two and three weeks in Myanmar.
Kindly note that this guide is based on my own trip – three week itinerary in Myanmar – during the rainy season and the tourism industry is evolving quite fast.  This post was based on a trip in August 2016.
---
A few things you should know about Myanmar:
You need a visa to get to Myanmar, which can be done in an embassy or online. The electronic visa cost USD50.  I managed to get mine in less than 24 hours.  I'd suggest you verify the requirements depending on your nationality.
You won't find a hostel in every city. You might have to consider booking a hotel.  If you're not traveling alone, you can also share a room with someone to save money!  Some cities can be a bit more pricey as they are not as touristy as others.  It is still possible to go on a backpacking trip in Myanmar!
I recommend you book your accommodation on Agoda as you need to pay in advance. This way you won't lose money with the currency exchange.
The local currency is Kyat (MMK). You can pay with Kyat nearly everywhere except for accommodation, they will ask for USD (or change it for Kyat) and that's how you could lose money.
The best time to visit Myanmar would be now!  With the tourism industry growing, Myanmar is still considered as an off the beaten track destination.  The best months to visit Myanmar are from November to February – which is their winter season.  It would be ideal if you're planning on heading to the beach.  Although, it's still very possible to travel off-season if you can handle the rain.
Myanmar Destinations AKA The Best Myanmar Itinerary
Yangon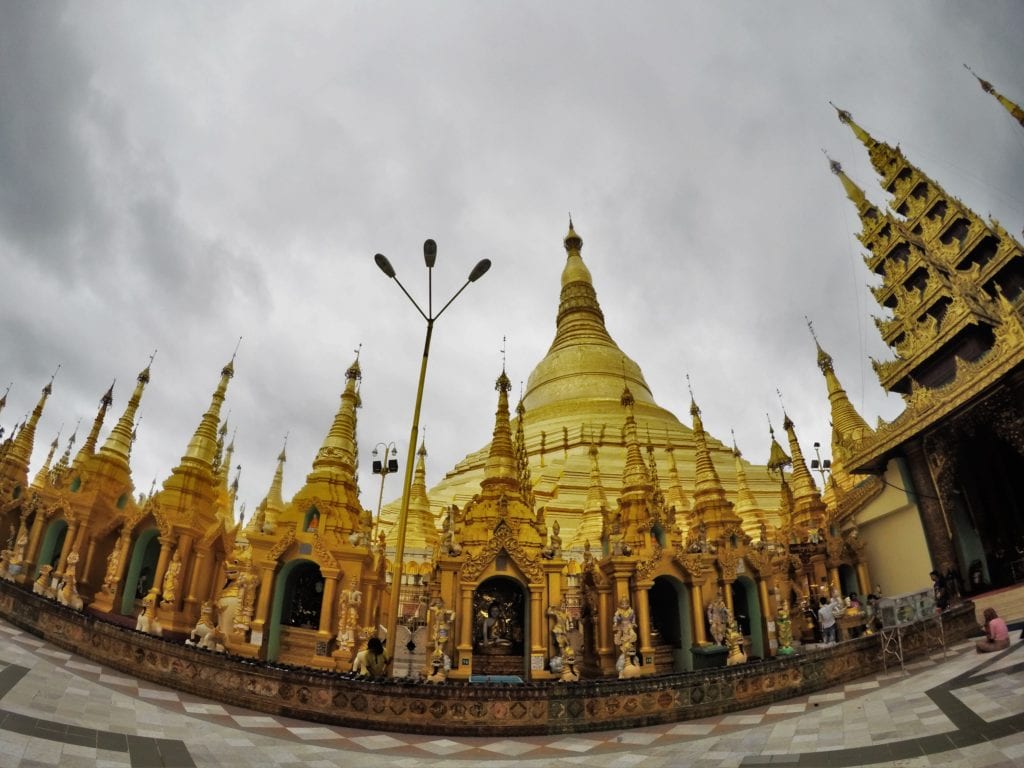 I first flew to Yangon thinking there was a possibility I could be forever alone in Myanmar as there are not that many travelers around.  Well, I was wrong.  I had my social face from the start at the airport and I was already making new friends.
Okay, it rained a lot when I was in Yangon and when I say a lot, that also means a lot.  I saw the gold pagodas for the very first time under my cheap umbrella.  We ate street food, walked around and tried that circular train.  If you google "Things to do in Yangon" or if you are a lonely planet fan, you probably already know about the circular train.  It is basically a 3h train around Yangon.  The train itself is a cultural experience, but I don't think you actually need to stay for the whole trip (I didn't).
You should go for a walk at night time to enjoy the pagodas and their golden vibes.
Money factor:
There is a taxi stand at the airport and prices are fixed. Find some friends at the airport and share a taxi to reach your destination.
Bagan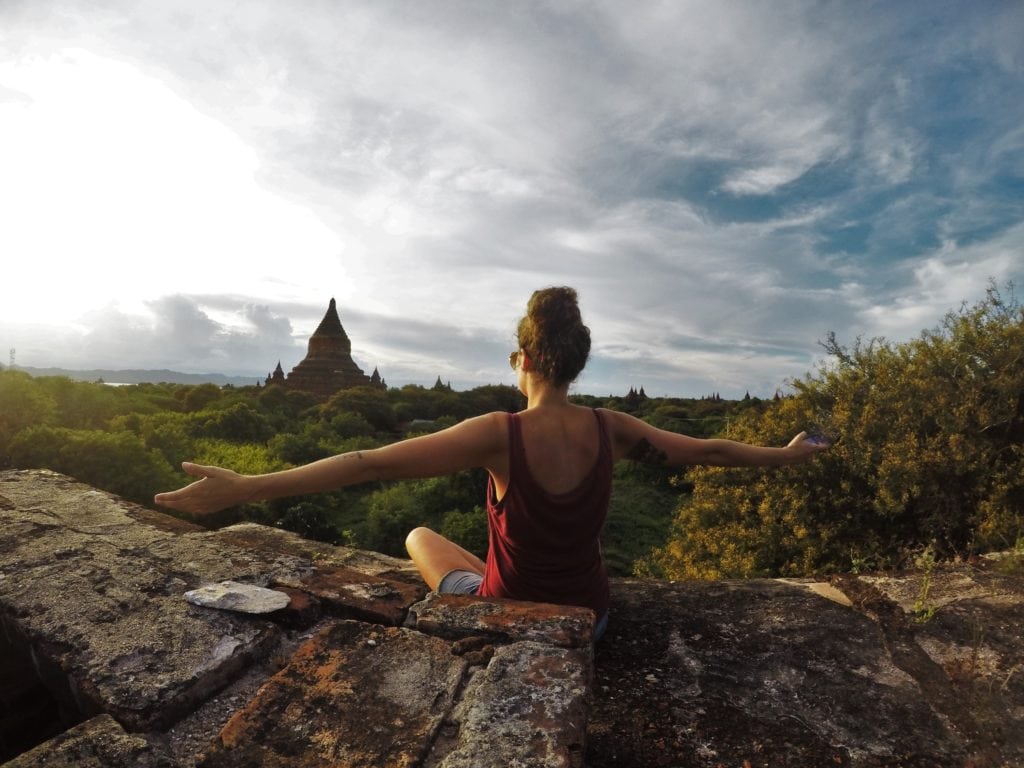 Bagan is one of the major stops in Myanmar as it's known for its temples, sunrises and sunsets!  The best way to get around is by E-bike (but, you can also do it on a bicycle).  Two words; get lost!  Find a nice temple where you can climb to the top to enjoy the view!  (Please, remove your flip flops too!)
You should get lost and find a place to meditate or simply enjoy the beauty of Myanmar.
Money factor:
When you enter Bagan, you need to pay an entrance fee which is USD 20.
From Yangon, you can find a bus for MMK 14000.
Mandalay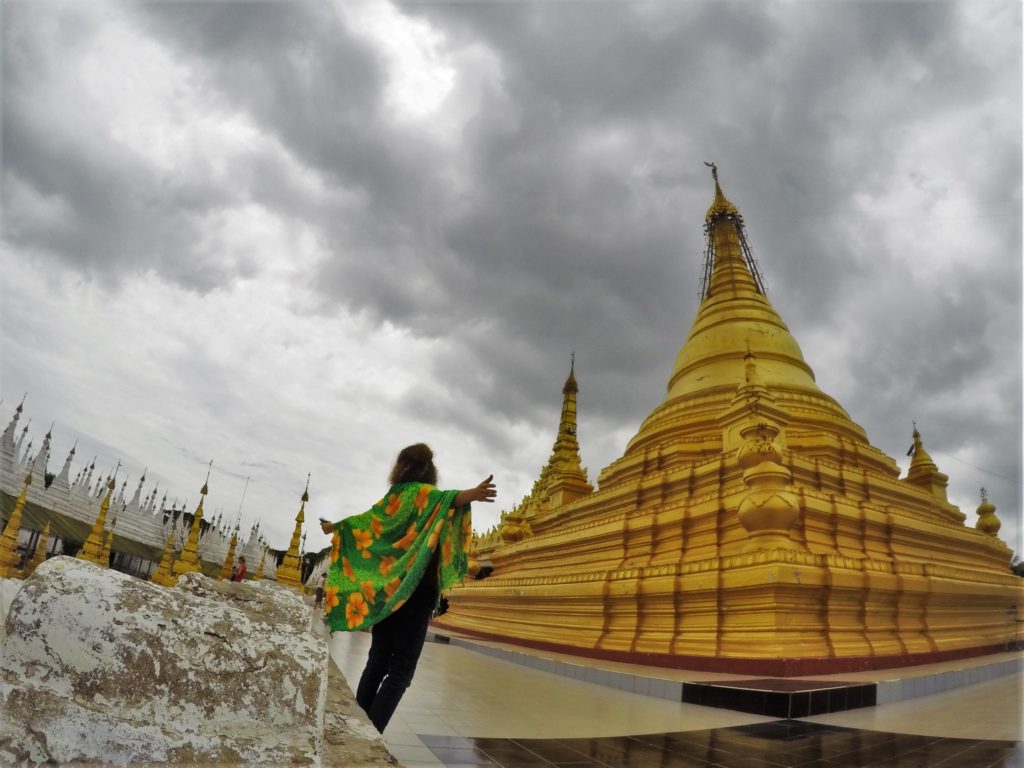 Mandalay is also very popular if you want to spot monks and visit temples and pagodas.  It is also famous because of its bridge where it's an easy spot to meet monks.  I was there during the rainy season and the water level was pretty high.
The city is big and the main touristy spots are not in the same area.  A great way to get around could be by hiring a taxi driver for the day. Done that; but I wouldn't recommend it as our driver was getting impatient and we did a half day instead of a full day.  Good news; we managed to pay him half price.
Money factor:
Mandalay is pretty big so you need to come up with a clever plan to organize your visit without spending too much.
From Bagan, you can find a bus for MMK 8000-9000.
Lashio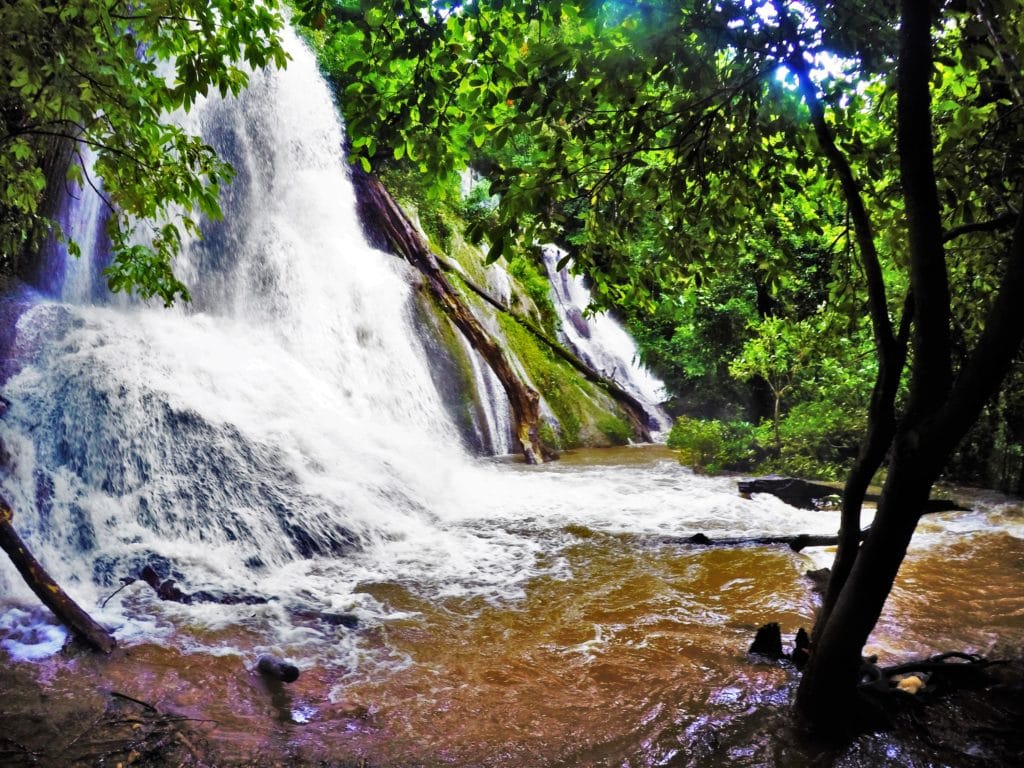 Lashio was my favorite place in Myanmar and you can read the whole story here.  I spent three days around the area and simply love the experience!  If you're heading there, you need to get in touch with Myanmar Adventure Outfitters to create the best experience for yourself in Myanmar!  Outdoor lovers, adrenaline addicts and off-the-beaten-path backpackers; this place is for you!
You should get on a customized tour with Myanmar Adventure Outfitters!  Trust me here!
Money Factor:
From Mandalay, you can find a bus for MMK 6000-8000.
Hsipaw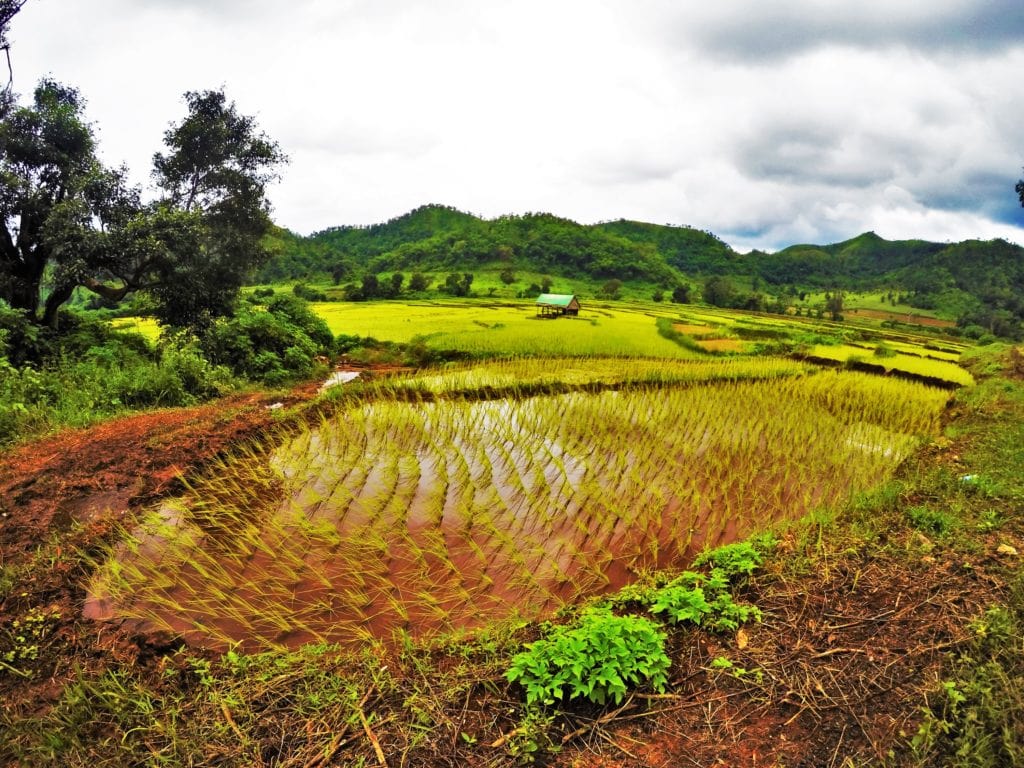 There are many places you can hike in Myanmar.  Hsipaw is one of them.  Many agencies, many different tours, many experiences…  Obviously, it wasn't as good as Lashio, but it was still a great experience if you're ready for a long walk!
I went on a two day trip including an overnight stay in a village.  Basically, we walked 33 kilometres in two days.  I guess it will be needless to say that you should bring lots of water with you!  Of course, the views were beautiful and the experience in the village was interesting.  Personally, I think there was too much walking and at the end of the day, I was simply too exhausted to truly enjoy it.
Money factor:
For two days trekking including a night in a village, you can expect to pay MMK 25000.  Find information on the walking distance if you need to before booking your tour.
From Lashio, you can find a train ticket in Business class for MMK 1400 or even cheaper in Economy class.
Inle Lake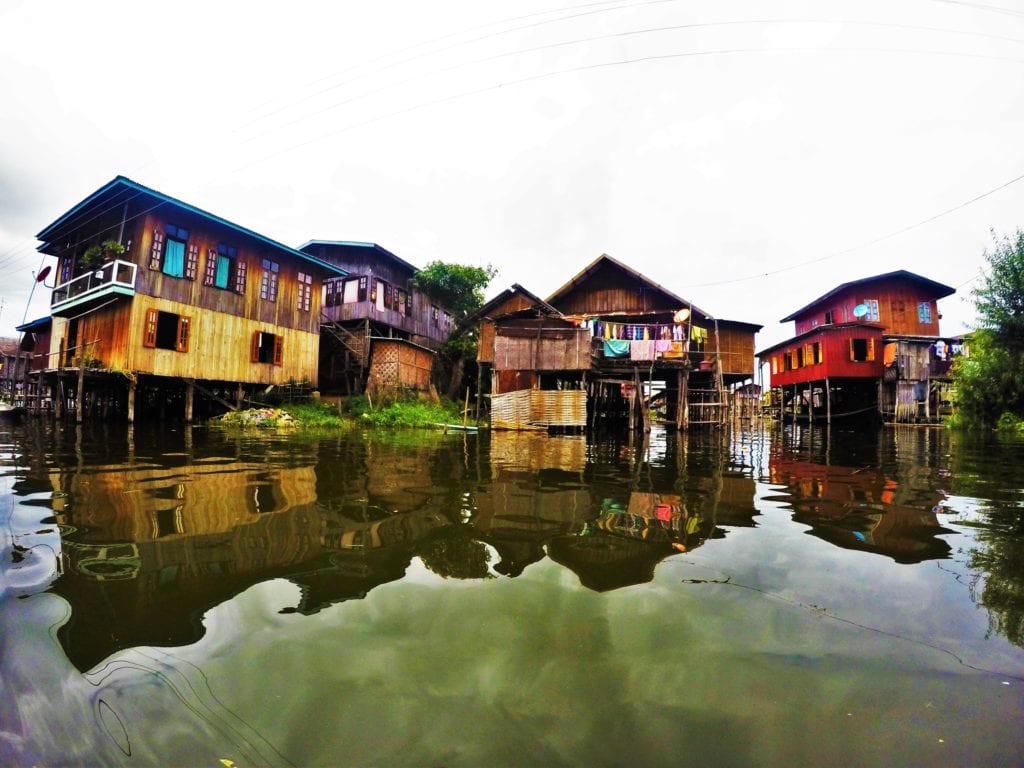 Inle Lake is also a main stop for hiking around.  Most of the people start in Kalaw and will end up in Inle Lake.  After too many kilometres in Hsipaw, I wasn't in the mood for another big hike.  Known for its lake, Inle Lake was also where I had the best food!  To be fair, the place is quite touristy which means that you'll find a lot of options for food and for accommodation.
The cheapest way to enjoy a boat cruise is to go to the harbour and find your own captain.  They will offer your different routes and then, you can pick from there.  I love being on a boat and enjoy the view; so if you're the same, you should, perhaps, ask your captain to skip all the stops and take you away from the crowds.
You should get on a boat and enjoy the cruise.  You don't need to stop everywhere.  You're paying, so you can customize your trip too!
Money factor:
When you enter Inle Lake zone, you need to pay an entrance fee of USD 10.
You can find a cheap cruise for MMK 14000. (A lot of places will try to overcharge you).
From Hsipaw, you can find a bus for MMK 15500.
Bago
Bago is close to the Golden Rock and is not too far from Yangon.  As the weather was not on my side, I decided to skip it and to keep going.  Accommodation around there can be pricey.  If it's constantly raining, you won't be able to do a lot.
Money factor:
Bago was the most expensive place in terms of accommodation.
From Inle Lake, you can find a bus for MMK 13000.
Hpa An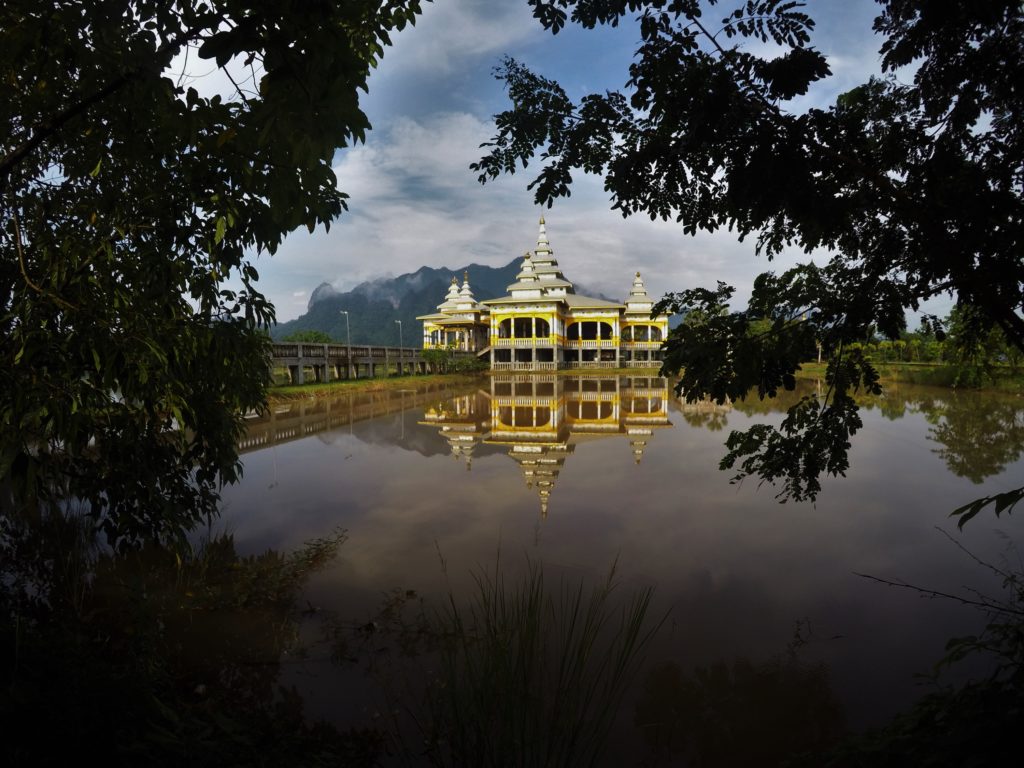 Hpa An is close to the Thailand border and this is why it was my last stop in Myanmar.  I was going to cross the border by land.  Hpa An is known for its caves and for its landscapes!  It was also one of my favorite spots as it is not touristy!
You should hop on a motorbike, get lost and enjoy the scene!
Money factor:
There are not a lot of options for accommodation, so don't have too many high expectations about guest houses.
You can rent a motorbike for MMK 6000 a day.
From Bago, you can find a bus for MMK 6000.
If you're heading to Thailand, you can book a car to the border for MMK 8000.
Recommended itineraries in Myanmar for one and two weeks:
Recommended itinerary in Myanmar for one week:
Yangon;
Bagan;
Inle Lake.
Recommended itinerary in Myanmar for two weeks:
Yangon;
Bagan;
Lashio;
Inle Lake;
Hpa An.
Have you ever been to Myanmar?
What are the most beautiful places in Myanmar according to you?
Share your best tips & pieces of advice with us!
You might also like:
Are you enjoying this website?  Feel free to use my affiliate links to book your accommodation for your next adventure: Booking.com, Agoda and Hostelworld!