You'll simply need to Google Banaue and, trust me; you'll want to go!  I read about it on other blogs and I thought; it sounds amazing.  Let's go!  If you are wondering what you could do in Banaue; stop. I can sum it up for you; things to do in Banaue = trekking and appreciate another side of the Philippines! While I was in Manila, I met a local blogger who recommended me to take a tour guide as it can be dangerous and tricky to do it by ourselves.  I thought it would be a good idea as I had no experience trekking along rice terraces.  He convinced me when he told me that he knew a good guy that I could trust.  He set up everything for me.  I just needed to get there. I jumped on a busy night bus to head toward Banaue.  I arrived in the morning smiling at John, a tricycle driver, who was waiting for me with a sign with my name on it.  Then, he drove me to a restaurant so I can have breakfast.  I had planned 4 days in the region, which is a bit longer than most of the tourists.  He recommended me a three day trek which I wasn't sure about.  I asked him if it was for beginners and he told me it was easy.  In the end, he managed to convince me. Then, I met Benzon, an experienced tour guide.  He has been in the industry for 10 years and he's probably the best guide around.  As we started to walk, I asked him; so what's the plan?  How many kilometres are we going to walk today? With a big smile, he answered; 12 kilometres to get to Pula and then, 4 kilometres to get to Cambulo. 16 kilometres?  Let me tell you that I wasn't ready for that.  But, as usual; challenge accepted! We were walking through the jungle, sweating out many litres and slowly making our way to Pula. It wasn't too hot and it was okay.  He asked me if I was scared of heights and my answer was a clear no.  Ahem.  This was before I started to walk across the rice terraces.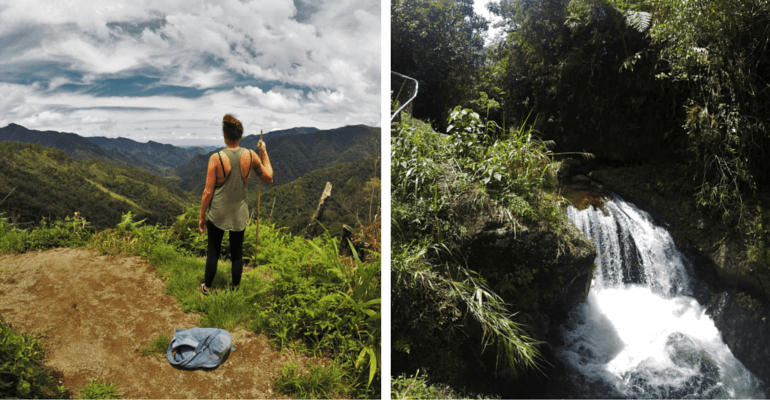 A few minutes later, I was already scared AF.  I've never done something as dangerous as this.  I had never been as scared as I was.  I couldn't walk anymore.  I was frozen in fear.  He told me; no problem Mel, I'm here to help you.  He gave me his hand so I can continue.  And to be fair, I had no envy to walk all the way back.  It was our own version of "follow-me-to".  In fact, I would have cried more than once if I had to do it all by myself.  Actually, I would have turned around if it wasn't for him.  He was there to motivate me and challenge me when I needed a little push. When we finally reached Pula, I had a big crush on this tiny village in the middle of the mountains and the rice terraces.  Chickens, chicks and dogs were hanging around with the kids.  I was proud of me.  But, I had no idea what was coming next. On our way between Pula and Cambulo, it started to rain.  If there is this one place you don't really want to be around when it rains, I'd say it's in the rice terraces as everything turns into mud and it becomes very slippery. Bonus; because of a misunderstanding, I didn't bring a poncho.  I was completely soaking wet.  It couldn't get any better! I nearly cried when I realized this was the scariest thing I've ever done.  But, crying wouldn't have been appropriate when you need all your concentration to survive.  A wrong step could be fatal.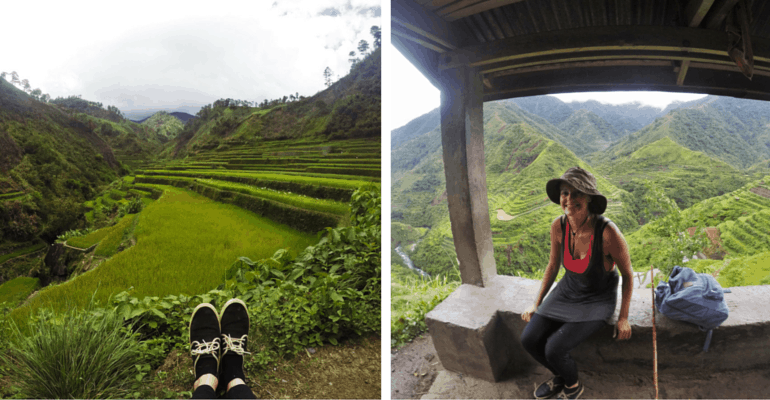 When I reached Cambulo, I couldn't be happier.  I knew that the next few days would be easier as we wouldn't have to walk such a long distance.  I was alive and I was grateful for it.  I enjoyed a nice meal, a massage and a good nights sleep. The next day, our goal was to reach Batad, which is protected by UNESCO.  We only had to walk 3 kilometres… across the rice terraces.  What seems shorter can still be long when you consider the path we have to take. As much as I was scared, it was completely worth it as the views were unbelievable.  When we arrived at the viewing point, we took a break and it felt so good. I also decided to make a couple of changes to our itinerary as I discovered my physical and mental limits on the way.  So, I simply thought that I wouldn't push these limits too much. I had one thing in mind; this is the first and the last time I'm doing this.  I'm glad I'm doing it but this is not going to happen again!  Well, this was until I heard about Mount Sapa in Vietnam… We'll see when I get there I guess! On our last day, we reached the saddle point, enjoyed the view from another village and we made our way back to Banaue. These three days were the scariest, the craziest and the most challenging days of my life.  But, this was also one of the best experiences I've ever had. If you are planning to trek around the rice terraces and the region, I'd recommend you contact John and Benzon.  I totally trust them and they were the nicest people around!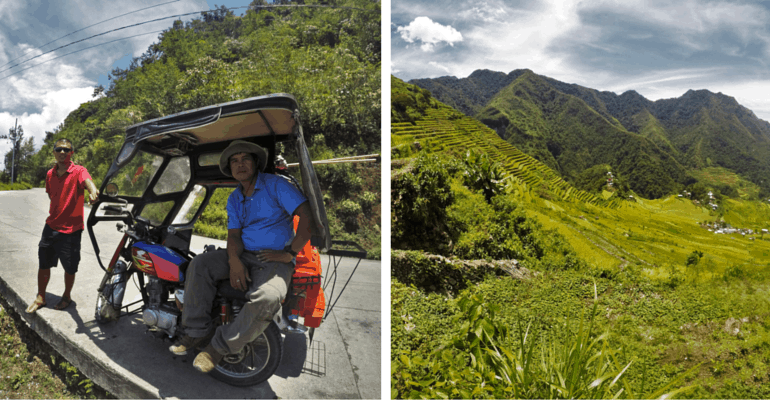 Are you planning on going to the Philippines? Get your Banaue-Batad rice terraces tour package now by contacting them directly on this Facebook Page.   If you do contact them, please tell them I say Hello!
What you should know
I strongly recommend you take a guide as the paths are tricky and dangerous.  On my second day, we found out that a lady fell down on the rice terraces and she broke her foot.  The guide knows the dangerous spots and will ensure your safety along the way.
Guides are available for 1 day, 2 days or 3 day tours.  You can build the itinerary together. He will organize the accommodation at the guest houses for you and the transport via Jeepneys or tricycles.
If you travel with people, you can share the costs.  You'll have to keep in mind that if you have more people in your group, the guide will have to split his attention between you.
Forget about your high standards for a few days.  You'll experience a crazy adventure across the mountains and the rice terraces… but also, across native villages where they struggle with electricity and water.   You won't have any Wi-Fi outside of Banaue.
Be nice.  Be friendly.  Be grateful.
How much money will you need
No ATM in the area, so make sure you have enough money when you leave Manila.
Trekking for three days including pick-up, tricycle, private guide and accommodation for three nights: around 5000 pesos.
Accommodation is around 250-500 pesos depending of your preferences.
You can have a meal for 100 pesos.
How to get there
You'll have to take a night bus from Manila to Banaue. During the high season, you might have to book it in advance.
You can book your tickets here.
Where to stay
There are a few guest houses in every village where you can walk-in.  As they don't have Wi-Fi reception, it could be hard to book it in advance.
If you take a guide, he'll organize your accommodation for you.
If you'd rather stay in Banaue, you can find some cheap beds here.
What to bring
Sunscreen;
Sunglasses;
Hat;
Mosquito repellant;
Good walking shoes;
Flip-flops;
Poncho;
A lot of water;
Snacks;
A few clothes;
Your camera;
Your energy;
Your smile;
You may also like:
Are you enjoying this website?  Feel free to use my affiliate links to book your accommodation for your next adventure: Booking.com, Agoda and Hostelworld!

Disclaimer: This post may include affiliate links at no cost to you! Happy trekking!