I'm sorry London, it wasn't 'love at first sight'. I think you were more like a fantasy. You know, everybody talks about you. Everybody moves to London, and I cannot understand why. Sorry, I've said it.
I feel like I may or may not have missed London's sparkle. What's so cool about a crowded tube, a big clock and the royals?
Okay. I'm sorry. Should I put my polite filter on?
Fair enough, your public transportation system is okay, Big Ben always looks good and yeah, I shouldn't say anything more about the royal family.
I've been to London a few times. I found some colorful spots to add more colors to the British weather. Then I went to visit another neighborhood and London slowly became more interesting. But, still… I wasn't charmed, amazed or even close to being in love.
When I sadly realized I had to spend 12 days in London it was quite "shocking" and even my bank account was having a heart attack.
Is it possible to truly enjoy London and keep your wallet happy?
I gave myself a mission. I wanted to give London more of my appreciation. I wanted to keep a great memory of Great Britain. It was my big farewell to the UK.  
Because, you know, life happened.
Challenge accepted, I said.
These 6 places made me like London a bit more. They made me appreciate the moody atmosphere while listening to the British Symphony (I love the British accent).
Bonus: all these things are free of charge which will help you make the most of London if you're on a budget.
The Queen's Walk – Next to London Bridge in the direction of Tower Bridge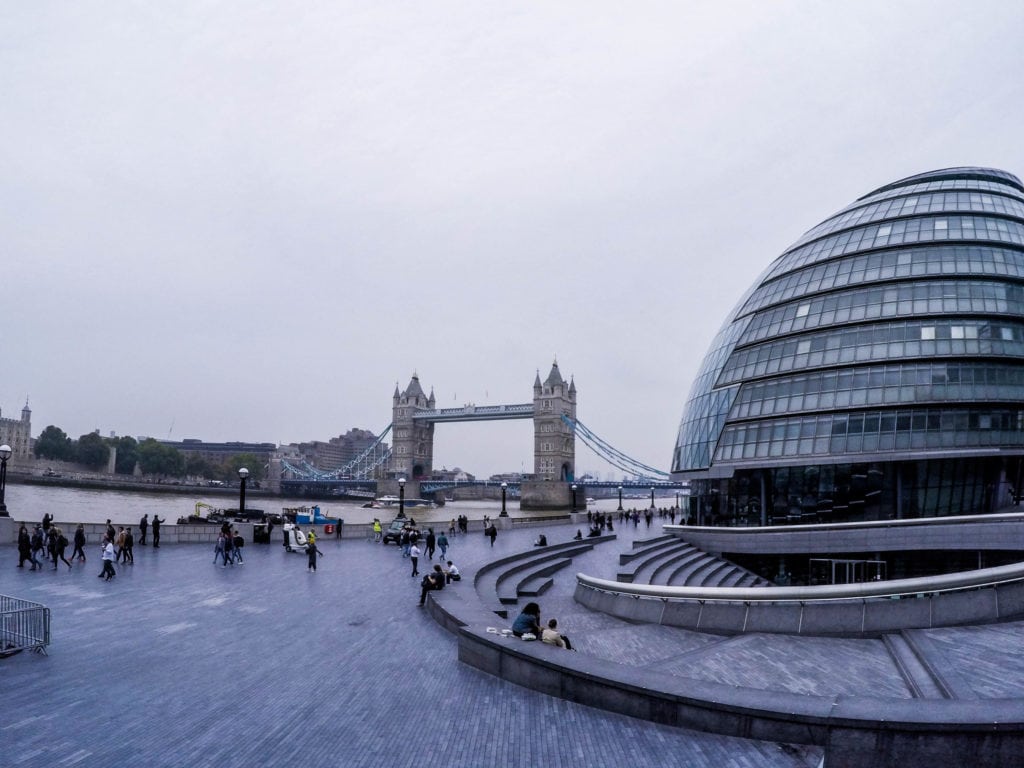 I'm a sucker for a view. I like a great view and I like it better when it's free! I was simply walking around River Thames when I spotted a small path next to the river. The Queen's walk sounded promising.
Last time I was trying to get a good shot of Tower Bridge it was super challenging. I don't like to share my "touristy life" with tourist herds. What can I say, I refuse to think I'm one of them. But hey, keep dreaming, huh?
The walk was perfect. It wasn't crowded with tourists. In fact, it was quiet. I could admire modern buildings and I could embrace the selfie photoshoot without feeling embarrassed. (Yeah, it happens.)
The Southbank – From London Eye to London Bridge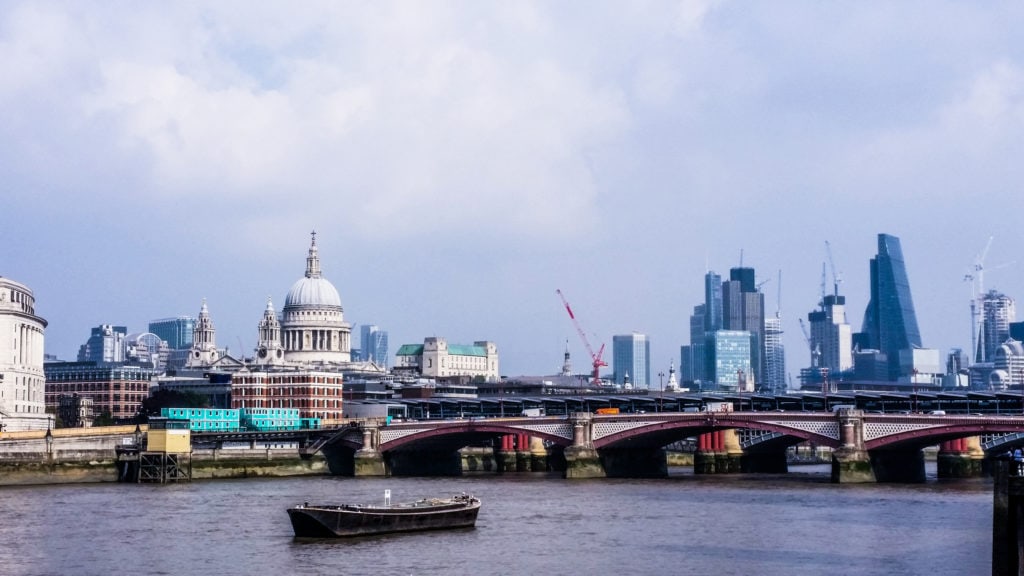 It is quite a long walk. I have to confess, I like to see the London classics such as Big Ben and the London Eye. It does make London look good. Then, I walked all the way back to London Bridge, next to River Thames.
It seems that all Londoners are always trying to make the most of their little dose of sunshine. Everybody was having lunch outside, sitting on a bench or on a terrace. It felt like London was alive. As I was listening to a street performer singing I could discover a new London vibe I didn't see before; the cultural/artistic lifestyle. There are a lot of things happening in London whether you're a culture addict or a museum lover. Bonus: most exhibitions are free.
The Sky Garden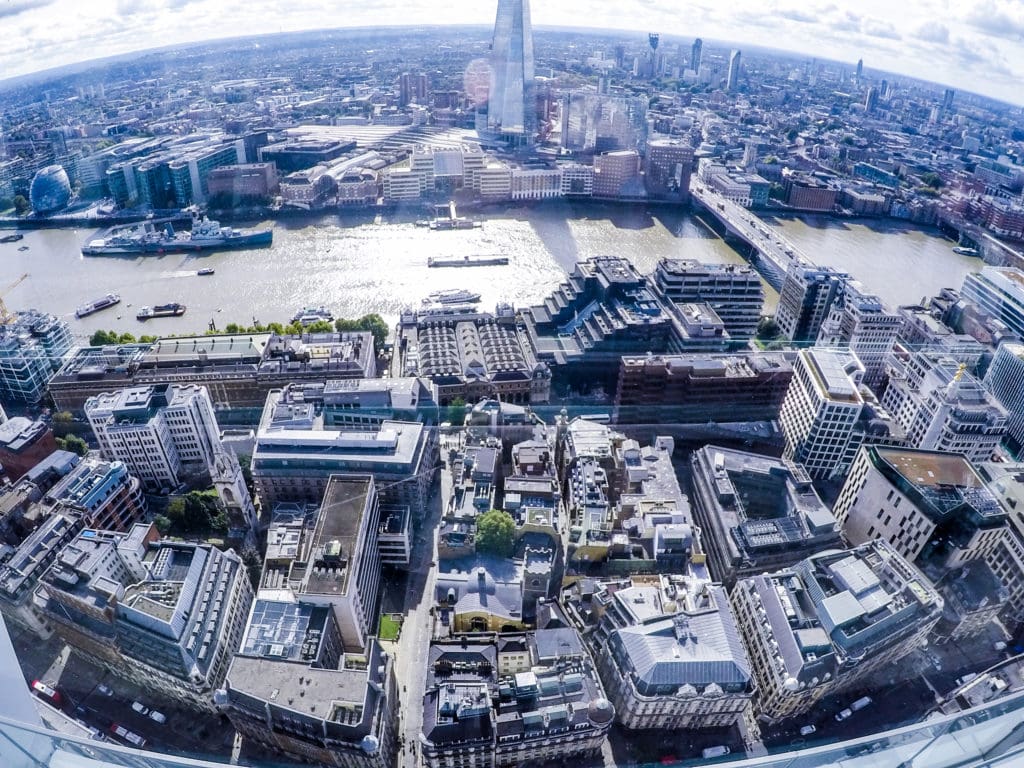 I love a great view and it's even better when I don't have to pay for it! The Sky Garden viewing terrace was absolutely worth a visit! It's free but you still have to reserve your visit on their website as it can get quite busy. The earlier you book it, the better chance you have to get a free spot! Don't be surprised if you have to wait in a queue when you arrive though. The view is worth the waiting, trust me!
A local told me that during the evening it is still possible to show up without booking just by queueing. I guess the view will be worth it at night time too!
Leake Street Tunnel
Imagine a tunnel full of graffiti/street art and there you are. Pretty close to the famous London Eye and food tents, you're going to love the underground atmosphere found in this tunnel. Bring a sharpie and leave your mark!
Walking on the bridges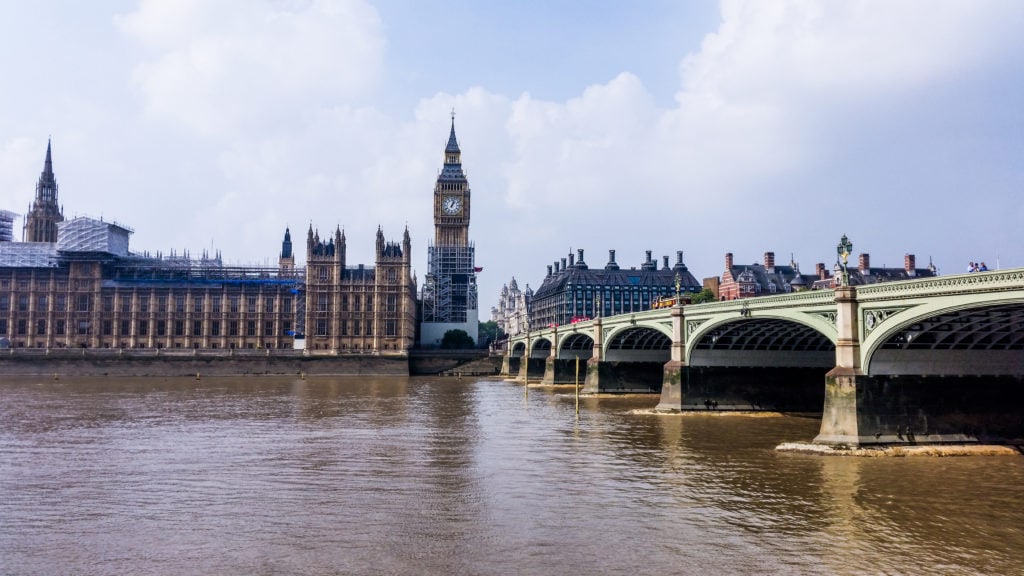 I love bridges (especially at night!). The bridges of London are quite beautiful and give you some of the best views (for free!).  My favorite is Tower Bridge. You can walk on it and get a cool view of the London skyline.
Eating in the markets
There are many cool markets around London (and, obviously, I didn't have enough time to visit them all!). My favorites, in no particular order, are Camden Market, Borough Market and Old Spitalfields Market. Perfect to find some International cuisine, buy handmade clothes/jewels or enjoy the cool atmosphere, you won't be disappointed. The market culture in London is awesome and it's impossible not to get tempted by all these food options (and food trucks).
Are you a London lover? Please, enlighten us and let us know what your favorite things are!
You may also like:
Get your monthly (and funny) dose of adventures! Subscribe now! #YesPlease
Are you enjoying this website?  Feel free to use my affiliate links to book your accommodation for your next adventure: Booking.com, Agoda and Hostelworld!
Get Your Travel Gear!

Disclaimer: This post may include affiliate links at no cost to you! Happy travels!