When in Bali it's always fun to discover new beaches and new places. Last year I was staying in Canggu and this year I really wanted to visit other places. Not too far from Canggu there is another cool spot named Seminyak. It's the bohemian/posh area where you can find great restaurants, listen to a live band in an original bar or simply go for an intense shopping session.
There aren't many budget hostels in Seminyak but you can find many cool hotels.
This time I had the privilege to stay at Dash Hotel and I totally enjoyed the experience.
Here are 5 reasons why you should stay at Dash Hotel:
You are going to be overstimulated!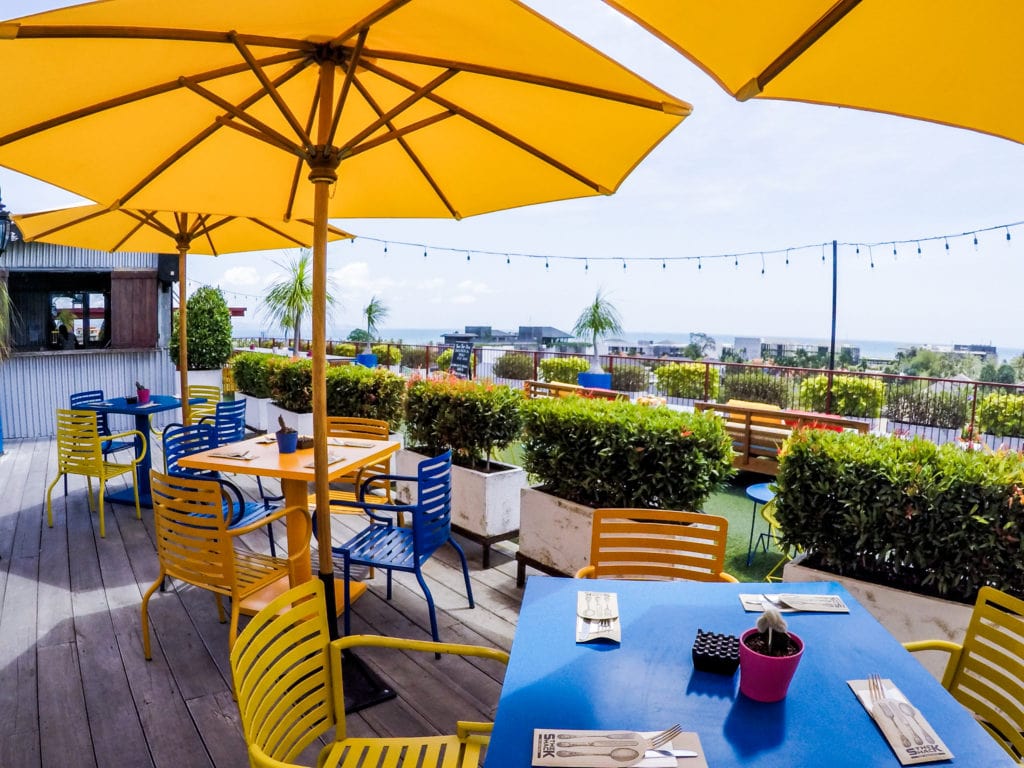 I normally get bored quickly but that wasn't the case at Dash Hotel. This hotel was so stimulating that I would always notice something different every day. This chain really stands out in comparison to its competitors.
You have an original factory vibe where you can find street art on the walls, funny sentences on the floor and unique details that will make you remember this place. All the lamps are original and so is the bathrobe. There's nothing bland about Dash Hotel.
Dash is known for its rabbit. Every Dash Hotel has a different rabbit with a different color and a different personality. In Bali, you'll find a red upside down rabbit as everything is upside down around Bali or at least, that's what they say!
The food is beyond AMAZING!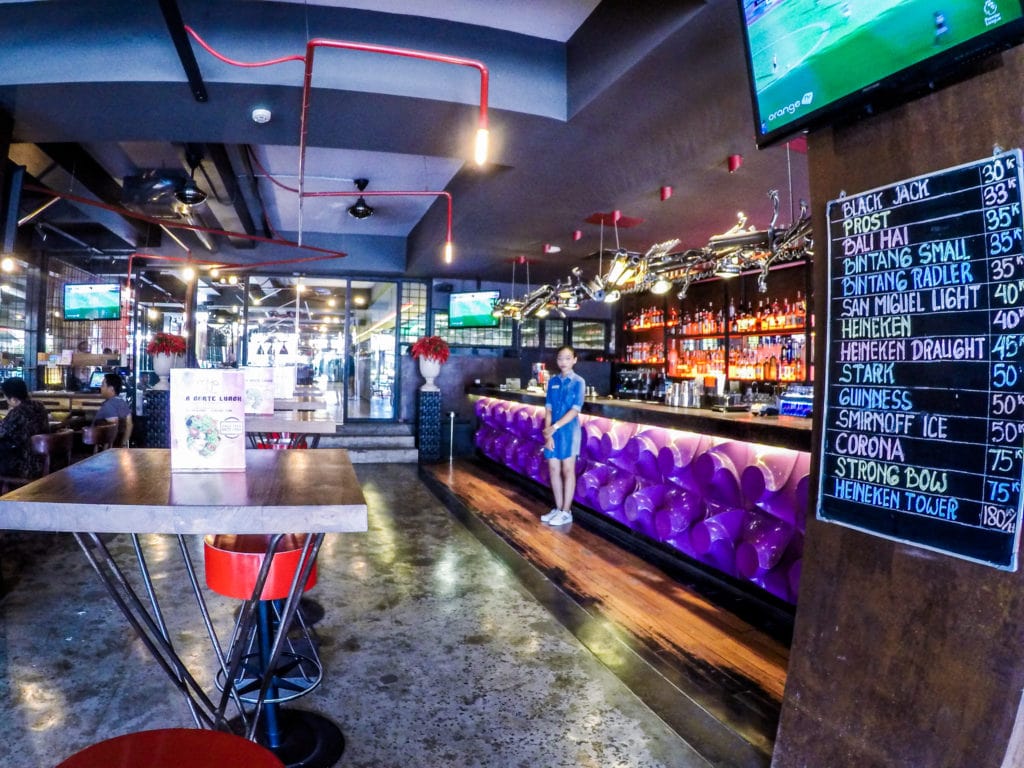 Their Mia restaurant concept features incredible and tasty meals coming from all over Asia. You can order a posh version of street food in the comfort of a restaurant.
You can also order room service for some very good western food such as pizza and spaghetti bolognese. (And I promise – you won't be disappointed!)
The restaurant becomes a pub at night and later on, you can even enjoy a club atmosphere. There is a free pool table so there's no excuse to stay in your room! As it's open to the public, if you're staying around Seminyak, you should definitely check it out!
Everything has a cheeky twist!
Dash hotel is for open-minded people and free spirits. They have a cheeky vibe hidden in details such as on the linen card or the towel card. It's not a prude hotel. In fact, they also offer a romantic package! If you can enjoy a good laugh and can handle a cheeky joke, you're going to love this hotel!
It's perfect for young adults!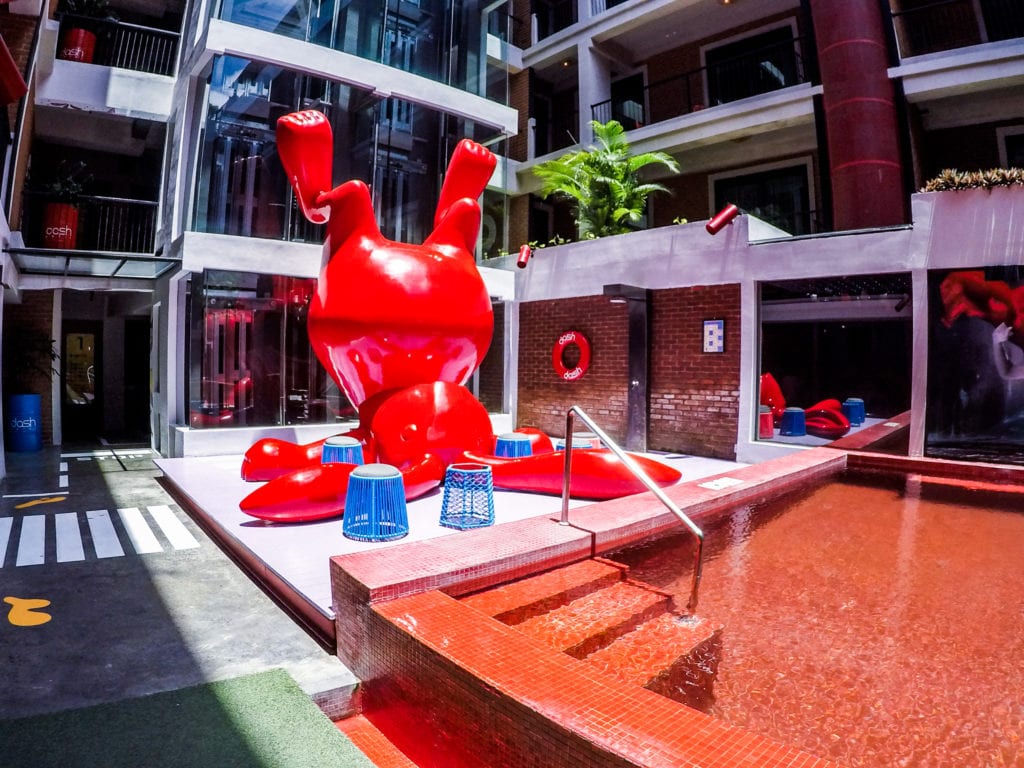 Their target market is young adults in their twenties/thirties that are open-minded, fun and willing to experience something different. With its cheeky, modern and stimulating vibes, you can tell that most people staying at the hotel are young and free. Perfect for couples or friends, it's the coolest hotel I've ever seen.
The staff is super lovely!
The staff is young, open-minded and very polite. During check-in, you'll be enjoying a welcome drink (which is very good by the way). They will show you around and will make sure that you enjoy your stay. They will invite you to cocktails, deliver your room service with a particular twist and will make you appreciate an original Dash experience.
Awesome Facilities You Can Enjoy At Dash:
Xcess
Stay connected and use the complimentary ipads to reply to your emails or simply get in touch with your loved ones!
Wet
Take the plunge into their red pool!
Rabbit Hole
Enjoy a massage at the spa. They offer different services that you can enjoy on your own or with your partner.
Flex
Burn some calories at the gym!
Rooftop including a jacuzzi
The rooftop is perfect for sunset time. There's a bar serving shisha and drinks as well as a jacuzzi!
Would you consider staying at Dash Hotel Seminyak Bali?
Let's look at the flights… just for fun!
You may also like:
Get your monthly (and funny) dose of adventures! Subscribe now! #YesPlease
Are you enjoying this website?  Feel free to use my affiliate links to book your accommodation for your next adventure: Booking.com, Agoda and Hostelworld!
Get Your Travel Gear!

Disclaimer: I received complimentary nights in exchange for my time to write this article.  As always, all opinions are my own! I had a great time and I wish you the same! This post may include affiliate links at no cost to you. Happy travels!