Portugal; a mix of stunning landscapes, colorful cities and old trams. The country sits on the edge of the Atlantic Ocean. Under the warm Portuguese sun, there's also the freezing cold areas. The ocean is a big trap. It's bloody cold in there. Between the natural parks, the coastal views and Douro Valley, there are thousands of surprises along the way.  
Portuguese cooking will charm you. (Or at least the Portuguese will!) Seafood lovers and those with a sweet tooth won't complain while in Portugal. Dive into the famous Pastel de Nata without hesitation. You better make the most of this sweet treat while you can!
The Portuguese language might seem a bit complicated at first. When you read it it seems pretty similar to Spanish but once they start speaking it sounds like they forget to pronounce the vowels. Many people can speak English or French, which can be quite handy!
If it's not obvious yet, you should know that I love Portugal.
In this tribute to Portugal, I'll be sharing what I love about Portugal, where my favorite places are, the things you should know before traveling to Portugal and why I can't wait to be back.
5 Things To Love About Portugal
Portugal is one of the oldest countries in Europe.
Yes, Portugal has maintained its borders since 1279. In fact, Lisbon is the second oldest capital in Europe (right after Athens).
Portugal is one of the best outdoor destinations in Europe.
Portugal has many natural parks but one of them stands out the most. I'm talking about Peneda-Gerês National Park which is located in the Northern part of the country.  Perfect for hiking and for a quick dip during summertime, the waterfalls and natural pools are absolutely gorgeous. Of course, some other places are well known in terms of nature such as Douro Valley and the Algarve.
Portugal is the perfect destination for adventurers.
Adrenaline seekers won't be disappointed in Portugal. Hiking, cycling, kayaking, surfing, hot-air ballooning, skydiving, diving, snorkeling, you name it! Portugal has it. There are many activities to try while in Portugal.
Portugal is heaven for road trip lovers.
There are so many cool places to visit in Portugal. It's definitely easier to travel in Portugal by car as it gives you access to many more places. Bonus: You can enjoy breathtaking places along the way! If you are planning on road-tripping around the country, Douro Valley should be on your list!
Portugal is budget friendly.
Although it can be more expensive during the summertime (peak season), Portugal isn't that expensive in comparison to its neighbors. Food and drinks are quite cheap and you can enjoy many landscapes without spending any money. Although finding cheap accommodation can be a bit more tricky during peak season. The sooner you book your accommodation, the better! It's the same situation regarding trains. It's a lot cheaper when you can organize your trips well in advance.
5 Places That Should Be On Your Portugal Itinerary
Lisbon
Lisbon is the largest city in Portugal and is also the Portuguese Capital. Surprise: it's also one of the oldest cities in Europe. It's the perfect base for day trips such as Sintra, Cascais and Serra da Arrábida.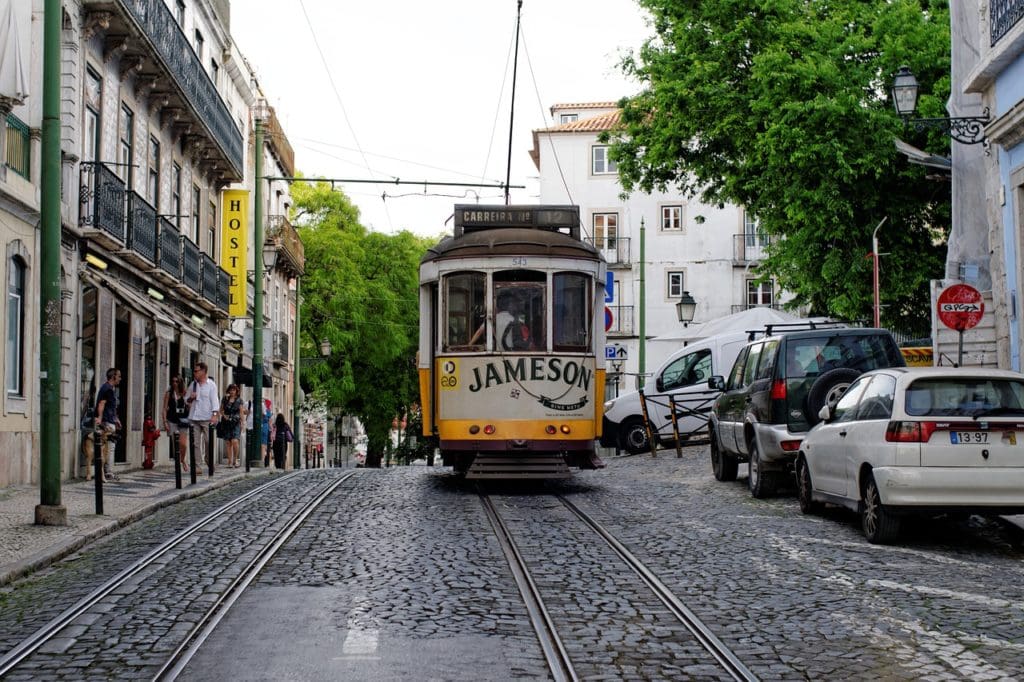 Porto
Porto is the second largest city in Portugal. It is so pretty that it was proclaimed a World Heritage Site by UNESCO in 1996. Located in the North of Portugal, it's well known for its Port wine and Douro River. The cute colorful houses and beaches of Porto will charm you.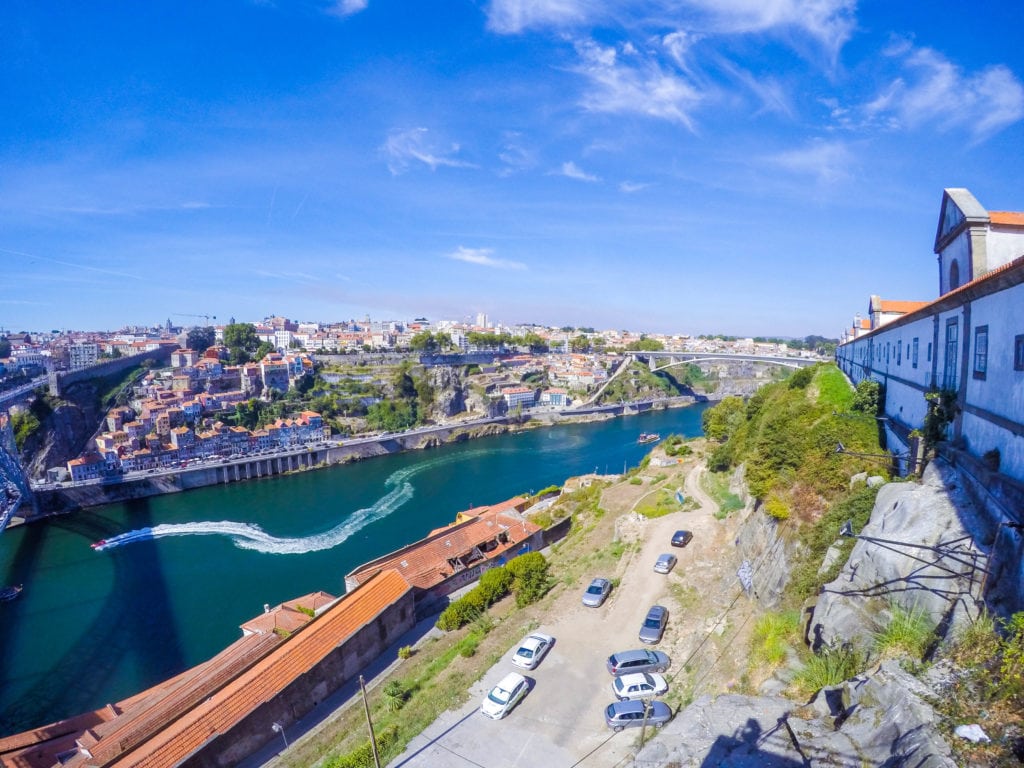 Peneda-Gerês National Park
Peneda-Gerês National Park is the only National Park in Portugal. It's located in the Northern part of Portugal and is absolutely stunning with several natural pools and waterfalls.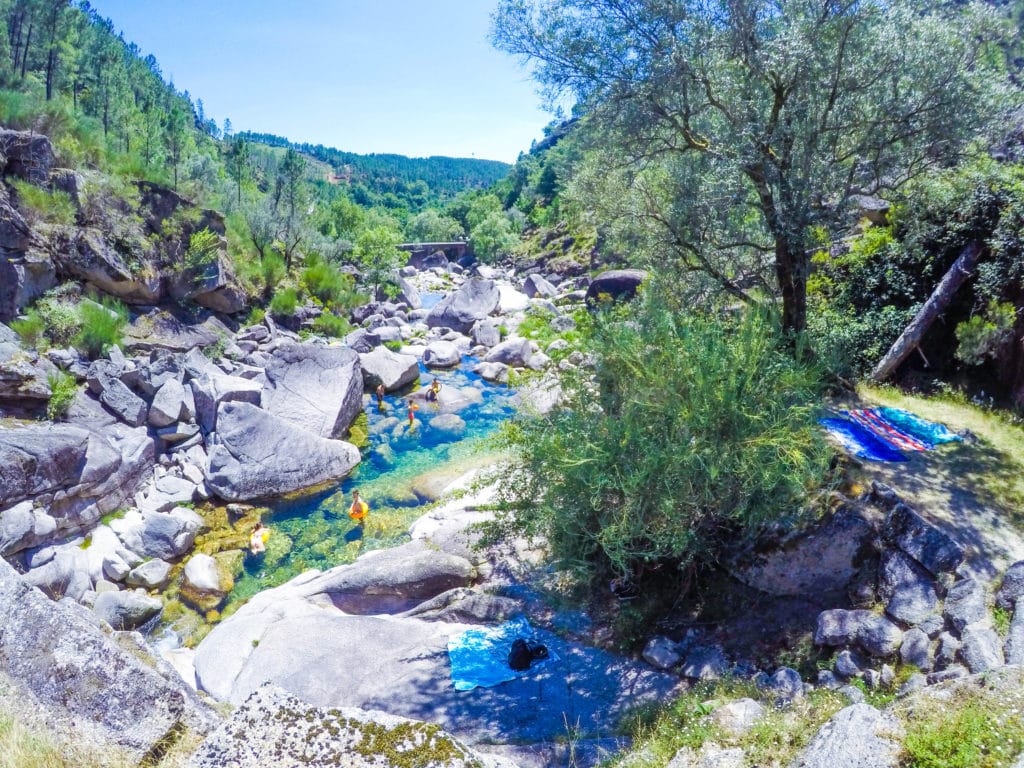 Douro Valley
Douro Valley is another UNESCO World Heritage, established in 2001. Known as the wine region, the green valleys are quite impressive from the top or directly from the river. There are many great spots to explore along the way whether you're there to taste the wine or to enjoy the views.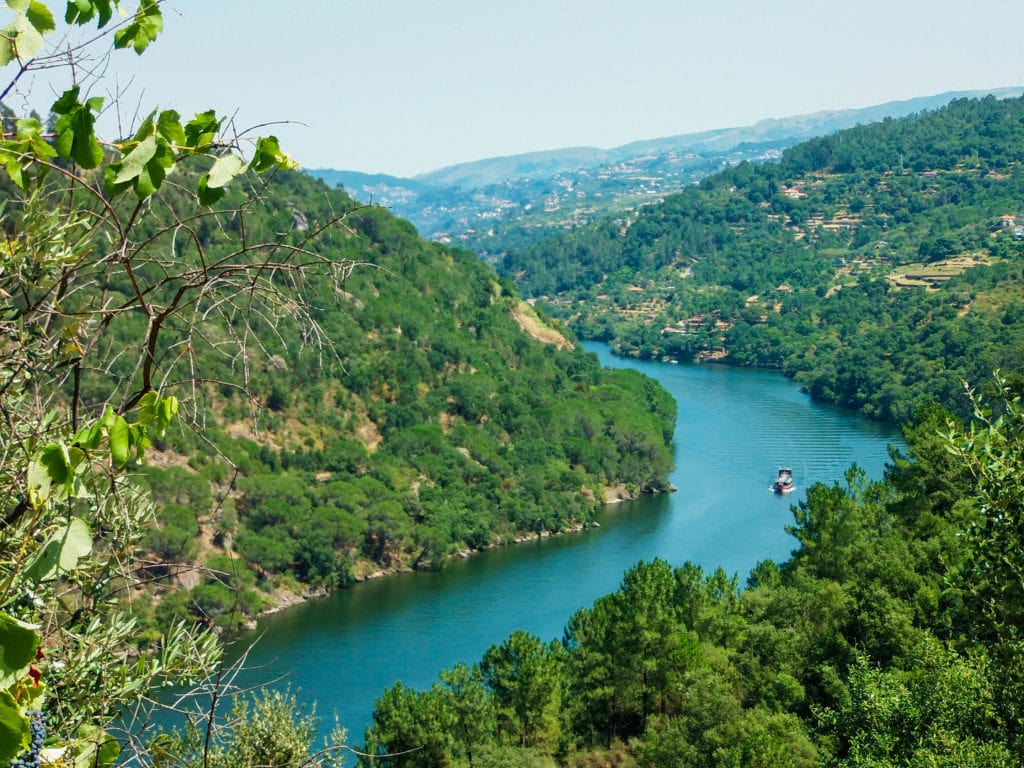 The Algarve
The Algarve is located in the very south of Portugal. The coastal views and the weird rock formations seem to amaze many travelers.  There are a few main stops while exploring the Algarve such as Lagos, Albufeira and Faro.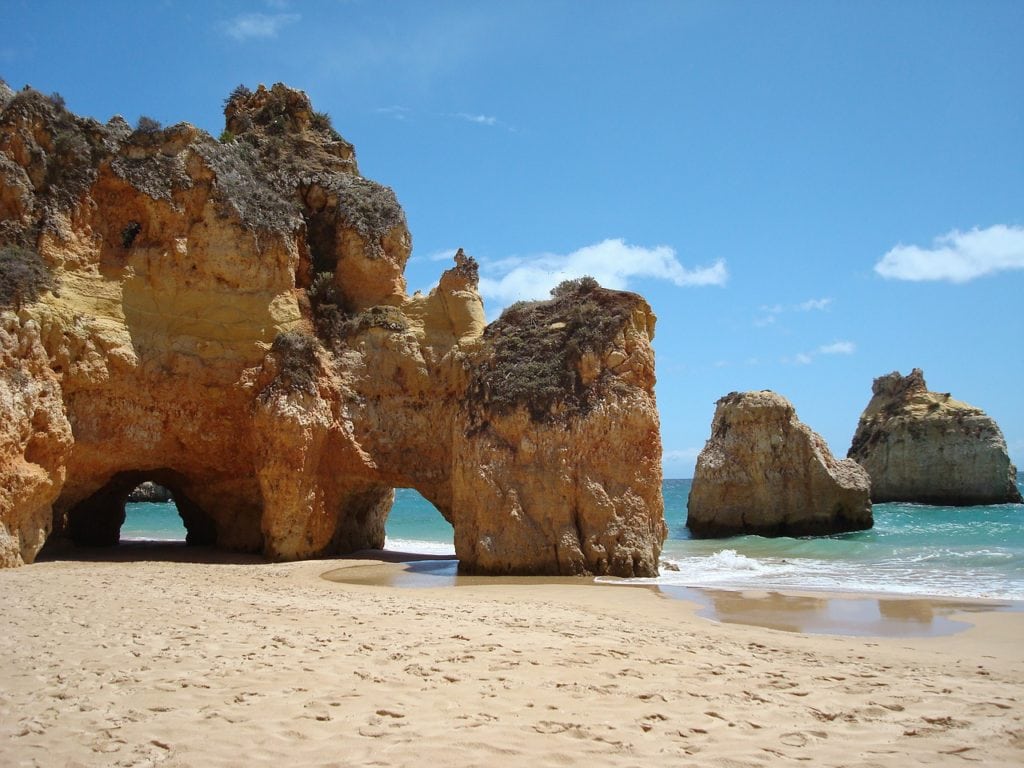 Itinerary ideas:
Stay close to the coast while discovering three unique cities in Portugal; Porto, Coimbra and Lisbon.
A beautiful journey along the coast that features wine tasting and beautiful palaces in Porto, Coimbra, Lisbon and Sintra.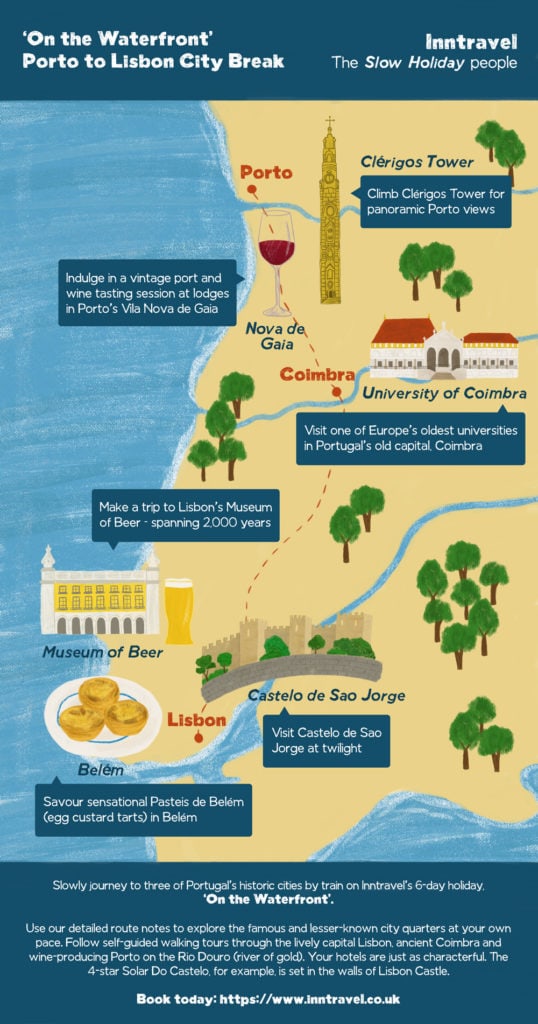 5 Things You Should Know Before Traveling To Portugal
Temperature & peak season
The peak season is during the summer, June to September. It's the best time to visit Portugal (and to get a tan).
You should still keep in mind that there could be a massive temperature difference between day and night. It's quite normal to experience a big drop at night, so if you're planning on camping around the country bring some warm clothes as it can be way colder when the sun disappears.
During the winter, you might want to head South if you want to enjoy a bit of sunshine. In the Northern part of the country, it's a lot more rainy and cold.
Road-trip & Road tolls
If you're planning on road-tripping around the country, you should know that there are tolls everywhere (and they aren't that cheap!). If you're on a budget and not in a rush you might want to select the toll-free option on Google Maps.
Schengen area
Portugal is part of the Schengen area, which means you can visit the country for 90 days every 180 days. (Of course, it all depends on your nationality and passport, so please, look it up!)
Your Spanish won't save you in Portugal
But, it could help you… a lot! Portuguese writing is pretty similar to Spanish (it's a Latin language, so the basics are similar). Some people should be able to understand you if you speak either Spanish, English or French. Good news: Portuguese people are super friendly and they will try to help you when they can!
Meat, coffee and pastry food culture
Portuguese culture is very meat orientated. If you're vegetarian or vegan, you might struggle to find veggie options.  It is still possible, but I'd suggest you research beforehand to avoid disappointment. Other than that you can find espresso and sweet pastries pretty much everywhere.
5 Reasons To Visit Portugal Again
Portugal you will charm you with its people, the food and its culture, art, and sport activities. It is a great place to live (and that's also why I decided to stay there for nearly three months).
You can't get enough of the sun
Portugal is a sunny destination and you can still seek the sunshine during the winter in the Southern part of Portugal. Bonus: the Portuguese Islands should also keep you warm during the winter.
You're going to miss the food
Did I talk enough about that famous Pastel de Nata? Portugal is definitely a foodie destination and great food is super affordable.
There's alway more to discover
After spending nearly three months in Portugal there are still many places on the list. Have you ever heard of the Berlengas? Camino de Santiago? And what about the exotic islands? Madeira and Azores, I'll be back for you!
Portuguese people will leave a mark on you
Super friendly (and charming), Portuguese people are so welcoming! You'll make friends (or perhaps, you'll even fall in love), but mostly they will make sure you feel part of a big family.
Portugal is always a good idea
You can't go wrong with Portugal, it's always a good (read very good) idea! Escape the cold, dance with the waves and embrace the Portuguese temptations.
Until next time…
"Obrigada."
You may also like:
Get your monthly (and funny) dose of adventures! Subscribe now! #YesPlease
Get Your Travel Gear!

Disclaimer: This post was written in collaboration with Inntravel, but as always all opinions are my own. This post may include affiliate links at no cost to you. Happy travels!