Paris is often the entry door to Europe for most travelers from North America. There's something compelling about Paris. Whether you're there to seek a romantic holiday or simply to visit the top tourist attractions in Paris; it's always a good idea!
The truth is; there's so much to see in Paris! Beyond the sightseeing, there are many other cool experiences to try! We all want to see the Eiffel tower at night, sit on a typical Parisian terrace for an espresso and eat (a lot).
I've written about Paris a few times already. I don't get sick of it… even if Paris is quite a crowded, touristy place.  In comparison to London, it doesn't feel as crowded as the English capital.  In fact, you can still truly enjoy it!
For some reason, I have never been to Paris more than three days at a time.  As I said, Paris was my entry door to many European destinations which means I was flying into Europe via Paris, but this wasn't always the main purpose of my trips. But, what if you also had just a few days? Or even just a couple?
This article may help you make the most of Paris in two days (or any short period of time) keeping in mind you want to experience the best attractions while learning and photographing your way around.
What to see in Paris in two days
Top Tourist Attractions in Paris
There are many tourist attractions in Paris.  Of course, if your time is limited, you might want to focus on some of them without running an attraction-marathon.  If you're planning on staying longer or if it's your second visit in Paris, I'd suggest you check out this list of the best places to visit in Paris.
The Eiffel Tower: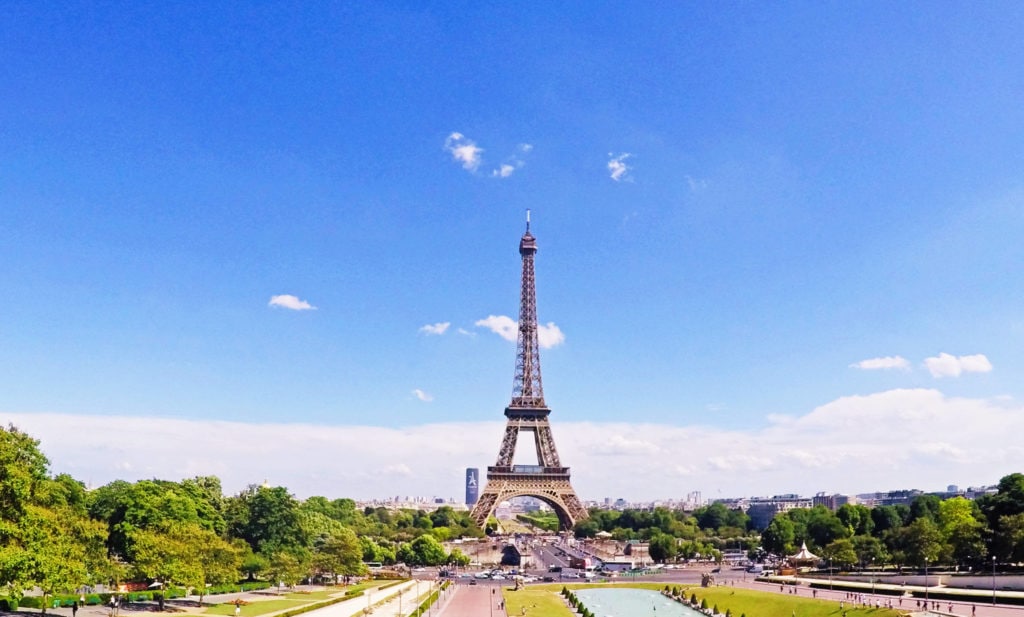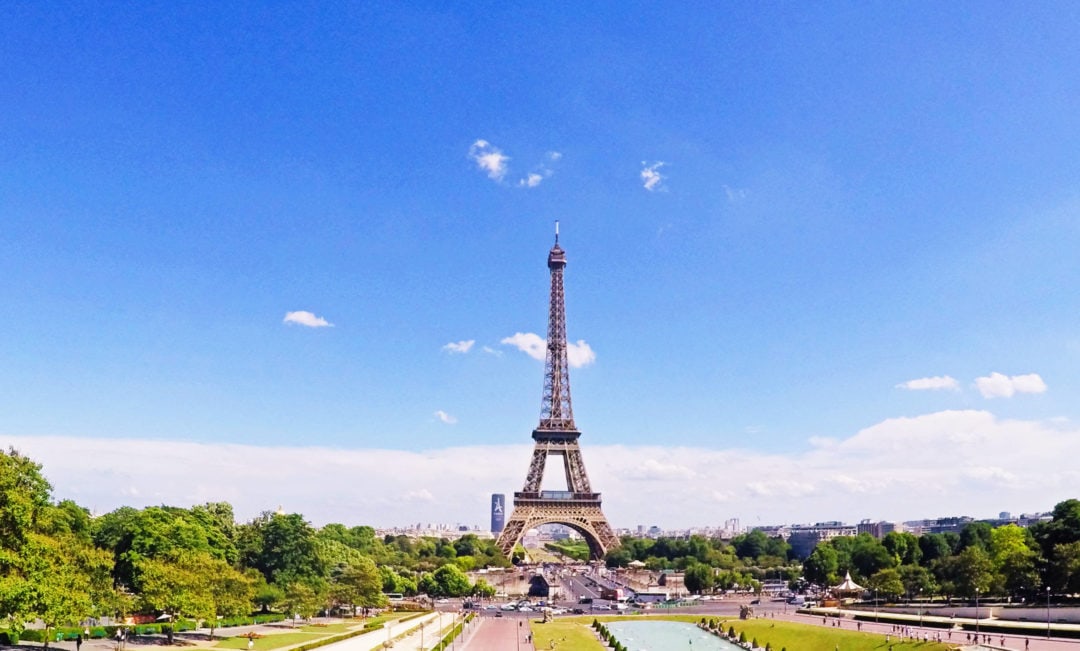 The famous iron lady was completed in 1889. It took them only 26 months to complete it, which is quite impressive considering it was built ages ago!  On top of its 300-meter height, it was the tallest building worldwide for a while.  It's the most iconic place in Paris!
Seeing the Eiffel Tower is always quite impressive. I remember being a bit disappointed by its size at first, but I still go see it every time I visit Paris! It's a must-see and I still don't get sick of the view!
Some of us are pleased with the outside view, which means that walking around the tower is enough.  But, some curious will want to climb up it, which is fair enough!  If that's the case, you might want to get a skip-the-line ticket with Universal Tour Guide.
Then, if you'd rather walk around the Eiffel Tower and find some of the best photography spots to capture the iron lady, you should also consider doing the Eiffel Tower – Best Views Walking Tour.
Notre-Dame Cathedral: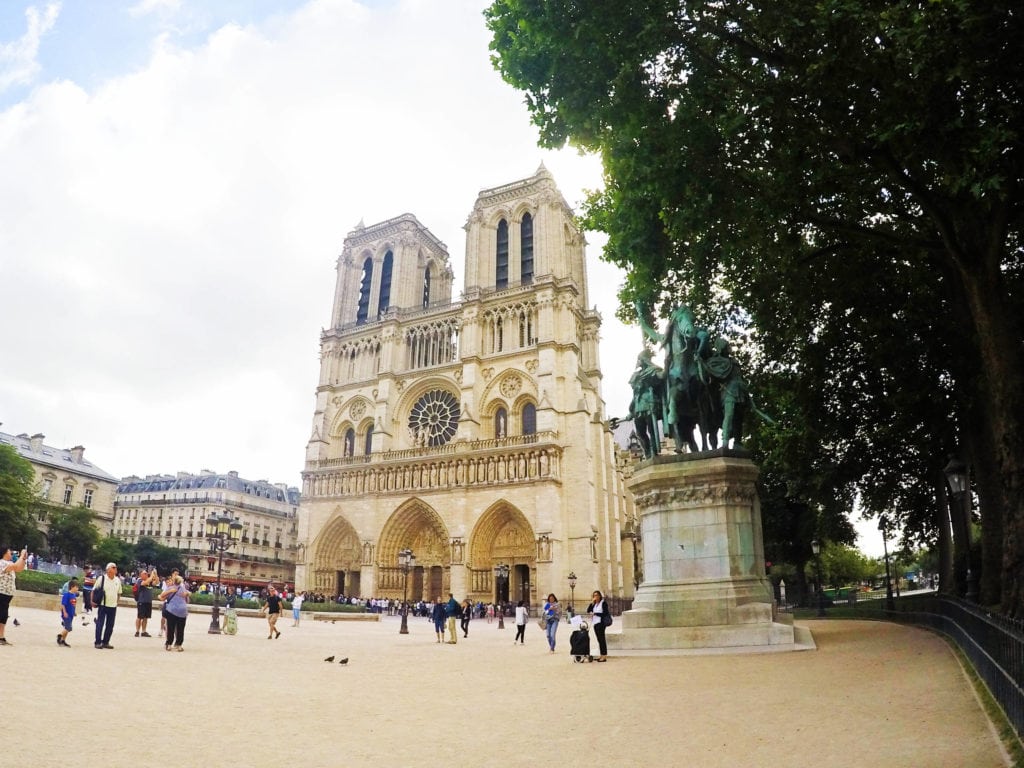 Notre-Dame de Paris is one of the most visited tourist attractions in Paris.  Located on the "île de la cité" (Cité Island), this building is quite impressive from the outside and the inside. If you'd rather go inside, I'd recommend you take a tour with a guide to make sure you can learn about this incredible cathedral.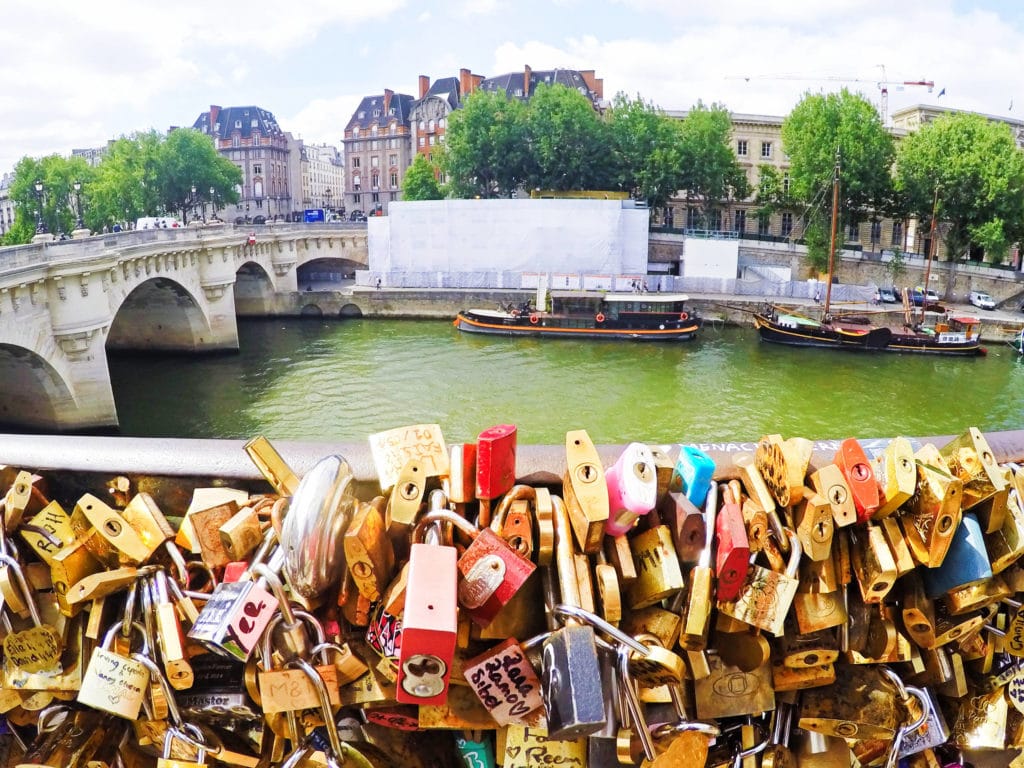 While you're on the Cité Island, you might want to walk around, enjoy the Seine River, grab lunch and sit at the park. Instagrammers; you might want to check out where the famous love padlocks have recently moved.  If Paris used to be known for the lover bridge, we all know that the padlocks were removed a while ago to protect the bridge.  These padlocks are now back to life on a fence in the island.  (See on the map and kindly note that the padlocks are in the area pointed out on the map.)
Seine Tours Paris: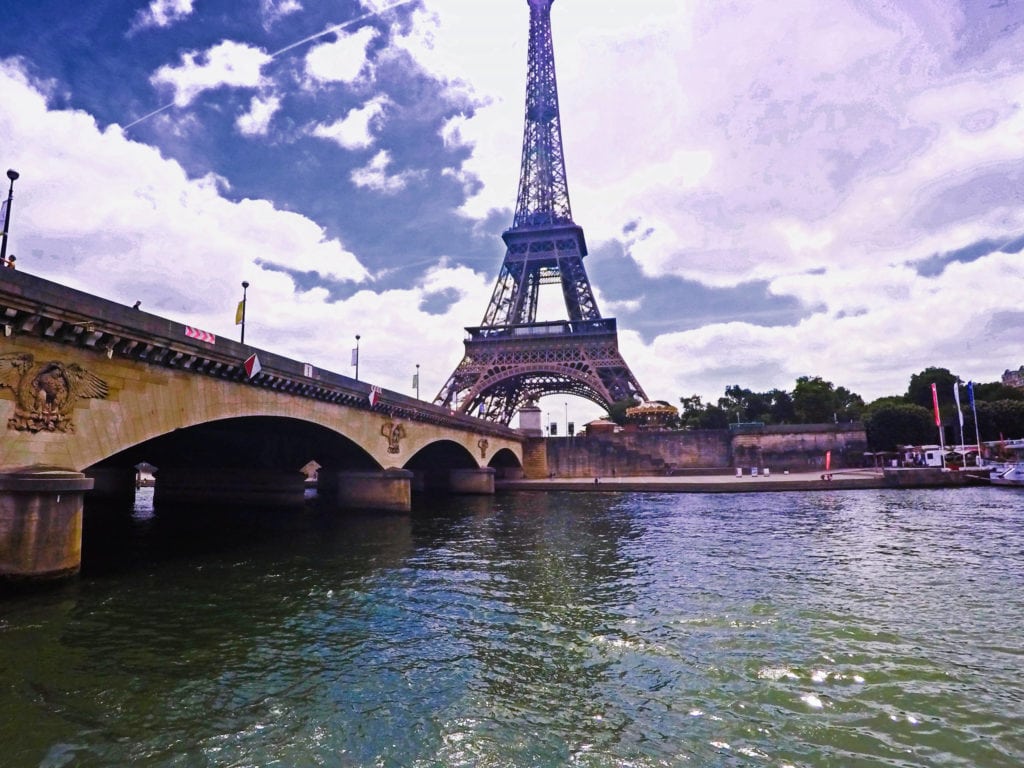 While you're on the Cité Island, why not go on a little cruise on the Seine?  While you're relaxing on a boat, you will see Paris from a different perspective and you will learn along the way! If you book a tour with Universal Tour Guide, you will find a few tours that also include a cruise.
Montmartre & Sacré-Coeur: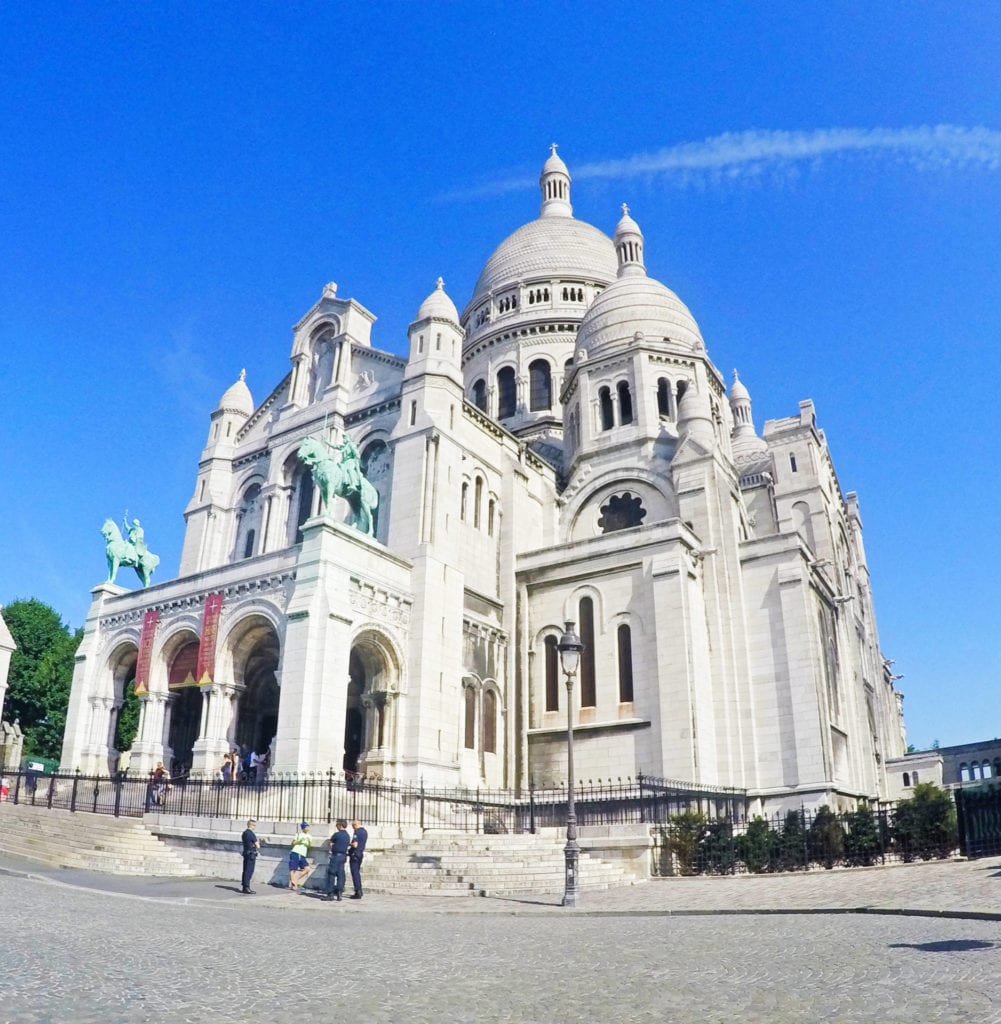 Sacré-Coeur Basilica is such an impressive church.  Montmartre would actually be where Sacré-Coeur is located – it's the highest point in the city.  Take the stairs or the funicular; believe me, the view will be worth it!
Things To Do At Night In Paris
Catch the sunset:
If there are many places to visit in Paris, there also many cool places to enjoy an incredible sunset from.  You may want to be on the Seine, around the Eiffel Tower or next to the Arc-de-Triomphe to catch the best sunsets in Paris!
See the Eiffel Tower at night:
You have to see it at least once as it lights up at night!  In fact, you can even see it from Sacré-Coeur if you walk around the fence, you should be able to see the Eiffel Tower flashing away!
Paris Rooftop Bars Tour:
While you're in Paris, you might want to check it out from different perspectives.  Universal Tour Guide also offers a rooftop bars tour, which allows you to get the best view while relaxing and drinking.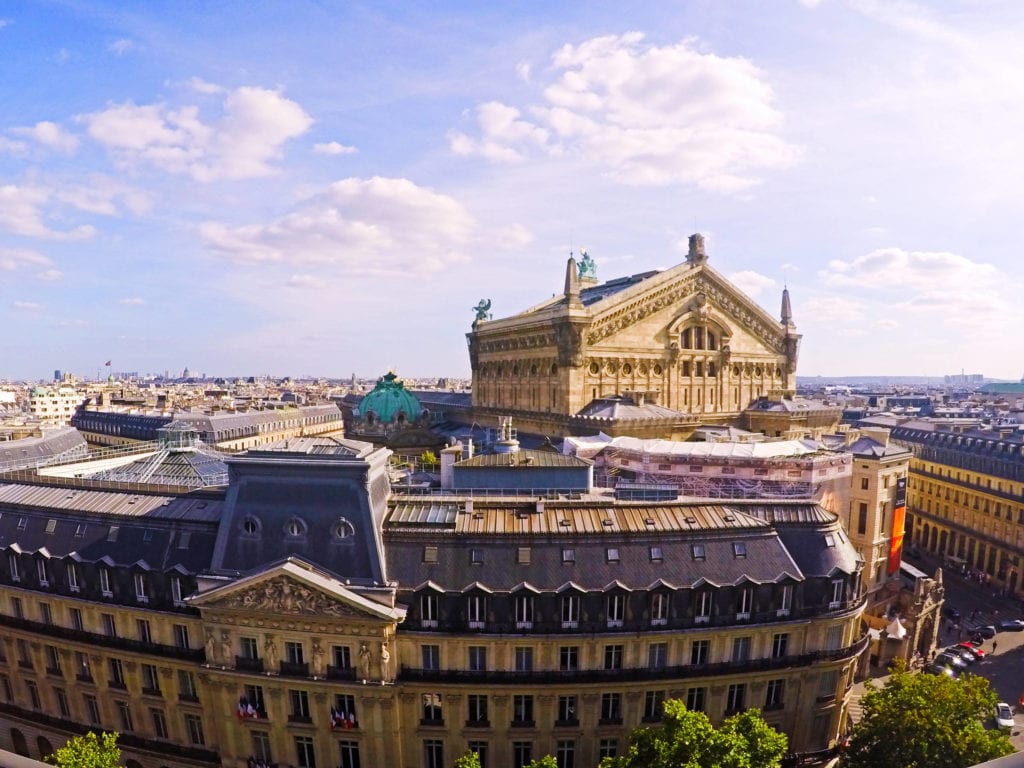 Kindly note that most attractions listed can be done on your own or with a Paris tour guide.  
What are the benefits of taking a tour?
Obviously, when we are visiting a place ourselves, we won't learn as much as if we are taking a tour.  So, if you'd rather go beyond the sightseeing, you might want to look at Universal Tour Guide's website to make the most of the tourist spots in Paris! Skip the line, learn about the Parisian history or discover a new angle in the city of lights!
What are the benefits of taking a tour with Universal Tour Guide?
I partnered up with Universal Tour Guide to revisit Paris on a recent visit. It turned out I didn't know a lot about Paris itself.  I learned a lot about the history in every single tour I took.  More importantly, I had fun too!  I found the guides to be passionate, funny and full of energy!  They are young and they happily share their love for Paris.  
Have you been to Paris? What are your best tips and favorite tourist spots?
You may also like:
Are you enjoying this website?  Feel free to use my affiliate links to book your accommodation for your next adventure: Booking.com, Agoda and Hostelworld!

Disclaimer: I was invited to Paris to review Universal Tour Guide tours. As always, all opinions are my own and I enjoyed my experience!  Happy travels!