Do you pack many

travel gadgets

when you go on a trip? Or are you more of a minimalist packer?  
I used to travel only with my phone, which was pretty useful to get in touch with my loved ones, to take pictures and to book the next adventure.
But, this was all before Instagram started.  Then, GoPro cameras became the new trend- and obviously, I wanted one.
It was totally out of my budget.  I tried to find some fisheye-kind-of-app, but this wasn't good enough for my high standards.  
Then, I realized that there were quite a few different alternatives to a GoPro.  Was I stubborn at all? I guess so.  I decided to go for it.
I needed a few mounts, the shameless selfie stick, the head thingy, etc.
A few hundred dollars later, I was broke again.  This amount of money could have taken me somewhere else – I could have flown to Fiji or even Hawaii for that price.
If you're seeking a great alternative for travel cameras, I'd suggest you check out Pixter.
Pixter-What?
Pixter brings travel photography to a whole new level.  And when I say "travel", it doesn't mean you can't use it elsewhere. You basically add a clip-on lens to your mobile phone.  And that's it!  They offer many different types of lenses – and I'd happily say it's the new trend.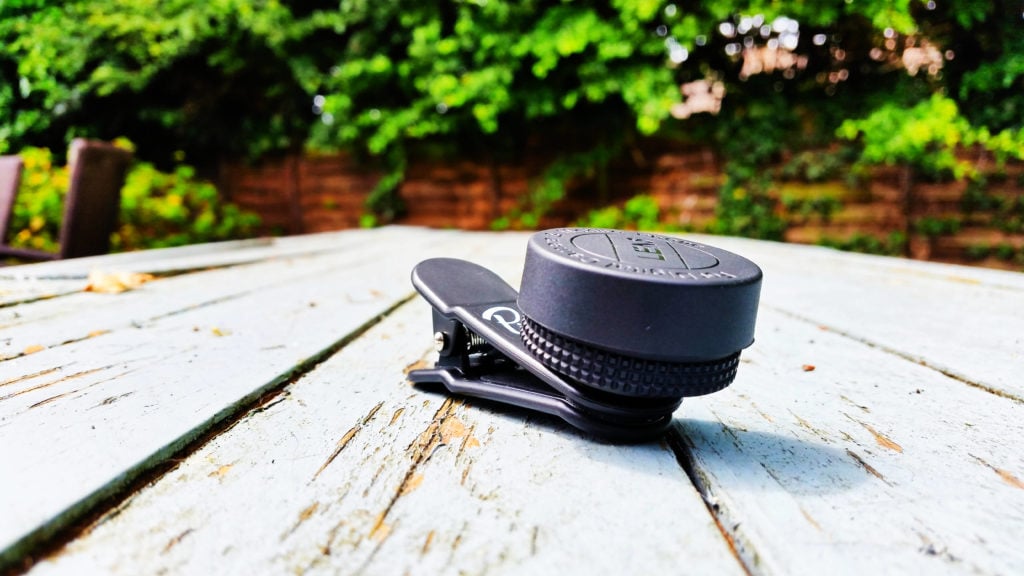 What are the benefits of getting a lens for your mobile?
Pixter lenses are compatible with all smartphones.  They are quite easy to use (even though it took me a few times to get the hang of it – but you know, I'm not 17 years old anymore!) and they are easy to pack.  For a traveler like me, it's more than interesting.  I could easily ditch numerous travel gadgets and simply use my Pixter lens.  Light packing doesn't get any easier, does it?
All lenses are polarized treated glass.  What does this mean exactly?  This means you get many extra benefits from it.  Your lens is anti-reflective, anti-scratch and anti-shock.  This is more likely to survive the hard-core life of a traveler.
What kind of clip-on lens could you get for your smartphone?
Pixter offers 8 different types of lens for mobile at the moment.  They have some regular lenses (which are super affordable for tiny budgets) and they have the pro lens if you have a few spare pennies.  
You can get a fisheye effect, a wide angle lens, a polarizer filter and an ultra-macro lens.  
Or you can go professional with the pro lenses; the super fisheye (that's the one I have), the telephoto lens, the macro pro lens or the wide angle pro.
What else can you get?
Apart from a lens for mobiles, you can also get your photography accessories if you still have some room in your backpack!  Pixter offers different packs so you can get different types of lenses for your mobile all in one pack.  Then, I'd suggest you get a tripod and the Bluetooth remote control to help you make the most of your new mini travel camera!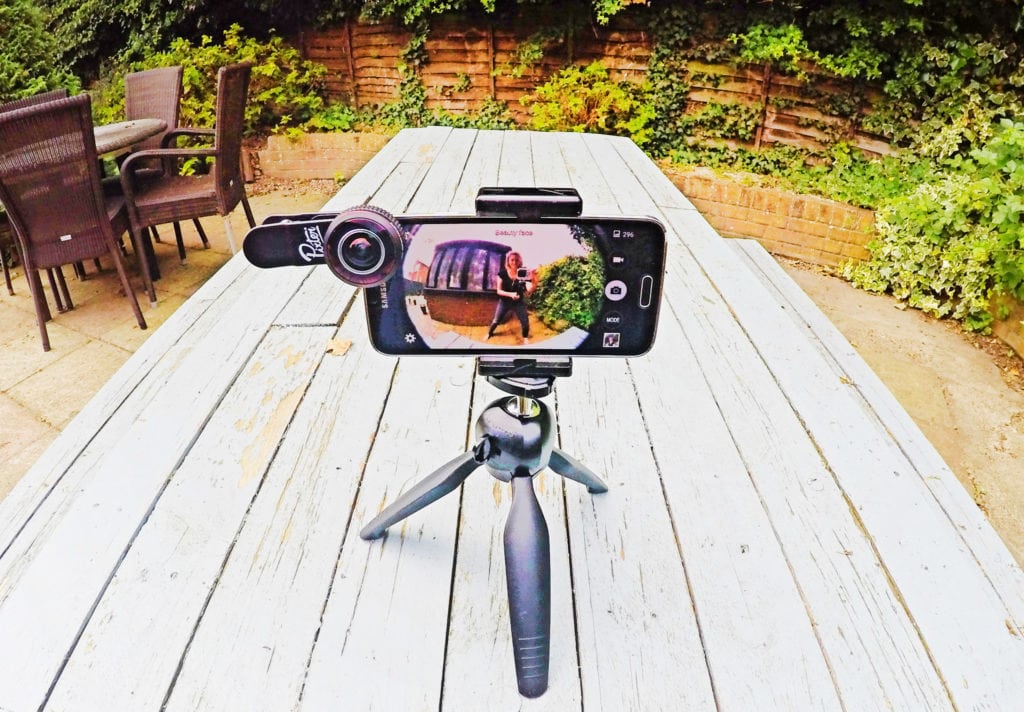 You ordered it, now what?
When you receive your order, you'll get:
The lens;

The clip to attach your lens to your mobile phone;

One carry pouch;

One cleaning wipe;

One lens cover
How to clip the lens to your mobile phone?
Be patient, you'll get there.  It's quite easy to clip the lens on your smartphone.  You just need to make sure the camera is right in the middle of the lens.  Pixter can provide you with videos and photos if you need help, but believe me, it's not that hard!
Depending on your phone, you might obtain different results.  I tried my lens on three smartphones.  Depending on how flat your phone camera is, it might influence the results.  I found that using a tripod makes it a lot easier to stay in focus and make the most of my mobile lens.
There are two options; you can use the front or the back camera.  Both make original photos.  Having the Super Fisheye Lens, I quite enjoy the selfie version of the lens which creates hilarious photos like these ones.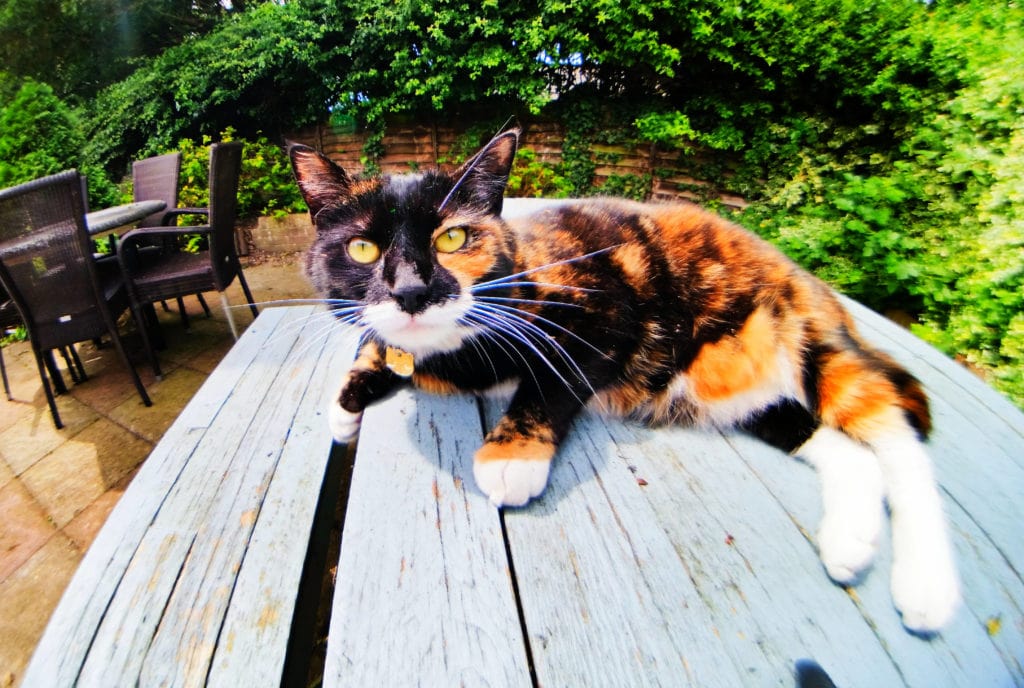 Exploring what you can do with your mobile phone lens kit:
Now, let's compare the normal mobile camera and the super fisheye effect.  In this case, the model was our cat.
After several captures, I played around with my phone. I found out that I could do vertical or horizontal shots, using the front and the back cameras.  Then, I decided to try to film, and this is when I realized how good it could be!  
With apps like Boomerang or Instagram, filming never has been so fun!  Also, it would give an original perspective to my Instagram stories!
How to edit your pictures without spending money:
I know many photographers use Lightroom.  I personally found a free alternative; Polarr.  They have a web version and an app.  I use Polarr to edit every picture to make them "pop" directly on my mobile or my laptop.  I prefer the old version, but I know there is a new one available too.
So, what do I think of Pixter?
I think Pixter offers a great range of lenses for mobile phones that covers different budgets.  It seems to be the perfect budget alternative to GoPro. I love wide angle and fisheye effects, so I am certainly not disappointed with my clip lens.  I also like how universal it is – it doesn't matter if you have an iPhone or if you have an Android, it works.  You don't even need to install an app to make it work – it's super easy!
As nothing is perfect in this world, you might have to remove your phone case to have better results.  Your lens needs to be as close as possible to your phone camera.  If it gets blurry at first, make sure your lens is in the right position and keep shooting!
What is your favorite mobile lens?
Do you have any photography tips to share?
You might also like:
Are you enjoying this website?  Feel free to use my affiliate links to book your accommodation for your next adventure: Booking.com, Agoda and Hostelworld!

Disclaimer: This article may contain affiliate links at no cost to you.  Happy photographing!