I've been based in England for a few months now. Well.  Based is a strong word considering I've been travelling every month and I'm not in England for a few months. (YAY!)
See here, I'm sending a wink to all the customs officers who barely believe me when I tell them I'm here to see my boyfriend. They always ask their typical tricky questions:
"Where's home?"
"Where do you reside?"
"What's your plan?"
Obviously, I believe I can't really say that I feel like I have no home. But the closest answer would probably be England since I always go back there for the past few months. Also, I'd say that it feels like home when I can spend my day in PJ'S and yes I did leave a few things in my wardrobe. But, I doubt they would let me in if I was rambling about this at customs.
Do I really have a plan? If you want to; I can make one. (And also, enjoy my cheeky smile!)
Anyway this is all for another story.
My point was; I have lived in England for a while now and I don't visit London very often. (Yes, this was a lot of random rambling, I do agree with you.)
So, I guess I had to. It was quite convincing when St-Christopher's Inn invited me to their new hostel on Liverpool Street.
I just love St-Christopher's Inn hostels. I stayed with them in Paris a few months ago and it was brilliant! It's the perfect mix between party life, hostel life and quiet life.  Because… yeah, this weird mix exists!
It will please everyone.  And here I was checking in my private room… yes. A private room in a hostel. It is also very possible!
Where to stay in London – The perfect Spot
Last time I visited London, my hostel was quite far from every touristy bit I wanted to see!  (I had to see some landmarks, that's what makes London so popular!)  Well, this wasn't the case on Liverpool Street.  I was at a walkable distance from many cool spots, close enough to a bus station, a train station and the famous-not-so-famous tube.  Basically, their location is brilliant!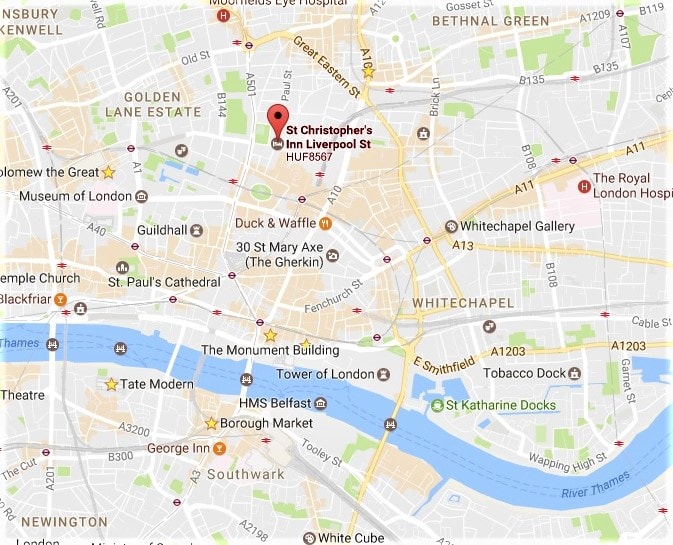 In my colorful guide to London, I mentioned Shoreditch, which is an hipster (and very colorful) area to visit while you're in London.  Street art lovers; this is certainly where you want to wander around!  Well, Shoreditch is pretty close from the hostel.  In fact, I accidently got lost and ended up going back there during my week end in London.  Obviously, my eyes were happy, but let's say that the cold rain wasn't really entertaining my body.
But, that's not all.  There's a very cool market not too far from the hostel; Old Spitalfields Market and there many good restaurants in the area.  You could also find yourself delighted by one of those food trucks right next to the market.
And then, you can also walk to the famous London Bridge!
So, location-wise, this hostel has a pretty good spot!  Keep reading for more recommendations on what you could do around the hostel!
The Rooms – Private & Dorms
I had the privilege to stay in a private room.  My crazy days in dorms still do exist, but not as often as I used to when I first started travelling.
My private room was lovely.  You can tell the place is new and yes, the bed passed the comfy test!  I wish I could have stayed there longer!  The private room also includes your own bathroom, a mini-bar, a kettle (yes!) and unlimited coffee/tea.
St-Christopher's Inn is still an hostel and yes; they have dorms!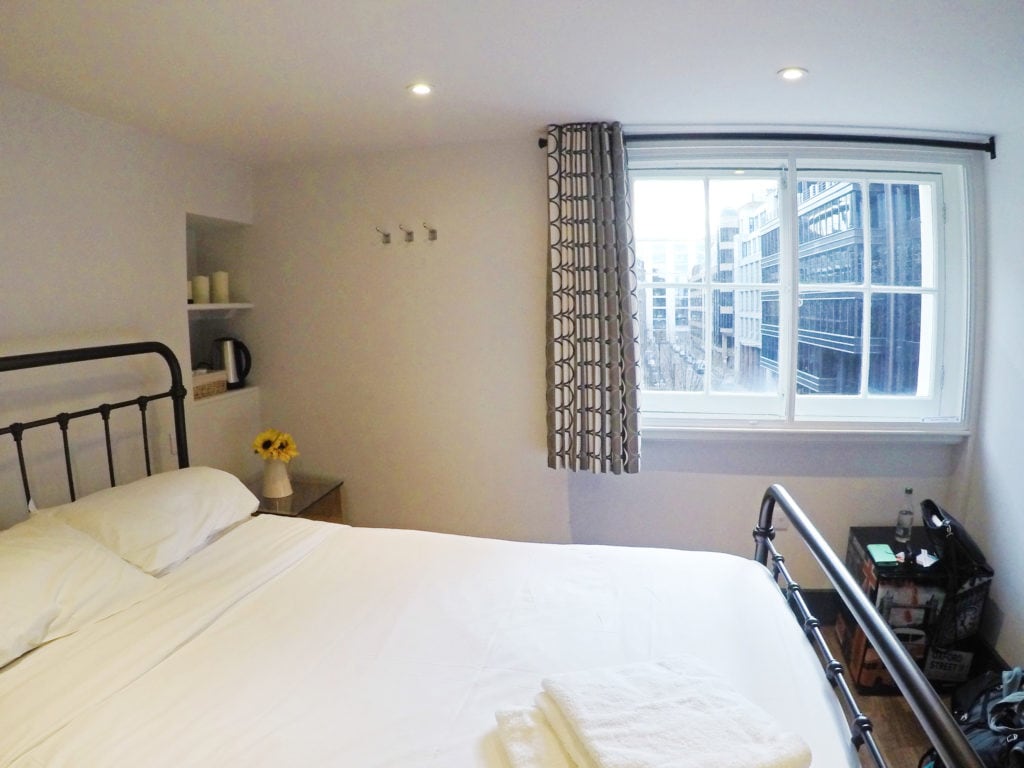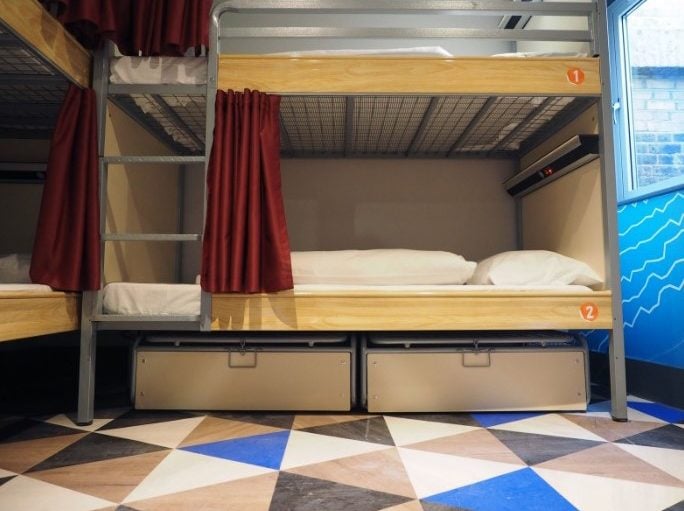 (Photo Credit for 2nd picture: St-Christopher's Inn)
Cleanliness & Comfort
I don't know if it's because I'm getting older or if it's simply because I'm a bit more fussy now, but I found this new hostel to be very clean and very comfortable.  My room was on the last storey and it was super quiet.  So, if the pub down stairs would have been totally crazy, I wouldn't had a clue!
The perfect hostel atmosphere
St-Christopher's Inn is also known as a party hostel chain which explains why they always have a restaurant/pub/bar on site. The Flying Horse's menu was good and they tend to show many sport nights on their TV.
They also offer a breakfast buffet for their guests and this, my friend, is always one of the best wins you can get from a hostel!  Plenty of options and this also included ham & cheese toasties…! Yummy!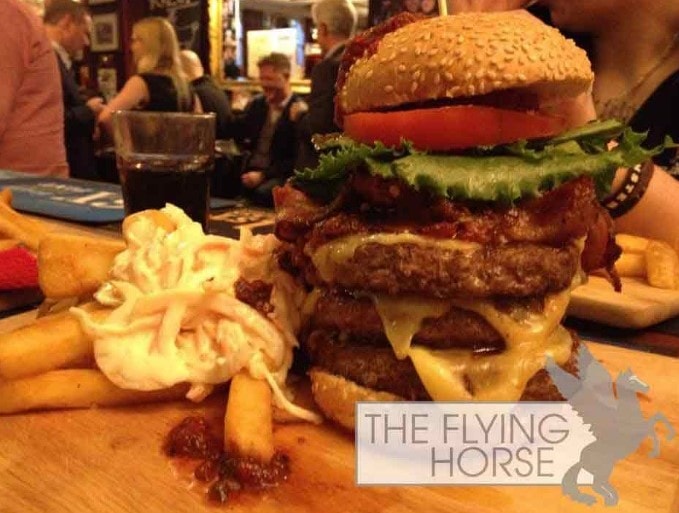 (Photo Credit: St-Christopher's Inn)
What to do in London (and that is not too far from the hostel)
I previously mentioned a few things up there.  But here are a few recommendations of what you should also check out while you're there. Bonus:  You can get there by foot as it's not too far!
Borough Market, just on the other side of London Bridge.

Tate Modern Building; this is where you can get an amazing (and free) view of London.  There are two buildings, you need to go to the one with the viewing platform on the last storey.  

Millenium Bridge, just in front of the Tate Modern, to get back on the other side.
Need more inspiration?  Check out my cool and colorful guide of things to do in London.
Are you enjoying this website?  Feel free to use my affiliate links to book your accommodation for your next adventure: Booking.com, Agoda and Hostelworld!
Disclaimer: I was invited to the new St-Christopher's Inn, but as always, all opinions are my own!  Happy travels!