I'm going back to Istanbul in a few days.  I didn't really know how to feel about this.  I had no idea how I would tell my parents, especially my Dad.  Honestly, I'm still a bit scared.
Going back to Istanbul obviously means I'll be back in Istanbul.  So, what happened last time?
---
Three years ago, I got caught up in a crazy story when I was in Istanbul.  Several weird events  happened between Greece and Turkey (you could call them coincidences).  Long story short: a random guy told me he was following me since Athens via Facebook. Another guy who was following me in the street started a big scene as I refused to grab a coffee with him. The girl I was travelling with (I met her in Greece) destroyed our new Turkish friend's flat.  …And the hostel manager received emails from some people who were looking for me, that I was obviously dangerous and should be reported to the police.  As I want to keep this story short, you only need to know that they knew where I was and they had a lot of information about me.  After many hours of over-thinking, incapable of sleeping and eating, I had to take a quick decision.  I decided to pick a safe one and I flew back to Canada.  You can also read the whole story here.  I will never know if I was in serious danger or not, but I preferred the safe option at the time.
Three years ago, I had no idea how much I would love Turkey.  Back then, I decided to extend my stay in Istanbul and I was already planning a three month trip across the country.  In the end, I managed only 10 days.
Three years ago, I got a tattoo in Turkey. It's on my wrist and it says: "No fear".  I was tired of making decisions based on fear. I realized I was done with my social work job and I needed a break of human understanding to focus on myself for once.  Ironic you may think.  I left the country based on a decision taken when I was scared. Was it the right decision?  I'll never know! I was listening to my gut even though I was also cancelling my dream travel plan, the one that involved me selling everything beforehand.  
Is Turkey safe? Is Turkey dangerous?
Turkey is the kind of country you need to take precautions, especially as a female traveller.  I wouldn't recommend you walk alone (or even with another girl) when it's dark.  When I was there, many girls at the hostels were followed by people when they were coming back at night.
Does it mean Turkey is dangerous?  Does it mean solo travel is dangerous?
Or is it just a normal feeling women get pretty much anywhere? And believe me here, I don't think the word "normal" is appropriate.
The truth is there are dangerous things… everywhere.  
In my own country, even in my own Quebec, there was a shooting in a mosque on January, 29th 2017.  I didn't hear anybody ask: is Canada dangerous?
Many terrible events happened in Turkey in the past year.  Many terrible events happened in Turkey in the past few years.  Many terrible events happened in many countries and some still happen every single day.  When I see the situation in the United States at the moment, I don't know what's worse to be honest.  And I'm not that proud of my Canada either.
There's a lot going on in the World my friend.  Is the world safe?  That's a tough one.  As long as there are humans involved – it will always be a risk, won't it?  I also wrote about this last Christmas.
Three years ago, Turkey gave me a whole new perspective.  It was the first time I had a proper cultural shock.  It was the first time I was getting the feeling that I was in the minority.  I was obviously a tourist – red-ish/blond-ish hair with green eyes.  People could spot me in 3 seconds in the middle of a crowd.  I was there just after the Ramadan and many people were on their holidays in Istanbul to celebrate!  I was amazed.  And yet, I realized where Turkey was – surrounded by what many of us qualify of dangerous countries.  Somehow, I was curious.  I was already secretly dreaming of Israel, Lebanon, Iran, just to name a few.
One night, I sat down with Turkish people and one Kurdish guy.  We had a long conversation about the 09/11.  Our discussion went on to a whole new level.  It was actually impressive to have new perspectives on this hot topic.  I was still a teenager when it happened and I was yet too young to understand or to question any of it.  This conversation made me question everything I thought I knew.  I still don't have any answers. My point is that we should always remember to question what the media present to us.  It is so easy to forget.
Then, I learned about the Kurdish history and I couldn't believe it.  How could I be so lucky?  I'm free to speak my own language, I'm free to have my own religion (if I do want one), I'm free to live in my own country and the best part is that my passport gives me even more freedom.
Considering my history in Istanbul and the few past months, how do I really feel about Turkey? Last December, I went to Paris and to Brussels.  So,  why would it be different in Turkey?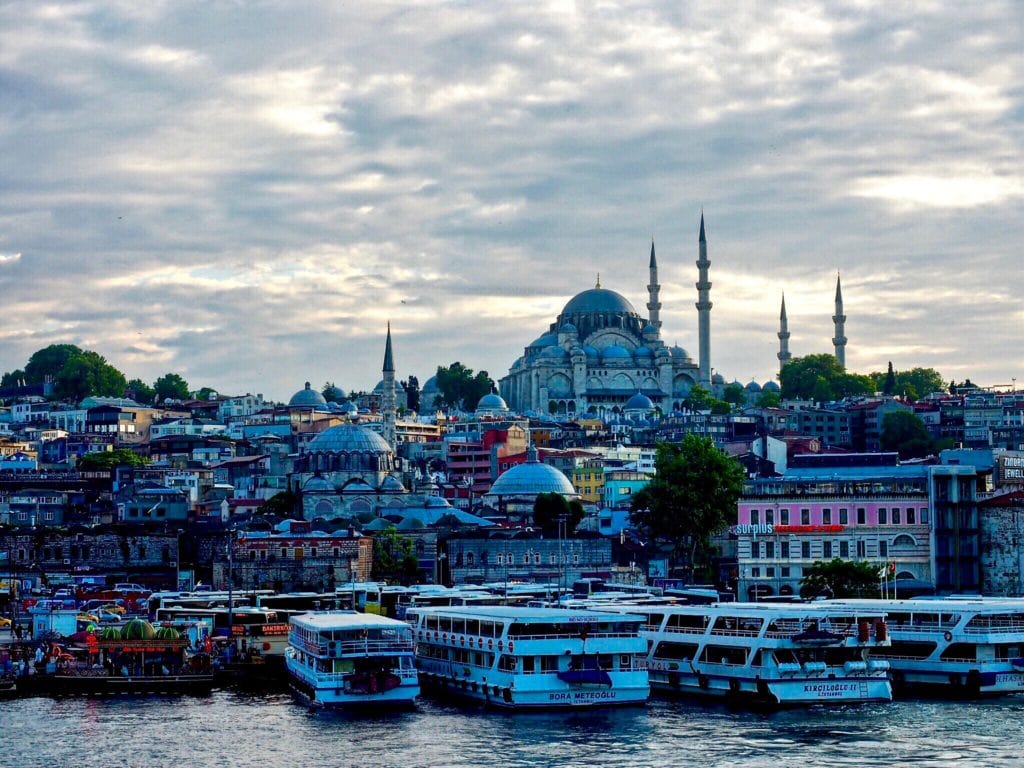 I won't lie.  Of course, I'm a bit nervous, but it won't stop me.  Since my last experience in Istanbul, I always said that there was one country I wouldn't go back to alone and, yes,I was talking about Turkey.  I also always said that no matter what, I was really hoping to make it back to Turkey again.  There are many places to see and I believe this country has a lot to offer.
This time I won't be there that long as I'm heading to the World Tourism Forum.  But, I'm definitely giving Turkey another chance.  
I want to feel amazed again, I want my fear to fade.
Let's put our fears behind us and let's go see the world for ourselves.
Turkey, here's your call; Amaze me!
How do you feel about travelling in 2017?
Should we all be scared?  Or shall we all love each other?
Photo Credits: Top photo by Kiara Gallop of Gallop Around The Globe & second photo by Susanna Kelly of Wandering Chocobo.